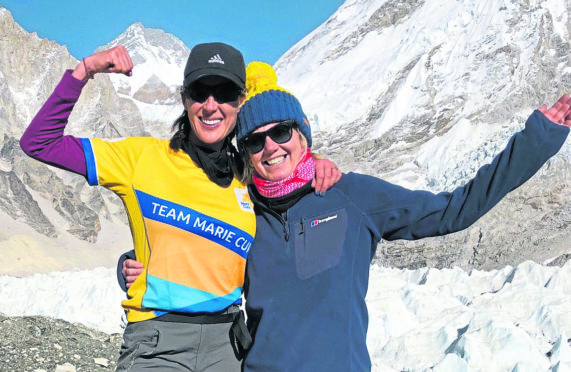 Climbing Everest is a feeling you just can't imagine. Unless you have been there, standing on the rooftop of the world, it's impossible to describe the euphoria that sweeps over you as you come within touching distance of the heavens.
From the moment you set foot on Nepalese soil, you are faced with a test of endurance like no other – it's really not like going out for an afternoon walk in the Scottish hills!
Our crew of 26 climbers, aged between 27 and 74, started the ascent to south base camp on Sunday, November 3, with eight days of walking stretched out in front of us.
Apart from enduring temperatures as low as –18C, and finding the physical strength required to walk for up to 10 hours a day, to reach an altitude of 5,364 metres takes an extreme toll on the body. The worst of which is altitude sickness.
Many of the team suffered vomiting, diarrhoea, respiratory ailments, sleep deprivation and exhaustion, all of which can be just as detrimental to your mental health as the physical.
Sometimes there is a misconception from people who don't understand the scope of the challenge. Often people think only the summit counts and base camp is almost "easy". But, the truth is, it's quite an achievement for the average human to even make it that far.
I was lucky to escape the nausea and sickness but most nights I did find myself lying wide awake in my camp bed, my body waking itself up naturally due to the lack of oxygen. To say the sleep deprivation was tough is a bit of an understatement.
But while we may have faced sleepless nights and daily struggles, we all knew why we were there, and it wasn't just for the satisfaction of reaching our destination.
The 11-day expedition was organised to raise much-needed funds for Marie Curie, the UK's leading charity for people with a terminal illness, which I started fundraising for after my mum passed away 10 years ago.
My mum, Renate, was diagnosed with a terminal brain tumour in March of 2009, and we were told she only had three months left to live.
I had never had any experience of terminal illness in the family so it was pretty awful to come to terms with.
After mum was diagnosed, we knew she would want to be at home, close to the people that would make her feel more comfortable.
To begin with, we set up an around-the-clock rota to provide care, with her five children and a couple of the older of her 11 grandkids taking turns.
But we were naive. It was such a difficult task, especially when you're so close to someone, and you can't really offer dispassionate care.
All the little knocks you encounter on a daily basis really hit home. It was really awful and we thought we might crumble and not be able to fulfil her last wish to be home. And that's when we turned to Marie Curie.
We were given a nurse for two or three nights a week, who would cover her care from 10pm to 7am, giving each of us a chance to get a good night's sleep and also go home to our children, who were struggling themselves to cope with the loss of their beloved nana.
That little bit of extra support allowed us to keep going just and, in hindsight, all of us know we gave her the end of life care she wanted. That really helps you to move on with your grief.
I was massively grateful to the charity and, as a consequence, our whole family wanted to try and repay Marie Curie, as well as making sure we paid it forward so another family can know the comfort and support we came to rely on.
In the past decade, to help raise money and awareness, I have run a marathon, cycled from Vietnam to Cambodia, climbed Ben Nevis, abseiled, and trekked to the top of Mount Kilimanjaro, as well as dozens of other events and challenges.
I was made an honorary patron for the charity in 2011, and to date I have helped to raise more than £570,000 – £66,594 of which came from our most recent trek to the foot of the world's tallest mountain.
When we were in the Himalayas, we kept reminding ourselves to look up. We were fortunate enough to be on the rooftop of the world, peering out across towering mountains, glaciers and ice fall.
I was quite emotional when we finally reached the top. I shed a few tears and said a wee word to my mum, which felt incredibly special.
She was, after all, the original inspiration for my journey – alongside all the people we were helping to support back at home.
---
As told to Alice Hinds