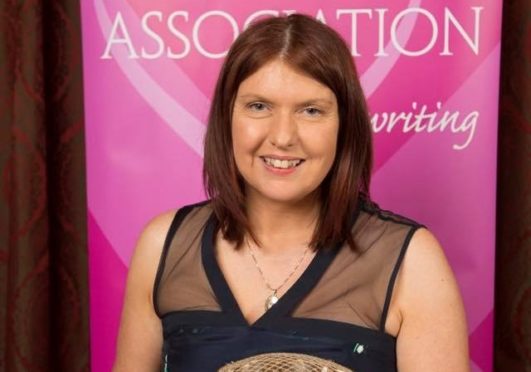 Writing, for me, has always been fun. I grew up in Irvine, Ayrshire, and wrote my first story when I was eight. It was about a magic purse and was handwritten on ­computer paper with the pages ­stapled together. I made everybody in my family read it and they all had to say they loved it.
I went to Irvine Royal Academy and, when I was 17, I wrote a story about online dating that was published in Jackie Magazine. I still have it to this day.
When I left school I went straight into being a student nurse and trained at the wee county hospitals in Ayr, eventually working at Ayr Hospital. I now work in public health.
As a student nurse you have to do a month's night shift. I was in orthopaedics where a very old lady who had fallen and broken a hip had a pile of Mills & Boon books at the bottom of her bed. I'm a really fast reader. I just inhale books. So I started borrowing them. And that was my introduction to Mills & Boon.
I remember thinking then that I could maybe write one, but I never tried. It wasn't until many years later that I thought I would give it a go. I started writing in 2009, when I was 35.
By then I was married to Kevin – a gasman – and I had had my kids, Elliott who is now 19 and Rhys who is 15. I had been to night school, completed a degree as a health visitor and then did a Masters Degree in Public Health. I always wanted to learn.
But in 2009 I joined the Romance Novelists Association, which had a new writers scheme. It allowed you to submit a full manuscript. A published author – who was anonymous – would read it and assess it, giving detailed feedback. It was invaluable.
Mills & Boon is part of Harlequin. Its US operation was also taking first chapters from new writers. I submitted my first book and was matched with an editor. She came back with four sets of revisions. I think she was being kind to me because she gave them in stages. If she'd given them all at once I would have laid down and cried. It was a learning process.
I will never forget the day I got the call telling me that my book would be published. That moment is ingrained in my brain. It was 1.34pm on January 21, 2011. I was driving the car back to work, and was on hands-free when the phone rang. I looked at the number and saw it was a London code but I thought it was one of these PPI calls so I nearly didn't answer it. I am so glad I did. I was screaming I was so happy; I nearly crashed the car. Mills & Boon titled the first book: It Started With A Pregnancy.
I hadn't told my mum and dad or my family about it. So I had to go and tell them I was about to become a published author.
My kids were young and at primary school at the time. I remember sitting in smelly Taekwondo halls waiting on them and writing.
I write medical romances because, as an NHS nurse, that's the world I know, and those were the books I read.
I love medical romances, so that was what I wanted to write. I have written 50 books in nine years. If somebody had told me when I was starting out that I would do that, I wouldn't have believed them.
I write for pure pleasure. If I didn't enjoy it I wouldn't do it. When you work as a nurse you come across things that are hard, so it's nice to have an outlet when you have had a tough day at work.
Writing has opened a whole new world for me and a brilliant social life. I won the RoNA Prize – the Romance Novelists Association Award – in 2017. It was presented to me by Prue Leith, just before it was confirmed she would be replacing Mary Berry on The Great British Bake Off.
I remember asking her if she was going to do the programme but she wouldn't let on.
I have been a RoNA finalist four times and have been nominated for the Romance Writers Oscars in America – known as The Rita Award – on a number of occasions, attending a string of the events.
I was a finalist in Denver in 2018 and a double finalist in San Diego in 2016. I was also in Florida for the awards and at the Marriott Marquis, in Times Square, New York. They wine and dine you and there is always a great authors' party. I love to laugh, and romance writers have a great sense of humour. These events are great fun and we have a wonderful time.
I love being a writer. But, despite having written 50 books, I will never stop being a nurse. That is where my heart is.
As told to Sally McDonald