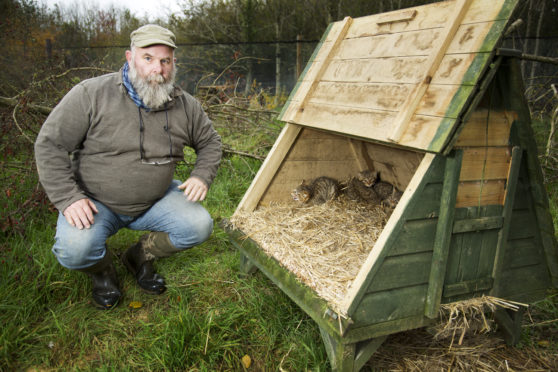 The Scot behind the return of beavers to England, 400 years after they were hunted to extinction, is repeating the process – this time with wildcats.
Ecologist Derek Gow and his team have bred England's first wildcat kittens in 150 years. The initiative, part of a UK-wide, co-ordinated breeding programme managed by the Royal Zoological Society of Scotland (RZSS) aims to "strategically release" dozens of wildcats into woodland in England and Wales each year.
Derek, 53, whose team have bred four kittens in the country's first dedicated wildcat breeding complex, said: "The wildcat kittens have been vaccinated and are looking well.
"There are three males and one female. They will be used for breeding but we anticipate releasing 50 animals a year and are probably looking at animals going into the wild at about a year old."
The move is bittersweet for Dundee-born Derek, who said the iconic purebred Scottish wildcat of his homeland has been all but wiped out because of hunting and persecution by gamekeepers and farmers, with the remaining population diluted by interbreeding with feral domestic cats.
Conservationists in Scotland are planning to reintroduce wildcats into the landscape in a bid to save the breed. But their efforts – which include the breeding in captivity of seven wildcat kittens earlier this year – are feared to be doomed after an report said the species was on the verge of becoming genetically extinct. The International Union for Conservation of Nature report stated that, with as few as 30 left in isolated pockets of the Highlands, "the wildcat population in Scotland is no longer viable".
Derek explained: "Wildcats were found throughout Britain at one point in time. There may still be a very few left living wild in Scotland, but not in populations that are cohesive.
"If you get odd individuals, they are surrounded by hybrids. There is no evidence there is anything out there breeding essentially as a pure wildcat.
"The RZSS and Scottish Natural Heritage are looking for a site where they can be introduced. But, without killing hybrids en masse, how do we create space for captive-bred kittens?
"Also they are not an animal of rock and remote moor. We've been to Germany, Switzerland and Holland to look at successful wildcat reintroduction programmes and, in mixed deciduous woodland, they have been doing very well.
Gow added this type of habit was abundant in England and Wales, but said: "In Scotland there is a lesser amount of deciduous woodland and you have many hybrid cats there already.
"There are no hybrid cats in England and Wales. We believe this is why reintroduction south of the border stands a better chance of success."
Helen Senn, head of conservation at the Royal Zoological Society of Scotland, said the organisation have been working with national and international partners on detailed plans for wildcat reintroductions in Scotland since 2013 as part of a long-term strategy to help save the UK's last remaining wild population.
She said: "We have applied for funding to support this work, which would include the development of the UK's first dedicated wildcat conservation breeding for release centre, based in the Cairngorms National Park.
"While it is clear that the captive breeding programme managed by RZSS can play a key role in the recovery of the species across the UK, our current focus is on Scotland and the limited population is very much needed here as a vital conservation resource.
"Although suitable habitats may exist in parts of England, reintroducing carnivores to the wild is incredibly complex and robust, evidence-based assessments, following international best practice, need to be carried out.
"That includes prey availability, land management, domestic cat management and levels of hybridisation which may still exist in feral cat populations."
The National Farmers Union is concerned about the move despite conservationists' belief that wildcats – who survive largely on a diet of voles, mice and rabbits – pose no threat to livestock.
An NFU spokesman said: "Any species reintroduction, particularly if it hasn't been in this country for hundreds of years, can have a massive impact on the many benefits that the countryside delivers – local wildlife and biodiversity.
"One of our biggest concerns would be the impact on livestock. There would need to be adequate plans in place to mitigate this."
Derek, who himself farms, said he is prepared to work with farmers to allay their fears.
The ecologist made Sunday Post headlines when he reintroduced beavers into the wild in England last summer after a 400-year absence.
The move, nine years after he brought the animals to Scotland for a landmark trial in Argyll, involved the release of two beavers into the Forest of Dean in Gloucestershire.
---
Return of animals that have been extinct for centuries
Beavers had been extinct in Britain for centuries until a project by the Scottish Wildlife Trust and Royal Zoological Society of Scotland introduced 16 Eurasian beavers from Norway to Knapdale forest, Argyll, in 2009.
There is an estimated 430 beavers in more than 100 active territories across Scotland and the mammals were granted protected status earlier this year, meaning it's now illegal to kill the animals, or destroy established dams and lodges without a licence.
But not all plans to bring long-gone species back to the countryside have been welcomed.
Paul Lister who runs a wilderness reserve on Alladale estate, 50 miles north of Inverness in Sutherland, wants to fence off 50,000 acres of land to create a reserve for the controlled release of a pack of wolves.
Ramblers and conservationists have attack the idea, mainly due to the issue of fenced off land.
Conservationist Roy Dennis of the Roy Dennis Wildlife Foundation based in Morayshire wants to see the lynx – which became extinct in Scotland several centuries ago – reintroduced to Scots woodland. He said: "The lynx is an elusive animal – about the size of a Labrador – and hunts roe deer of which we have huge numbers. Ecologically it would be a sensible thing to do."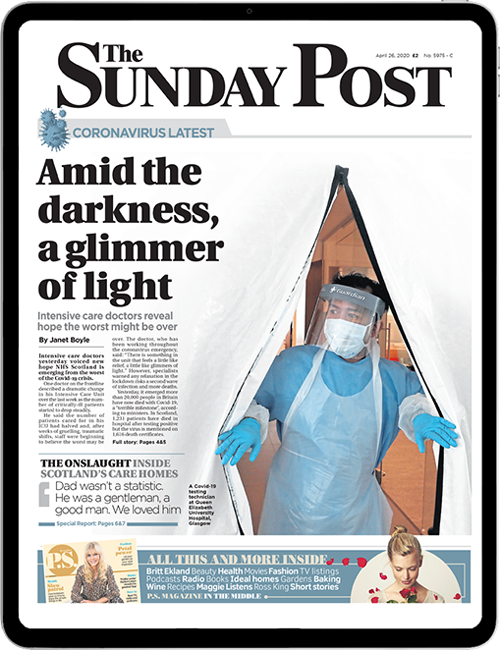 Enjoy the convenience of having The Sunday Post delivered as a digital ePaper straight to your smartphone, tablet or computer.
Subscribe for only £5.49 a month and enjoy all the benefits of the printed paper as a digital replica.
Subscribe