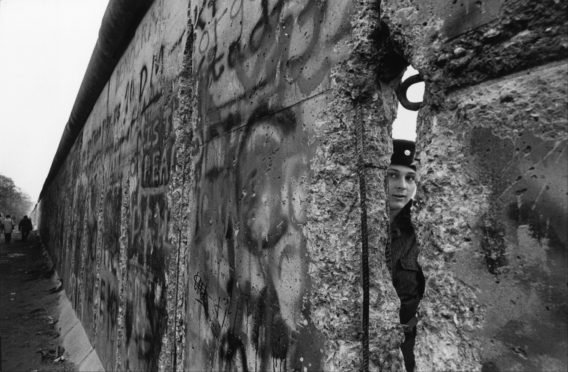 On November 9, 1989, the wall came down as the people of Berlin rose up to tear apart the concrete barrier which ran through their city.
The destruction of the Berlin Wall signalled the end of the division between Germans which had been in place since the beginning of the Cold War.
There were jubilant scenes as ordinary people took hammers and picks to what they called The Wall of Shame.
Although the dust may have settled, the reverberations from the fall of the Berlin Wall have echoed into the present day.
Here, we speak to three people about life in Berlin, and in wider Germany, in the three decades following the Fall of the Wall.
---
The first ten years
Artist Margaret Hunter moved to West Berlin in 1985 and lived in the city during the tumultuous months when the city was reunified.
"It was such a surprise when it came down," said Margaret. "I was back in Scotland because my daughter was getting married.
"My German husband had lived in Berlin since he was 20, he was angry to not be there when it happened. I was painting and he came running down the stairs to tell me. We were back in the city within days.
"We came back to chaotic euphoria. People from the East flooded in and were buying, buying, buying. They didn't have the luxuries we had. There was happiness, but things quickly became a bit unstable."
As well as so-called Begrüßungsgeld – "Welcome Money" gifted to East Germans, businesses moved in as state jobs given to those in the East ended.
"At the time there was a lot of talk about whether we took the plaster off quickly or slowly," added Margaret. "Well, we took it off quickly.
"I had a lot of sympathy for these people from the East. They had no clue. Business people from the West raced over and exploited a lot of them. It was a shame, many of them had grown up in a system and were left politically naïve by it.
"Everyone worked in the East because they had to. But it also meant people didn't have to put much effort in because there was no drive or ambition or encouragement from anyone.
"And almost immediately a lot of them were made unemployed. I came from Fairlie in North Ayrshire to Berlin and was dazzled by it. I imagine it was similar for the East Berliners. The euphoria people expected with the Western lifestyle just didn't happen. There was anger."
Along with other artists, Margaret went on to create a painting on the Wall, which survives in the famous East Side Gallery, an open-air exhibition space in Berlin.
---
The next ten years
German national Dr Armin Grünbacher is lecturer of modern history at the University of Birmingham, and has studied post-war Germany.
Following the East throwing off the shackles of communism in the 1990s, efforts to reunify the country had mixed success even a decade on.
"The initial problem was the strength of the East German economy had been grossly overestimated," explained Dr Grünbacher, who grew up in West Germany.
"There was a department in East Germany which did nothing but forge their economic statistics. Based on the assumptions taken from this, things would have been so much better in the following years.
"Chancellor Helmut Kohl made promises of 'blossoming landscapes', and that raised expectations which didn't happen. The reality turned out to be very different."
Dr Grünbacher believes people in the East of Berlin – and the country – weren't ready for the pressures of living in a capitalist society, and the dream of a better life quickly soured.
"People in the East are seen as having a victim mentality," he said. "It is something that will be difficult to overcome in Germany.
"I never understood this until I went on holiday with a friend from the East. We were walking through a car park and there was a rich West German there.
"He pointed to an East German-made Trabant car, saying only a stupid people could have made such a terrible car. I was stunned.
"There is an arrogant attitude in the West which, sadly, remains."
Businesses moved in to the East and successful state-owned industries were quickly flattened, leaving swathes of unemployed.
"There was a brand of motorcycles from the East which was hugely popular in the UK and the West, the MZ," said Dr Grünbacher.
"But in Germany there can be only one bike manufacturer – BMW.
"BMW had the influence to prevent MZ doing well. It went out of business.
"East Germans expected bananas and passports, and everything to stay the same. It did not.
"Never has a country been so rapidly colonised.
"In Berlin, rent prices in the East begun to boom – in a bad way.
"After reunification, rents were at 1936 prices. Now they're reaching London levels."
---
The last ten years
Rachel Loxton moved to Germany a year ago from Aberdeen, and quickly settled into the city so well she can't imagine moving on.
"Berlin just feels like a city of freedom. It feels like you can come here and be yourself, and it really doesn't matter who you are, or where you've come from," she said.
"It's not all amazing, and people do have problems, but there's something here. I cycle through this beautiful city and there's nowhere else I'd like to live.
"You can't help but think back to people like David Bowie, and what they did here.
"In terms of art, music, design, the gay scene – it's a place that pushes boundaries, and that's why it attracts people from all over the world."
Berlin society, according to Rachel, has moved on, but the divide remains in many ways.
"You can see the differences more clearly when you head to the suburbs, further to the east.
"I have a lot of different friends from the East. They're really nice but they are perhaps just a little more frosty.
"They're not more horrible people, but I think they are wary after what happened."
Although there's little desire for the return of the dark days of the Cold War, the attitude of ordinary Berliners to the days of being divided are complicated.
"People who were about four, for example, when the Wall came down are thinking about it in a new way.
"It's not like they want it back, but they think, 'Well, actually my parents were really shafted during reunification. They got left with no job, nothing.'
"And while they don't want a dictatorship, perhaps they don't feel good about what happened. It's not as black and white as we might think in the West."
In recent years there has been a rise of the far-right in Germany with the AfD Party, and Rachel has spoken to party members in the course of her job.
But while there has been a resurgence in the idea of building walls around the world – as with US President Trump – it's not a popular idea in Germany.
"They said to me they were a Trump-style party," added Rachel. "They're not saying, 'Let's rebuild the wall', but they do go for his brand of reactionary politics.
"Most Berliners I've met, though, think Trump is absolutely crazy."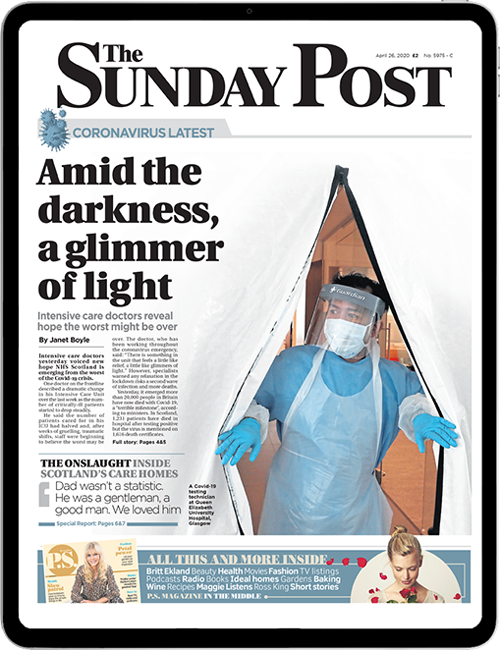 Enjoy the convenience of having The Sunday Post delivered as a digital ePaper straight to your smartphone, tablet or computer.
Subscribe for only £5.49 a month and enjoy all the benefits of the printed paper as a digital replica.
Subscribe