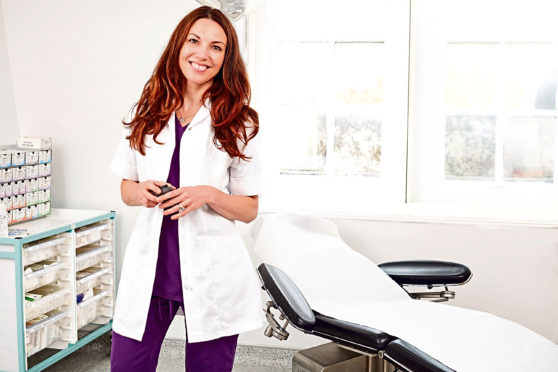 TV doctor Emma Claythorne is more than a pimple popper.
The woman who graces our TV screens in the hit series The Bad Skin Clinic has an impressive medical track record that started in Scotland. A consultant dermatologist and dermatological surgeon, she trained at Dundee University and the Royal College in Edinburgh.
Now based in London where she runs the Harley Street clinic that features in the programme, the "skin superhero" also leads the Specialist Skin Cancer Multi-Disciplinary Team at the St Johns Institute of Dermatology at Guys and St Thomas Hospital NHS Trust.
Dr Emma – who spent 10 years in Scotland studying at Dundee University and the Royal College in Edinburgh and working in hospitals in Glasgow and Perth – tells P.S: "It is incredibly important that skin conditions are seen and treated immediately and effectively.
"Skin disease has a negative impact on people's lives. Conditions like psoriasis and eczema are long-term and can affect joints and cardiovascular systems. These diseases can also affect self-esteem. So much of how others perceive us is because of our cosmetic appearance, and that can affect how we see ourselves, and our interaction with others. And it can really impact on how people lead their lives."
She adds: "The whole point of me doing this programme is that I wanted to show the scope of what dermatology does and what it can do to help people. I also want to educate people on the impact of skin disease and how we can help as a society."
The second series of the The Bad Skin Clinic sees Dr Emma back in her Harley Street surgery where she treats ordinary people across Britain suffering from extraordinary skin disorders.
Her caseload includes the most mysterious, shocking and chronic conditions: from the granny who can't sit down because of agonising scars to a young mum crippled with arthritis caused by psoriasis.
There's plenty of popping and squeezing too, from huge lipomas to cysts.
The series has two special episodes on acne and children's conditions and features a plumber's apprentice whose acne is so bad he can't face his customers and Olivia, 11, one of only 100 people in the UK who develops skin cancer when exposed to UV light.
Dr Emma says: "Skin is the largest organ in our body. It's a bit like a window to the soul. I like being able to look at somebody and see what's on their skin. It's like being a detective. It feels good to be able to improve peoples' skin. That's the best part of the job."
Dr Emma's top five skin complaints
ACNE
Acne is a skin condition that causes pimples to develop. It predominantly occurs in adolescence.
There is no single best treatment for acne, and combinations of treatments are sometimes recommended. They should be used for a minimum of two to three months before deciding if the treatment is effective. Sufferers should wash their face no more than twice daily, using a gentle non-soap facial skin cleanser and warm (not hot) water. A moisturiser that minimizes dryness and skin peeling can help.
Mild acne can initially be self-treated with non-prescription products such as salicylic acid or tea tree oil. Mild to moderate inflammatory acne can be treated with Benzoyl peroxide – usually applied twice per day. Antibiotics applied to the skin can control the growth of acne bacteria and reduce inflammation. Moderate to severe inflammatory acne is treated with oral antibiotics or an oral retinoid. Treatment lasts for about 20 weeks.
ECZEMA
Eczema makes your skin itchy and flaky. Its cause is unknown but it often happens in people who have allergies. It can also run in families. There is no cure but there are treatments that can relieve the symptoms of eczema. About half of children with eczema grow out of it.
Treatments include: moisturising creams or ointments; steroid creams and ointments and in some cases steroids in pills; antihistamine pills; and light therapy, involving ultraviolet and usually done in a doctor's office for those who do not improve with other treatments.
ROSACEA
Rosacea causes redness and raised, red bumps on the cheeks, nose, chin, forehead, or eyelids. It happens most often in adults ages 30 to 60 and can get worse over time.
Treatment for rosacea involves medicines and lifestyle changes. Medicines may be topical ie used on your skin, or taken orally in pill form. Lifestyle changes can control symptoms and flare-ups. And triggers should be avoided such as sunlight, stress, eating hot spicy foods and drinking alcohol. Sufferers should wear sunscreen every day and avoid using facial products containing alcohol and acid.
PSORIASIS
Psoriasis is an incurable skin condition that can make parts or all of the skin red, thick, and flaky. There is no known cause. Treatment can be with steroids and can come in creams and ointments, pills, or injections. A form of light therapy called phototherapy can also be used. Treatments work by slowing the growth of skin, controlling the immune response that causes psoriasis.
MELASMA
Melasma is a common, chronic, and recurring disorder that causes dark, discoloured patches the skin, usually on the face. It is particularly common in women, especially those of reproductive age. Factors that contribute to its development include genetic influences, sun exposure, sensitivity to hormones, pregnancy and, in some cases, medications. Treatment is in four steps and involves the use of adequate UVA/UVB and high-energy visible light protection, applied morning and midday every day of the year, even if inside. Ingredients should contain iron oxide.
A 12-week course of hydroquinone is also given in combination with topical tretinoin. Repeated low energy laser treatment (Q:Switched Nd:YAG laser) is also used. Suitable patients can have a 12-week course of Tranexamic acid.
---
The Bad Skin Clinic airs at 10pm on Tuesdays on Quest Red, available to stream on dplay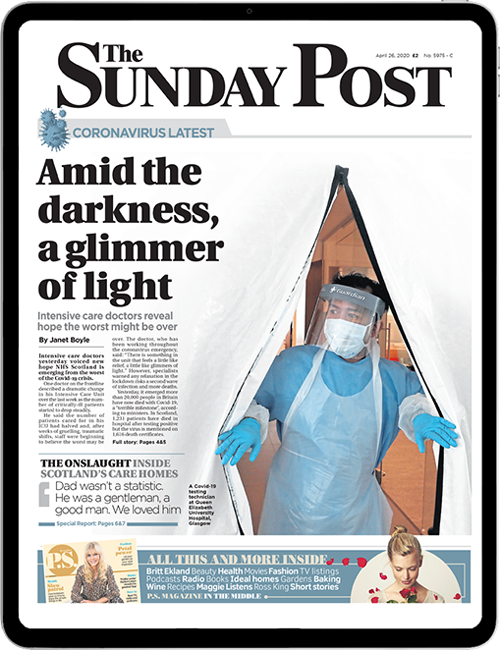 Enjoy the convenience of having The Sunday Post delivered as a digital ePaper straight to your smartphone, tablet or computer.
Subscribe for only £5.49 a month and enjoy all the benefits of the printed paper as a digital replica.
Subscribe