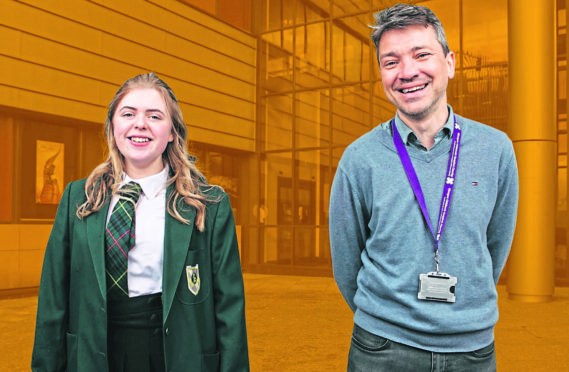 Schoolgirl Beth McKenzie has just passed her photography Higher exam with flying colours. One of the images she used came from inside her head. Literally.
The focus of the 16-year-old's project was a rare and life-threatening tumour extracted from her skull by a neurosurgeon in a complex and delicate operation lasting eight gruelling hours.
There was no guarantee the Blantyre teen would come through the surgery, alive or unscathed.
In the moments before going under the knife, brave Beth handed nurses a note for surgeon Roddy O'Kane, 45, thanking him for trying to save her and telling him that if she died it was not his fault, she knew he would have done his best.
Mr O'Kane,

Thank you for saving me and treating me like an adult, telling me the truth. You're right, I can take it. Thank you for doing everything you can and if I don't make it in the end, thank you for trying and it's not your fault. These things just happen.

From Beth, Room 3
O'Kane, himself a dad to three youngsters, still carries the note in his wallet and told The Sunday Post: "It brought a tear to my eye. It is beautiful, innocent and sincere. I carry it with me all the time."
Months on and survivor Beth is tumour and paralysis free. Back to her fit and fun self, she is in the thick of revision for more exams that kick off after the Easter break. But the life that most youngsters take for granted would not have been possible for her without the care and dedication she received from the dad of three and his crack team at the Royal Hospital for Children in Glasgow.
Her surgeon said the tumour, which had grown to the size of an orange, would eventually kill her if not removed. He said she was already reaching "the cliff edge where the brain can't cope any more".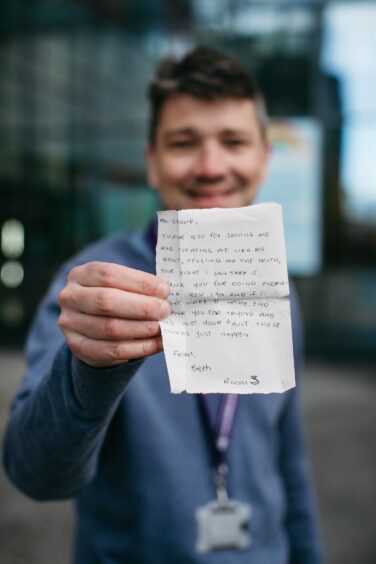 Speaking publicly for the first time about her ordeal, the young goalkeeper with Rutherglen Girls Football Club said: "I thought I was going to die. I wrote a note to Roddy saying that if I did die on the operating table it wasn't his fault. He was trying his best. I didn't want him to feel responsible."
Then breaking into a captivating smile, she added: "Roddy and the team saved my life. I love Roddy. He gives a sense of hope and joy that you just cling on to."
Beth began having crippling headaches, vomiting and eye pain at the start of last year but put it down to a migraine brought on by National Five prelim exam stress. Her worried mum contacted their GP during lockdown. She said she was advised to take her daughter for an eye test. Blood tests were also organised.
Beth was then examined by a high street optician on May 24 who immediately detected an anomaly and referred her to the ophthalmology department at University Hospital Hairmyres in East Kilbride. Staff there confirmed her concerns and in turn sent Beth to Wishaw General Hospital where further tests and a CT (computed tomography) scan were carried out. The result was earth shattering – Beth had a brain tumour.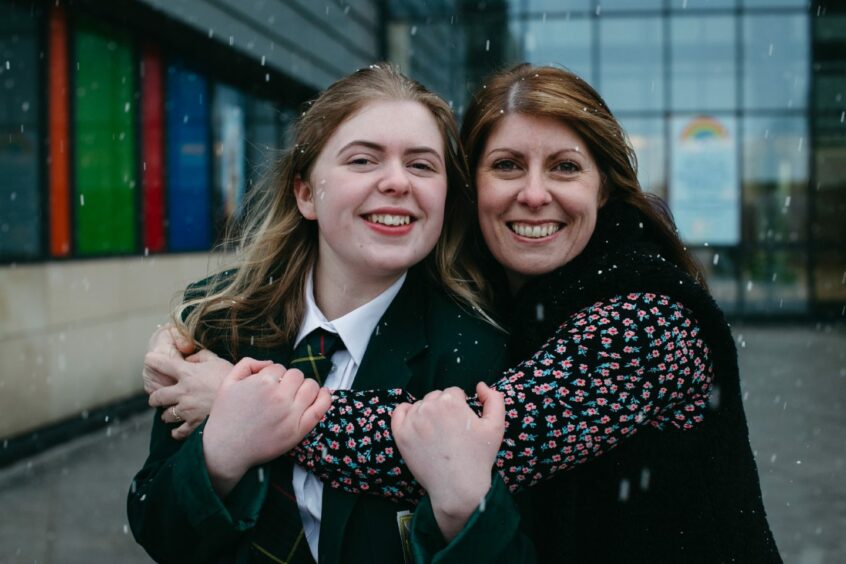 Fighting emotion, police officer Clare said: "My mum had a brain tumour when I was 22. It was a secondary cancer and she had it removed. But doctors couldn't find the primary and she died. My dad also had a cancerous tumour in his neck and died a few years later. It all came flooding back. I was so worried when they said Beth had a tumour. It was tough to hear but you go on to autopilot. I had to be strong for her."
Beth said of the shock diagnosis: "I just shut off. I told myself that if I shut off it wouldn't end badly. But I was scared."
She was sent to the emergency department at the Royal Hospital for Children in Glasgow where neurosurgeon O'Kane was already on the case. "He'd seen the scans and told us he thought it was a meningioma and not cancerous, but said we would not know for sure until it had been operated on and a biopsy taken," Beth's mum explained.
"He was so upbeat, optimistic and funny and talked to Beth like an adult. He wanted to give her the respect she deserved as a young woman. He set our minds at ease and the nurses welcomed us. Beth was in the hospital for the rest of the week but was allowed to go home on the weekend before the surgery."
On May 28, along with mum Clare, 41, dad Peter, 44, and sister Rosie, 12, Beth took the opportunity to get together with their wider family in an aunt's garden. She revealed: "When we were planning to go home, I properly said goodbye to everyone with hugs and kisses just in case I never saw them again. I thought I was going to die."
Back in hospital and on the eve of her surgery, she and her mum had a "girlies' night". Beth smiled: "We were sitting in face masks and my choice of film was White Chicks, it gave us a laugh."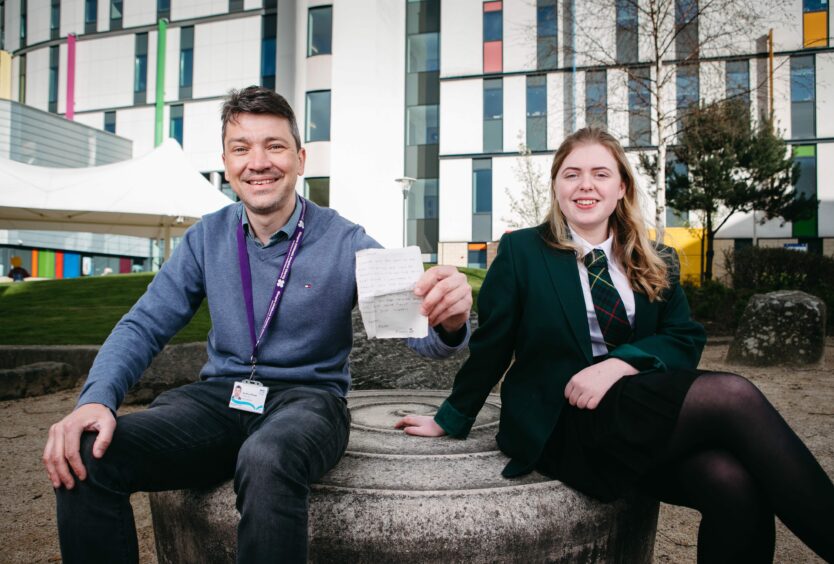 That night Beth began to pen the note to her surgeon, finishing it the following morning. She went into surgery on June 3 at 8.30am and left the operating theatre at 4.30pm. "When I came round the first thing I saw was my mum and dad at the bottom of my bed. Later on, Roddy and the anaesthetist came to see me. I asked Roddy if I could header a ball yet and he said I couldn't do that," she laughed.
Her mum added: "Beth was still woozy with the drugs but she was smiling and cracking jokes, she still had her sense of humour. It was such a relief I could have cried with happiness. She is the bravest person I know."
The day after the operation the family was given the news that scans confirmed the tumour had been successfully removed. But they had to wait two weeks for the biopsy result.
It came in a mobile telephone call while they were en route to a family holiday at Piper Dam in Angus. It revealed Beth's tumour had not been cancerous. Her mum said: "When we got to our lodge the first thing we did was shout to the family that it was benign. We had such a celebration!"
Beth said: "I felt how you might feel if you were drowning and someone pulled you up; that first breath you gasp in. It was relief. I was so happy."
The S5 pupil is now taking a mix of National Five and Higher exams. Her Higher photography result – "a high B" – is based on the storyboard she created with the help of her surgeon, on her tumour journey. Later this year she is off to Venice with her grandparents.
She said: "Last summer I didn't really go out and didn't do anything. I never got the chance to be 15. This summer I am going to make up for lost time."
Brain surgeon Simon Lammy urges children to follow their dream and schools to back them
The surgeon
Consultant neurosurgeon Roddy O'Kane always plays AC/DC's Thunderstruck when he begins surgery. The day Beth McKenzie, then 15, came in to his operating theatre was no exception.
A self-confessed creature of habit, he had been through his pre-op ritual when he received a note from his young patient.
O'Kane said: "Anaesthetic time can take an hour so I get my breakfast before I start the operation. I am quite superstitious. I always have a roll, square sausage, and a potato scone. I wear the same lucky socks and the same lucky pants – there's holes in them but I'm not throwing them out, they've done some cracking operations. And I always park my car in the same space when I operate.
"When I got to theatre one of the nurses handed me a note. It said: 'Mr O'Kane, thank you for saving me and treating me like an adult, telling me the truth. You're right, I can take it. Thank you for doing everything you can, and if I didn't make it in the end, thank you for trying. It's not your fault. These things just happen. From Beth.'
"It certainly makes you skip a heartbeat and brings a tear to your eye. It is beautiful, innocent and sincere; the maturity, understanding and openness of it! I still have it in my wallet."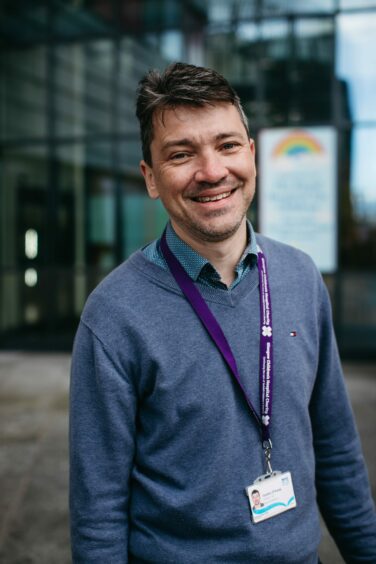 He said Beth's tumour – a meningioma – was "the size of an orange" and surrounded by "a lot of important blood vessels." He explained: "You don't want to sacrifice those, as that would cause the child a stroke and paralysis for life down the left side of the body."
Meningioma are rare in children and occur in less than 5% of all primary brain tumours in patients under 18. Surgery is most often used to remove as much of the tumour as possible, but is sometimes not possible because of the risk of damaging the brain. In this instance doctors may closely monitor the tumour for regrowth and might also use radiation therapy.
O'Kane, a dad of three, said: "As a parent, I can empathise. I'd be exactly like the parents of my patients as it is a naturally emotional thing."
He said Beth did "brilliantly" and went home four days after the operation. She later returned to the hospital on a fact-finding mission for her Higher exam project when they met again and he supplied her with photographs of each stage of her op – photographs he takes for all patients who want them. Beth's condition will continue to be monitored but outcomes like hers, he said, are his profession's "greatest reward". He added: "It is a beautiful thing to be able to do. There is a whole team of who worked with me to get Beth through that journey, anaesthetists, theatre staff, nurses, physios, MRI, radiology, pathology, porters, canteen staff – the list is endless. We always get the thanks but we can't do it without them."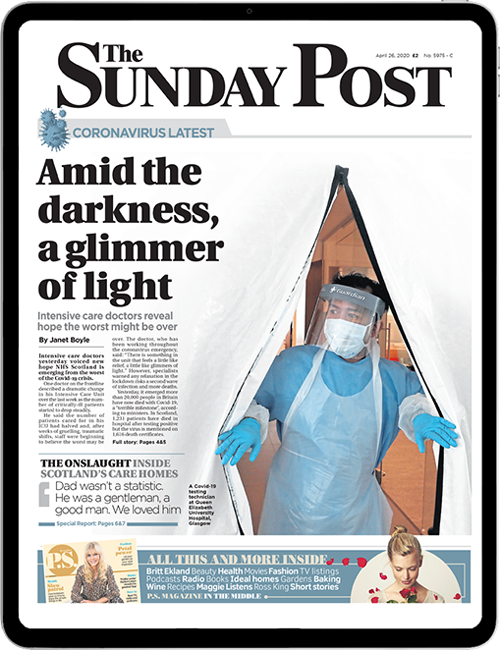 Enjoy the convenience of having The Sunday Post delivered as a digital ePaper straight to your smartphone, tablet or computer.
Subscribe for only £5.49 a month and enjoy all the benefits of the printed paper as a digital replica.
Subscribe