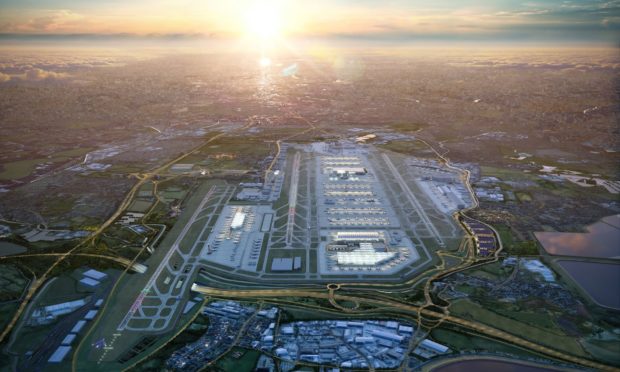 Scots airports could lose more than 220,000 passengers if the £14 billion third runway at Heathrow goes ahead, according to secret government figures.
The proposed £16bn ­expansion of the London airport, including the building of a third runway, is high in the in-tray of Boris Johnson, who is under mounting pressure to reverse his ­previous opposition to the project.
The Scottish Government also backed the proposal, claiming the huge expansion would create jobs around Britain before launching a review into its environmental impact.
However, previously unseen data from the Department for Transport reveals Scots airports will lose more than 220,000 passengers if Heathrow expands.
Increased competition from Newcastle airport, forecast to have more connecting flights to London, is one reason cited for a projected fall in business for Glasgow and Edinburgh airports.
The figures pile pressure on the Scottish Government to clarify its transport policy and call into question claims by the UK Government that Heathrow's expansion will create 16,000 jobs in Scotland.
Internal emails reveal DfT data, passed to the Scottish Government last year, predicted a loss of 220,450 passengers between Glasgow and Edinburgh airports by 2030.
Glasgow could see a fall of 171,037 passengers over the next decade while Edinburgh could lose 49,413, according to a table of projections by the UK Government.
The official projections, obtained under freedom of information requests, also said Glasgow is predicted to lose 267,868 passengers by 2040 and, although Edinburgh is forecast to gain 119,321 people by then, the net loss jointly to Scotland's two major airports would be 148,547.
Estimates of aviation emissions from an expanded Heathrow were redacted in the emails released.
Until recently, the Scottish Government supported a third runway at Heathrow after signing a memorandum of understanding in October 2016. In May, however, First Minister Nicola Sturgeon said backing for the expansion of the UK's busiest airport was under review after her decision to announce a "climate emergency".
Gordon Dewar, chief executive of Edinburgh Airport, said it had always maintained the continued growth of Heathrow would be "at the detriment of Scotland's airports and these projections demonstrate exactly that".
He added: "Creating a huge monopoly airport in the south-east of England will clearly have an adverse impact on other airports around the country, and the perception we are feeder airports for London is as outdated as it is false.
"We are an international airport in our own right, one that delivers economic benefit through jobs and business. We should be working to release the even greater potential Scotland's industry has, not grounding it by an obsession with Heathrow."
Scottish Green transport spokesperson John Finnie challenged the Scottish Government to clarify its position on the issue, arguing it was "incompatible" with a climate emergency to "relentlessly pursue growth in air travel".
He said: "They (Scottish Government) tell us they'll come up with a climate-change plan in six months but, meanwhile, they support an expansion of Heathrow while our airports compete for new capacity. Declaring a climate emergency is meaningless unless the Scottish Government also has the will to address the main contributors to it. Warm words will not address global climate change."
The Department for Transport said a new runway at Heathrow would bring benefits to Scotland, adding that, as well as creating opportunities for "new and more frequent routes", passengers will be able to "choose from a wider range of destinations to travel, and enjoy cheaper fares".
The Scottish Government said the decision on airport expansion rests with the UK Government and the Memorandum of Understanding signed with Heathrow Airport will potentially bring "significant job creation and investment opportunities".
A Scottish Government ­spokesman said: "We have already announced a change in our policy on Air Departure Tax. Later this month, our new National Transport Strategy will be launched for public consultation.
"It will set the future direction for transport over the next 20 years and identifies taking climate action as a priority.
"We are currently commissioning independent research to inform what further action is needed to de-carbonise the Scottish Transport Sector.
"We have been a leader in this field for many years."