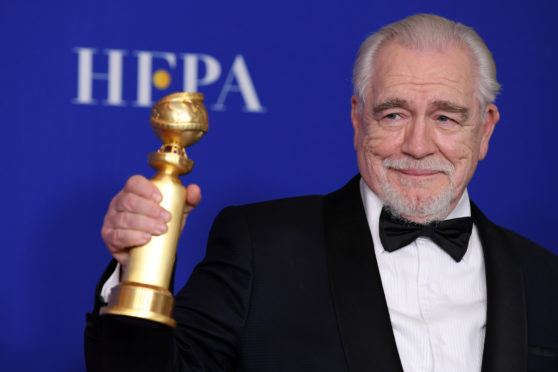 We're apparently living through a golden age of television.
Except for the bits where I'm on screen, of course. Telly is where it's at these days, and there's no shortage of incredible programmes to watch.
To stand out in a crowded field is something else, but last week I spoke to two stars who are firm favourites in what are probably the most brilliant programmes of recent times – Succession and Fleabag.
The former show stars Brian Cox as a Scottish tycoon in charge of a media empire. It's a hilarious black comedy about his children's attempts to seize control of their father's business.
Brian picked up the Best Actor role at the Golden Globes last Sunday for the role of Logan Roy.
The character has a catchphrase which would make a sailor blush – and I wasn't about to ask him to repeat it in public.
Not that he would!
"We can't say the catchphrase!" laughed Brian, who was with his lovely wife Nicole.
"We call it cauliflower for short. I'm now constantly asked by people if I could 'cauliflower' them!"
"It's a bit embarrassing. I did a play in New York recently and kids come up to me afterwards and say, 'Would you please say cauliflower to us?'
"So I say, 'Why don't you…cauliflower?'
"It's very good if you don't want people to bother you. You can get away with shouting 'cauliflower' at them…"
If you're in any doubt, it's what some viewers say when my face appears on the screen during breakfast television in the mornings.
For its part, Succession has been widely acclaimed, but I wondered if that blindsided Brian.
"It's gone kind of ballistic, which is surprising to say the least," he added. "Yes, it has surprised me.
"I knew the show was great because we have great writers, like the brilliant Jesse Armstrong.
"I knew it had potential because it's not like anything else. And I think that's what makes it work."
I also spoke to one of the other standout performers from telly last year – Sian Clifford, who plays Claire, the sister of Phoebe Waller-Bridge's Fleabag.
"Some days you're invisible and other days I must be giving something off that says, 'Look at me'. I dress very differently to Claire. Today I'm smart but usually I'm in jogging bottoms and jumpers. I can get away with it most of the time.
"I was inspired by Phoebe's extraordinary writing and ideas. It was very clear who she was from the page.
"I've been playing her for a long time. I knew who that woman was, I've met a lot of women like her so it was very easy.
"Everyone is so kind and full of love and that's what's so beautiful about it.
"We wanted to share a love story and that's what's beautiful about it. It's really beautiful to get that back."