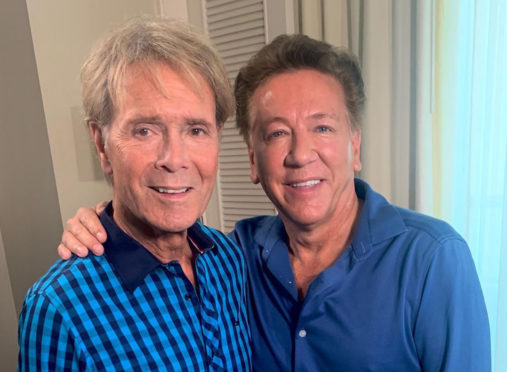 It was in 1990 when I first met Cliff Richard – when he was a sprightly 50-year-old. It was on a tennis court, with me partnering Virginia Wade.
We were playing against my old pal Sue Barker and Cliff.
I don't like to dwell too much on past glories but last week I got the chance to remind Cliff that it was Ginny and I who took the victory!
It's always great to have a chat with Sir Cliff and it's even better when you have to travel to Fort Lauderdale to do so.
I'm delighted to say how well he's looking after all he's been through in recent years, and really can't believe that he was 79 years young last week.
In my eyes, he is back to his best.
I've shared TV, radio and stage shows with Cliff and he never disappoints.
He's thoughtful, intelligent and has a wicked sense of humour.
In one show we did, I was on in the first half and sang the Jerry Lee Lewis classic, Whole Lotta Shakin' Going On.
Cliff came on in the second half and said: "I'm going to sing it now…I know Ross did it earlier, but I do it better!"
Cliff is heading out around the UK next year, in what will be called The Great 80 Tour.
The evergreen star will celebrate his 80th birthday at the culmination of the run of shows, in London.
"I can believe it!" he beamed. "I lived it all, and I dreamed about being Elvis. And then suddenly I had a career, and we were competitors, and I loved that.
"But did I think it was going to go on for 60 years?
"No – I didn't even think I'd ever be 60 years old.
"People have asked, 'Are you going to have a big party?' I said I'd rather have three or four small ones.
"The original title was going to be the 80th Birthday Tour.
"And I said, but we've done the 70th birthday tour, 75th birthday tour.
"And I was speaking to myself saying: 'I feel great at 80 and I like the fact that it sounds good'.
"So it's going to be called The Great 80 Tour.
"I start way up north and go to Gateshead, Glasgow, Blackpool, Birmingham, Nottingham, Sheffield, Manchester, Bournemouth, Brighton, and the Royal Albert Hall in London."
I wonder how the ever sprightly Cliff manages it.
"I've been lucky in one respect with the music," he told me. "But the other aspect of that is I've not been sick.
"I've been doing this 61 years and I've only cancelled one time, when I couldn't do vocals. I've never been sick."
Cliff went on to admit he'd have voted against Brexit.
"I don't think anyone's quite explained it, certainly at the beginning," he said.
"I didn't have a vote anyway but I'd have been tempted to have stayed."
"Have you heard that phrase 'older and wiser'?" he laughed. "Well, all I've done is get older.
"So now I'm trying to get wiser…"
I know how you feel, Cliff.