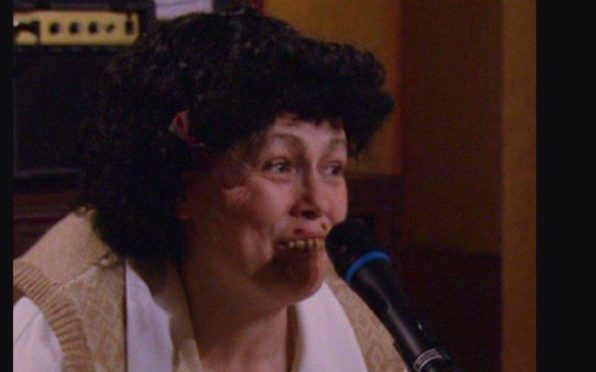 She's been dubbed one of the ugliest characters on TV thanks to her hunched back, hideous teeth and hairy moles.
But perhaps one of Still Game's Edith's most unattractive qualities is her famous croaky voice.
Maureen Carr, who plays the unsavoury Still Game character has now revealed the origin of Edith's croak – and how fellow Scot Peter Mullan persuaded her to use it on screen.
Glasgow actress Carr created the gravelly voice for a small role in Mullan's classic 1999 dark comedy Orphans.
She would later adopt the same croaky tones to win the role of Edith in Still Game for which she has become best known.
Speaking on Orphans Reunited, a documentary celebrating the film's 20th anniversary, last night, she revealed the voice imitated a woman she overheard speaking outside her flat in Glasgow.
She added: "When I was talking, and telling the story about this woman, Peter turned around and went, 'that's it, that's the voice, you need to use that'."
Edith was a recurring character on Still Game throughout its 17 year reign of Scottish TV.
She first appeared in the episode, 'Courtin" in 2002, as a blind date for Victor, after Jack asks Edith's sister Barbara out on a date.