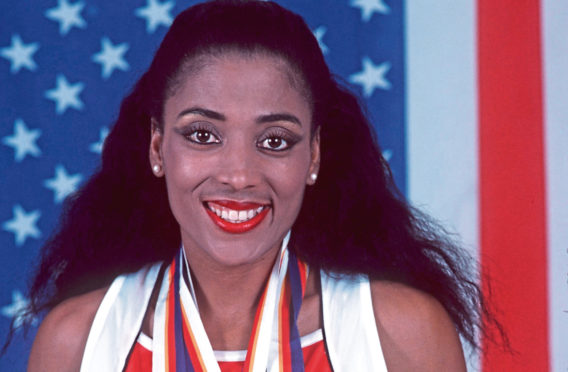 Florence Griffith-Joyner is still the fastest woman of all time, despite the fact that the world records she set for both the 100m and 200m are now 31 years old.
The American became the superstar of women's athletics in the late 1980s, not only for her record-setting performances but also because of her extrovert personal style.
She earned the nickname "Flo-Jo" and was particularly known for her extravagant fingernails and the innovative body suits she wore on the track.
She once explained: "Dress good to look good. Look good to feel good. And feel good to run fast!"
It was a mantra that served her well. She became the first American female Olympian to win four medals in a single year.
She won three golds and one silver at the 1988 Olympics in Seoul but shortly afterwards abruptly retired.
However, her legacy has often been tainted by accusations of drug use, though she never failed a test.
Her retirement coincided with a claim made by a former team-mate, Darrell Robinson, that he'd sold drugs to Griffith-Joyner.
Mandatory random drug testing was introduced to athletics in 1989, the year she retired.
On September 21 1998, Griffith-Joyner died in her sleep at home in the Canyon Crest neighbourhood of Mission Viejo in California at the age of 38.
The unexpected death was investigated by the sheriff-coroner's office, which announced that the cause of death was suffocation during a severe epileptic seizure.
She was also found to have had a congenital vascular brain abnormality that made her subject to seizures.
There were no suspicious drugs in her system when she died.
Florence Griffith was born and raised in California, the seventh of 11 children.
When Florence was in elementary school, she joined the Sugar Ray Robinson Organisation, running in track meets at weekends.
She won the Jesse Owens National Youth Games two years in a row, at the ages of 14 and 15.
At high school Griffith showed an early interest in athletics fashion when she persuaded the members of the track team to wear tights under their uniforms.
She attended California State University but had to drop out to support her family, taking a job as a bank teller.
Her coach Bob Kersee found financial aid for Griffith and she returned to college and qualified for the 100m at the Moscow Olympics, though she didn't compete due to the US boycott of the Games.
In 1983, she graduated with a degree in psychology and the following year won 200m silver at the Los Angeles Olympics.
At the time, however, Griffith didn't consider athletics to be a career.
She ran part-time and returned to working at a bank, styling hair and nails in her spare time.
She married Al Joyner, the 1984 Olympic triple-jump champion, in 1987 and returned to full-time athletics.
She was second in the 200m at the World Championships in Rome – wearing a hooded speed skating body suit – and began to double up with the 100m as her new husband began sharing coaching duties with her long-time mentor Kersee.
In April 1988 she started wearing a running suit with the right leg of the suit extending to the ankle and the left leg of the suit cut off, a style she called the "one-legger".
The running suits also had bold colours such as lime green or purple with white bikini bottoms and embellished with lightning bolts.
In the US Olympic Trials just before those Games she stunned her colleagues when she clocked 10.49 seconds for the 100m, a new world record.
Over the two-day trials, Griffith-Joyner actually recorded the three fastest-ever times for a woman at 100m and also set an American record at the 200m.
Following the trials, Griffith-Joyner left Kersee to be coached full-time by her husband.
For the Olympic Games she had to wear conventional athletics gear but she had six-inch nails painted red, white, blue and gold.
Her trial times had made her hot favourite for the Olympic titles in the sprint events and in the 100m Final she ran a 10.54, beating her nearest rival, Evelyn Ashford, to win gold.
In the 200m semi-final she set the world record of 21.56 seconds and then broke this record by another 0.22 seconds to take a second gold.
Griffith-Joyner also won gold in the 4x100m relay and silver in the 4x400m relay.
At the time, her medal haul was the second biggest for a female track-and-field athlete in history, behind only Fanny Blankers-Koen who won four gold medals in 1948.
Other athletes expressed disbelief over Griffith-Joyner's dramatic improvement over a short period of time.
Before 1988, Flo-Jo's best time in the 100m was nothing spectacular but in a period of just months she improved it by 0.47 seconds.
Her best before 1988 at 200m was improved upon by 0.62 seconds.
It was the Games at which Canadian sprinter Ben Johnson had his men's 100m gold taken from him after failing a drugs test and suspicion was in overdrive.
Florence attributed the change in her physique to new health and training programmes under her husband, which included more lower-body strength training exercises.
It's fair to say that her explanation was not universally believed.
In February 1989, Griffith-Joyner announced her retirement at the age of 29, citing her new business opportunities outside of sprinting.
In the weeks following the Olympics, Griffith-Joyner earned millions of dollars from endorsement deals, primarily in Japan.
The year after she retired, Florence and Al had a daughter, Mary – known in the media as "Mo-Jo" – who became a singer and appeared on America's Got Talent in 2012.
In 1996, Griffith-Joyner announced her comeback to competitive athletics but tendinitis in her right leg ended her hopes.
Tragically, two years later Flo-Jo was dead.
Her funeral at the Saddleback Community Church, with an Olympic flag draped on the casket, attracted 1,500 mourners.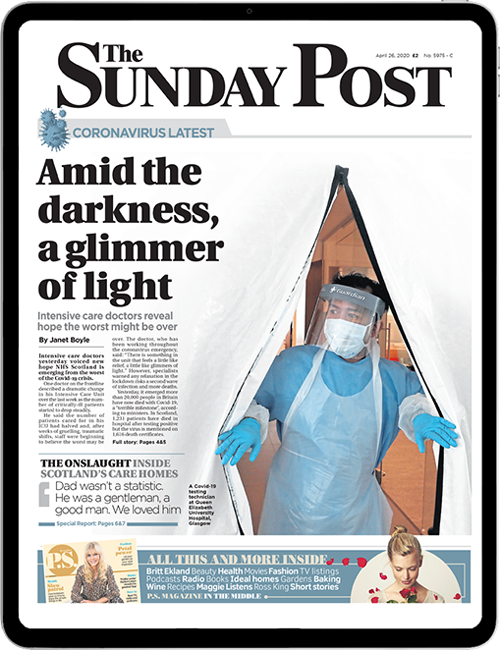 Enjoy the convenience of having The Sunday Post delivered as a digital ePaper straight to your smartphone, tablet or computer.
Subscribe for only £5.49 a month and enjoy all the benefits of the printed paper as a digital replica.
Subscribe