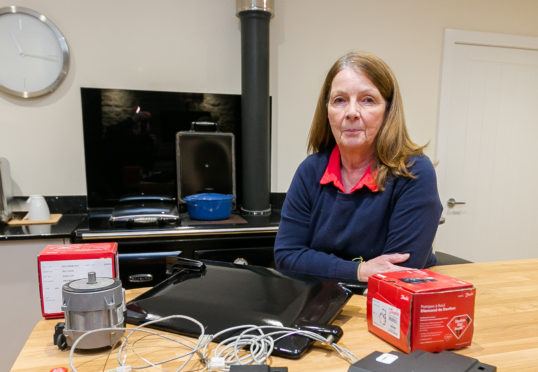 Ruth Patience is simmering over a faulty £9,500 combined cooking and heating unit she bought for her dream Highland cottage.
The widow, from Alness, Ross-shire, thought the expensive Rayburn Heatranger 680K she got from the AGA stove shop in Inverness would be ideal for her needs.
Her home was being renovated, and the appliance would not only be used for cooking meals, but also supplying her with hot water and operating the central heating system.
It was installed in time for last Christmas.
However, it wasn't long before it went on the blink.
"Within a month the heating side of it had broken down, which caused me all sorts of problems as it was the middle of winter," said Ruth, 65.
"It was freezing in the house, with temperatures dropping to –5 degrees and the Rayburn didn't get fixed for more than three weeks.
"Because of this, I had to live in two rooms and I used temporary, oil-filled electric heaters to keep warm.
"My electricity bill went through the roof.
"What made things worse was that it was also too cold for a new kitchen floor that I had ordered to be laid so this had to be put back for a month as well."
The retired food technologist's woes didn't stop there.
Over the next nine months, the Rayburn suffered more breakdowns.
Parts that were replaced on the appliance included pumps, thermocouples, a burner unit, a motor and an oven door, said Ruth.
"Virtually every working part has been replaced and I now have a box full of spares at the house," she said.
"It has got to the stage that whenever I meet friends and neighbours, the first thing they ask is not how I am doing – but 'Is the Rayburn fixed yet?'.
"The whole thing had got beyond a joke.
"AGA head office wouldn't entertain my pleas for my money back and communication with them became difficult.
"At first they did send out engineers to fix the unit but before long it would break down again.
"There is clearly something wrong with it."
At the end of her tether, Ruth contacted Raw Deal. In turn, we asked AGA to look into the matter.
The firm firstly sent out a local technician to apply a temporary fix.
The company has also arranged for a specialist engineer to make a two-day trip from its base in Telford, Shropshire, to Alness, to finally get to the bottom of the issue.
AGA has also offered to extend Ruth's warranty on the Rayburn.
A company manager wrote to her, saying: "I would like to offer our sincerest apologies that this has still not been resolved for you.
"Taking into account the history I can understand that this is not acceptable and I appreciate that you will have concerns over the reliability of the appliance.
"Once we have confirmed that the appliance is functioning correctly we would like to arrange to extend the warranty on the appliance for you as a gesture of goodwill."
Ruth said that if this didn't work she would then try to claim her money back.
"It has been very stressful," she said.
"I can't thank Raw Deal enough for all the help.
"Fingers crossed, my cooker and heating will now be working properly in time for this winter because to remove the whole unit from my new kitchen would cause even more disruption, money and hassle."