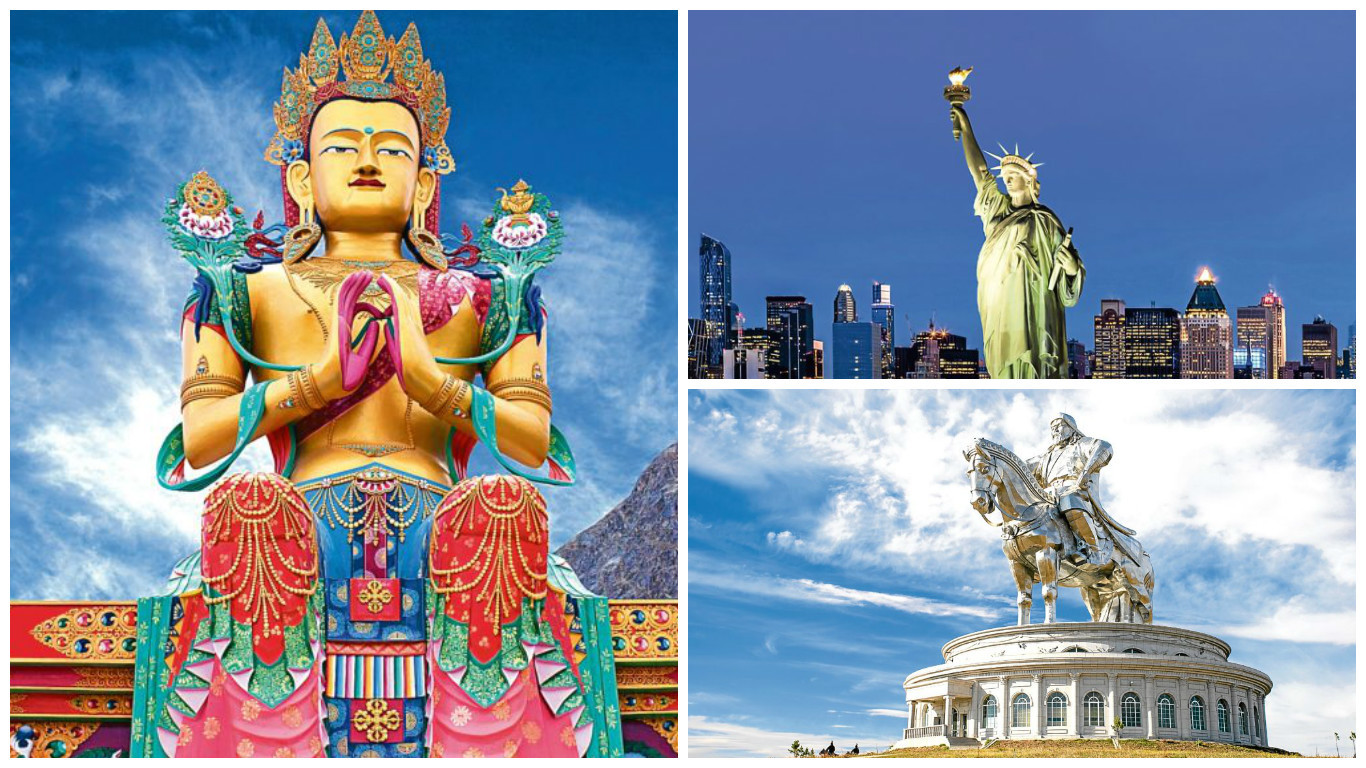 THEY do say it's the little things in life that matter, but these incredible statues make a very big impression!
In a world full of wonders, the planet's greatest monuments and statues provide some of our most awe-inspiring experiences.
This week, we're taking a look at 10 of the World's Biggest Statues, and explaining what makes them so special.
Maitreya Buddha, Pakistan
SURELY the most-colourful Buddha statue anywhere on Earth.
Facing down the Shyok River towards Pakistan, this extraordinary Indian Buddha is a symbol of world peace. It's also one of the most eye-catching statues on our planet!
Ataturk Mask, Izmir, Turkey
If you're ever in Izmir, in Turkey, you won't pass the Ataturk Mask without noticing it.
One of Turkey's biggest national heroes, the former army leader, revolutionary and Prime Minister is watching you, wherever you go!
Kelpies, Falkirk
Surprisingly, many Britons still don't seem to know of the Kelpies.
A pair of 30-metre horses' heads at Falkirk, they were completed three years ago, and have been turning heads and making first-time visitors go "Wow!" ever since.
Not the world's largest, tallest, widest or zaniest, but this pair add something wonderful to the world's looks.
Statue of Liberty, New York
To many Americans, proud of their country, the Statue of Liberty is right up there with the tallest statues. Trouble is, that's only if you include the statue's very large plinth!
The copper statue, built by Gustave Eiffel of Tower fame, stands at just over 150 feet, but that doubles if you add the plinth.
Besides, even if many statues in Russia and elsewhere tower over it, Liberty has been seen by more people, at a rate of three million or more each year!
Leshan Giant Buddha, China
THIS is extra special as it was carved out of a whole cliff face, and towers at 233 feet, making it the biggest stone-built Buddha on the entire planet.
A UNESCO World Heritage Site, its exquisite setting beside the waters of the Qingyi River makes it even more stunning.
Its calm facial expression has long been said to calm the waters, to allow small sailing vessels safe passage through here.
Christ the Redeemer, Rio de Janeiro
Rio's art deco statue was made from soapstone by French and Brazilian engineers and a French sculptor, Paul Landowski.
Consecrated in late 2006, He is situated on the top of Corcovado — "Hunchback" — Mountain, and is visible from very distant spots on a good day.
Genghis Khan, Ulaanbaatar, Mongolia
If Jesus welcomes everyone who comes to Rio, it's a different story with the imposing statue of Genghis Khan on his horse, at Ulaanbaatar, Mongolia.
Not surprisingly, it's the world's largest equestrian statue, and Genghis looks confident and as belligerent as ever.
With the sun bouncing off its silver, this is the most striking statue not to feature a religious figure. You can also see it from the inside, walking through the horse's chest into its head.
Laykyun Sekkya, Myanmar
Another Buddha, the Laykyun Sekkya of Myanmar, is very different from others you'll see.
Touching the clouds at over 420 feet including its plinth, there is another massive reclining Buddha below it, and they are slowly but surely building a third one.
With 1,000 trees at its feet, its 20 levels are said to depict the ascent from Hell to Heaven. Its mustard colour seems to turn gold, depending on what the sun does.
Motherland Calling, Volgograd
A MASSIVE Second World War monument in the heroic Russian city of Volgograd — once Stalingrad — is Europe's tallest, and the world's highest freestanding non-religious statue.
She may be smaller than several Buddha statues, but she is still extraordinary and in many ways a fitting monument to the amazing fight shown by the Red Army here, to somehow keep the Nazis at bay.
You may know that our Queen Mother gave the city a special award for the citizens' amazing spirit during the Second World War, and was very keen to visit just as she sadly passed away.
It was the world's tallest when it was dedicated in 1967, and a famed Soviet sniper, who killed 225 enemy soldiers, is buried here, as is one of the Soviets' heroic army commanders.
Not fixed to its foundations, but simply left to be held in place by its massive weight, there was alarm a few years back when they found it had moved 20cm, but that has now been fixed with serious restoration and reinforcement work.
Spring Temple Buddha, Henan, China
IN Lushan County, Henan, China, this Buddha stands at almost 700 feet, which includes the several-storey building used as its plinth.
It cost over $55 million to construct, using over 1,100 pieces of copper, and at over 1,000 tonnes would make quite a thud if it ever toppled over.
So let's hope it doesn't . . .
---
READ MORE
VIDEO: Scotland's most iconic buildings- which is your favourite?
Bucketload of Oor Wullie statues take to the streets of Dundee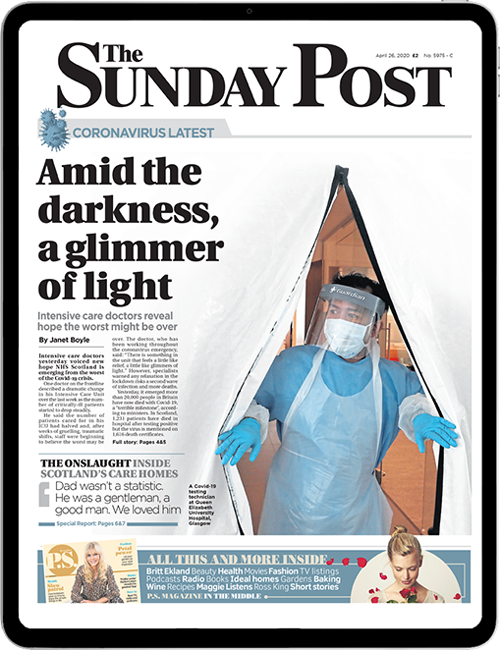 Enjoy the convenience of having The Sunday Post delivered as a digital ePaper straight to your smartphone, tablet or computer.
Subscribe for only £5.49 a month and enjoy all the benefits of the printed paper as a digital replica.
Subscribe