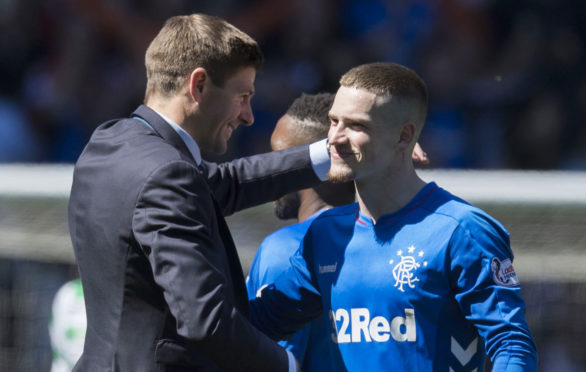 Steven Gerrard is prepared to play the waiting game to bring Ryan Kent back to Rangers.
The Ibrox boss isn't known for his patience when it comes to players committing their future to his club.
But he'll make an exception for the 22-year-old Liverpool winger.
Kent featured 27 times for Rangers last term and became increasingly influential as the campaign wore on.
Gerrard is keen for the player to have another stint at Ibrox, but that won't happen immediately because Kent is currently away touring the USA with Liverpool.
Indeed, he was in the Reds' starting XI for their meeting with Borussia Dortmund in Indiana yesterday, and was substituted after an hour.
Anfield manager Jurgen Klopp won't be rushed into where Kent plays this season, with other teams, including Leeds United, also interested in having him.
It's a measure of how keen Gerrard is to be reunited with the player that he's willing to keep a squad place open for him until the transfer window slams shut.
The Rangers gaffer said: "Am I willing to wait until the last day of the window for Kent? I'm willing to wait until the last second.
"I'll give it to the very last second to get Ryan back here.
"He's an exception because he was outstanding last year.
"I feel he's ready to go again, with the confidence he should have from last season.
"But we're still talking about a player who belongs to Liverpool. They'll make the decision on him and we'll be totally respectful to the club and Jurgen Klopp.
"Everyone knows I want him back and I'll give it until the last second. But if it doesn't happen, it doesn't happen.
"I haven't spoken to him for a while, so we'll wait patiently to see if he wants to come back and respect Liverpool's decision."
While Gerrard won't complain if Kent takes his time to decide on his next move, he will be less tolerant of players in the Rangers' squad who start angling for a move.
That should be a warning to Alfredo Morelos or anyone else who believes there are better opportunities elsewhere.
Gerrard said: "I only want people here who are desperate to play for the jersey and to be part of this club. We need players who love coming to work and representing Rangers.
"Anyone who isn't up for the fight, or is looking over the garden fence for other opportunities, I wish them well.
"I only want people who'll give everything for the shirt here."
A player who has quickly impressed supporters with his commitment is midfielder Joe Aribo. His energy will be important when Rangers take on old foes Progres Niederkorn in the Europa League on Thursday.
The Luxembourg minnows knocked them out of the competition two years ago.
It's reckoned Aribo only cost around £300,000 from Charlton Athletic because of cross-border transfer rules.
Gerrard is increasingly convinced the club landed a real bargain in the 22-year-old.
He said: "I don't think I should put a price tag on a young player like that, but it would be a lot more than we paid for him – a hell of a lot more.
"He's got potential to be a top, top midfielder, for sure. He's got all the attributes. He's raw and we've got to shape him round the edges, and help him, tactically and positionally.
"But it's a hell of a coup to have him and I think in the future that will be proven.
"He gives us balance on the left side of midfield. He's got the profile we didn't have and he's willing to take the ball in tight spaces.
"He can burst past players, he can out-play them. He's strong and works tirelessly for the team.
"I'm just glad I've got the chance to work with him.
"What a place this is for the next stage of his career. This is the perfect stage for him."
The Rangers supporters are likely to get their first look at Swedish international centre-back Filip Helander in today's friendly against Blackburn Rovers.
Gerrard is keen to bring on his fitness, but says it's not a given that Helander and Connor Goldson will be his first-choice pairing in defence.
He said: "I'm very keen to get him into the team, because we know he's a good player, an international and a very good centre-half for us moving forward.
"But I pick the best 11 players I feel can get the job done. That will change from week to week.
"I don't have favourites and I don't have people who are stonewallers for the shirt.
"No one is a shoo-in to get into my starting-XI unless they deserve it."