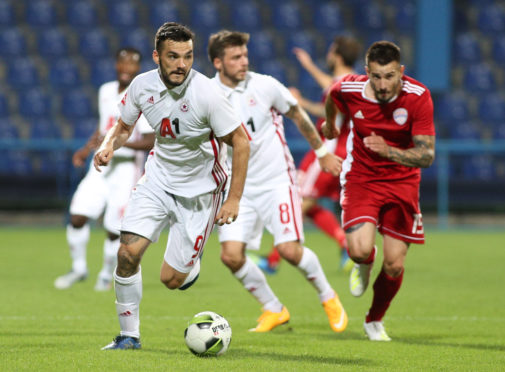 Tony Watt appeared destined to be involved in European football on a regular basis every year after his stunning goal for Celtic against Barcelona in their 2012 Champions League win.
That didn't turn out to be the case, however, and he has had spells with clubs on all points of the compass in the seven years since.
But the 25-year-old kept his latest European dream alive in midweek – this time with Bulgarian outfit, CSKA Sofia.
The club which launched the careers of the likes of Hristo Stoichkov and Stiliyan Petrov are in the Europa League.
Last Tuesday night, Watt helped secure the goalless draw with Mladost Podgorica from Montenegro that saw his side through to the next stage, where they will face Osijek, from Croatia, one the teams Rangers knocked out of the competition last summer.
Watt told The Sunday Post: "Despite being well ahead from the first leg, we still took hundreds of fans to Montenegro for the return.
"They made a 12-hour drive to be there and cheered us on from the first whistle to the last.
"They are extremely loyal fans, but also very demanding, in the way Celtic and Rangers fans are.
"They want to see you win every game and will let you know if they are not happy.
"I like it that way. The fans have every right to have high expectations.
"We all know there is no room for error at this stage of the Europa League.
"Any mistake can be costly. You need to be right on it.
"There is so much at stake for every club, but if you do well this early in the season, it really sets you up for things to come as the campaign goes on."
This isn't Watt's first taste of football abroad.
When he was still on Celtic's books, he had a spell on loan with Lierse before joining another Belgian outfit, Standard Liege, on a permanent basis.
In 2017, he returned to Belgium to play for OH Leuven. But not before his time with Charlton Athletic, Cardiff City, Blackburn Rovers and Hearts.
He stayed in Scotland with St Johnstone last season, where he scored three goals in 29 appearances.
Watt enjoyed his spell at Perth under Tommy Wright but had an itch to go overseas again and the opportunity to move to Bulgaria came up.
He has signed a three-year contract, and said: "When I first heard about the interest from CSKA Sofia, I was excited.
"They are a massive club and have a great history.
"They were looking specifically at the British market for certain types of players because they wanted that kind of mentality and fighting spirit.
"I ticked a number of the boxes for them and the deal got done.
"To come and play for this club and follow in the footsteps of legends such as Stoichkov and Petrov is something I'm very proud of.
"Now, I need to make my mark here over the next two or three years.
"As soon as I signed, I just wanted to get over to Bulgaria and get stuck in.
"I've already found an apartment, and my wife and I have moved in.
"That has allowed me to concentrate on the pre-season schedule and work on my fitness.
"When I arrived in Bulgaria, I'd only played one full game at St Johnstone in the previous three months, so I had a wee bit if catching up to do.
"We had two long training camps in June and the start of this month.
"I grafted really hard and I'm now heading towards 100% fitness.
"I was on the bench when our league season started last Friday night, but played the full Europa League tie in midweek.
"Once I get a few more games under my belt, I'll be there.
"The coaching staff have been really pleased with my progress, and they have been very encouraging. They are conscientious and thorough.
"I know that my game is going to improve over here and that's what it's all about.
"We are all desperate to bring success to the football club.
"The last time the club won the League was in 2008, and that is something we need to put right.
"Like Celtic back home, Ludogorets have won the Bulgarian title for the last eight years on the trot, and they are the team we need to beat.
"We play them next month and that will be an interesting tussle, one I'm really looking forward to."
Off the park, Watt loves the way of life in Sofia. The weather is fantastic at this time of year, but equally the winters are severe.
He smiled: "The lifestyle is fantastic. We are living in a lovely part of the city and we enjoy going out for dinner or a coffee.
"The restaurants are different class and everything is very reasonably priced.
"We have different nationalities at the club, from Portuguese to Brazilians, and the club have made a real effort to integrate us all.
"We had a barbecue after training the other day, and it was chance for everyone to mix and continue with team bonding.
"The coaching staff all want to help us on and off the park. Training is good and the sessions are different all the time.
"All in all, I just want to concentrate on my job and do my very best for CSKA Sofia.
"I have a good feeling about this move. I'm really excited.
"I really enjoyed my time at St Johnstone, and will always be grateful to the club for giving me an opportunity to sign last summer.
"But I'm glad I've made this move to Bulgaria.
"This is a massive football club, with passionate fans and we need to do well. I want to play as many games as I can, score goals, provide assists and do my bit to bring success."
As he tries to stop the dominant team from doing nine-in-a-row in Bulgaria, Watt will be hoping his former club do not get halted in their tracks in Scotland from adding another SPFL Premiership title to their tally.
As a former team-mate of the likes of Scott Brown and James Forrest, he knows the ability and mentality those guys possess.
As a result, Watt reckons there is something inside the squad that will see them emerge victorious.
He said: "I will continue to keep an eye on things back home, of course.
"Neil Lennon was the man who gave me my chance at Celtic.
"We all know the magnitude of the campaign he's facing, and it will have the whole country on the edge of their seats.
"I'd like Celtic to win the league again, but they will not be taking anything for granted.
"It gets harder each season and the pressure on the club will be massive.
"Equally, Rangers know the importance of stopping Celtic. They just can't allow it to happen.
"Steven Gerrard has definitely improved the team, and they have made three or four quality signings.
"But Rangers will need to be on it for 38 games in the new season, and that is the challenge they need to show that they can live up to.
"At this stage, you would take Celtic to make it nine-in-a-row.
"But the picture will be clearer at the end of August.
"By then, we will know exactly what both squads look like as I expect there will be a good few comings and goings in the next few weeks."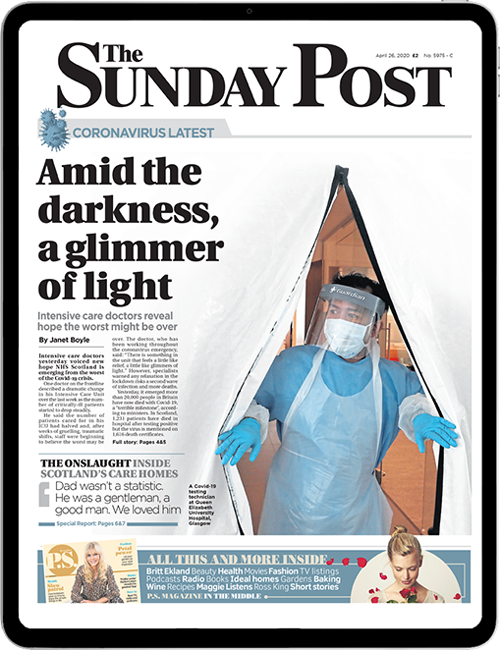 Enjoy the convenience of having The Sunday Post delivered as a digital ePaper straight to your smartphone, tablet or computer.
Subscribe for only £5.49 a month and enjoy all the benefits of the printed paper as a digital replica.
Subscribe