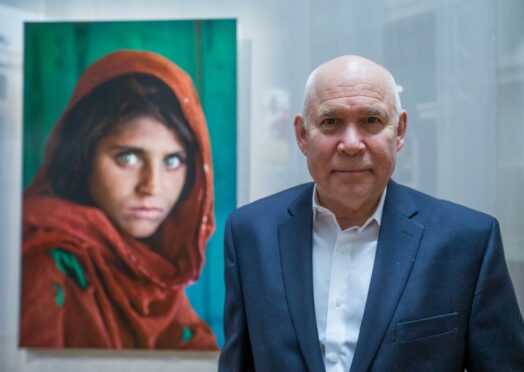 The girl with the piercing green eyes became iconic, an emblem of war in Afghanistan and of refugees everywhere.
Now, 37 years later after being photographed in a refugee camp, Sharbat Gula has been forced to flee again after the Taliban retook power in Kabul.
Last week, she was given safe haven in Italy and the American photographer who took her iconic image could not be more relieved.
Steve McCurry remains in touch with the subject of his most famous photograph, who he most famously photographed in a camp in Pakistan, and later in 2002.
Deported back to war-torn Afghanistan in 2016 and now in her late 40s, McCurry voiced his relief after Italy on Thursday said the widowed mum-of-four could stay in Rome after she fled the Taliban. "I'm so happy she's safe," he said.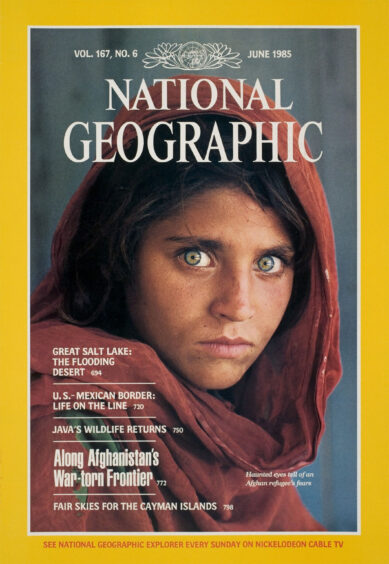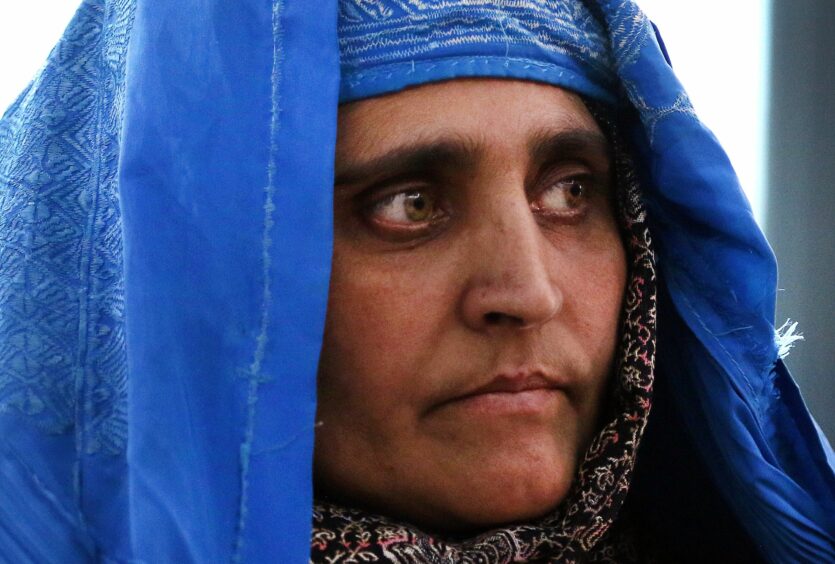 Gula is not the only child to have been memorably framed by McCurry, during a 50-year career. A new book, Stories And Dreams: Portraits Of Childhood, captures some of his most powerful shots. McCurry, 71, says the book was inspired by becoming a father nearly five years ago.
Speaking from the Philadelphia home he shares with wife, Andie, and their daughter, Lucia, four, McCurry told The Post: "Becoming a father certainly had something to do with the book, there at least one or two pictures of Lucia in it. It is partly inspired by her.
"But I was going through my archive with my sister, Bonnie McCurry, and we noticed a number of pictures of children being children whatever th eir circumstances. We realised there was a lot more depth than we had first imagined. It holds up pretty well."
McCurry – the great-grandson of Aberdeenshire farmer Angus McCurry – revealed many of the children he photographed had been difficult to forget. "Some of the images haunt me, others you recall with fond memories," he said. "The ones that involve child labour – when you have a 12-year-old boy who gets up at 5am to go to a factory, well, we can do better than that."
His encounter with Gula will stay with him for the rest of his life. He first met her in a refugee camp in Pakistan during the Soviet occupation of Afghanistan, as people were displaced by the conflict. Aged 12, she had been forced to flee from her village after it was bombed by the Soviets, and walked with her family across the mountains to the camp.
McCurry, who was following the conflict from Pakistan and the rebel-controlled areas of Afghanistan, said: "So many Afghans and refugees around the world go through a similar thing. It is heart-breaking. The first time I saw her I was walking past a makeshift school for girls, a tent, and heard voices. I went in to check it out. I knew immediately there was a magic about her image.
"It's a combination of her expression, the light, the colours and the background, but mostly it is the eyes and the expression; the fact that she had this very strong face."
In 2002, McCurry with National Geographic tracked her down. Now a woman, Gula had been married at 13.
He recalled: "She remembered me even though I was only in the school for about 20 minutes. She is illiterate and doesn't speak English and in that culture girls are not supposed to interact with men who are not their relatives.
"She was a little mystified by all the attention but, after that, a documentary was made and she saw herself on television. It was then she realised it was a big deal."
---
Indonesia, 1983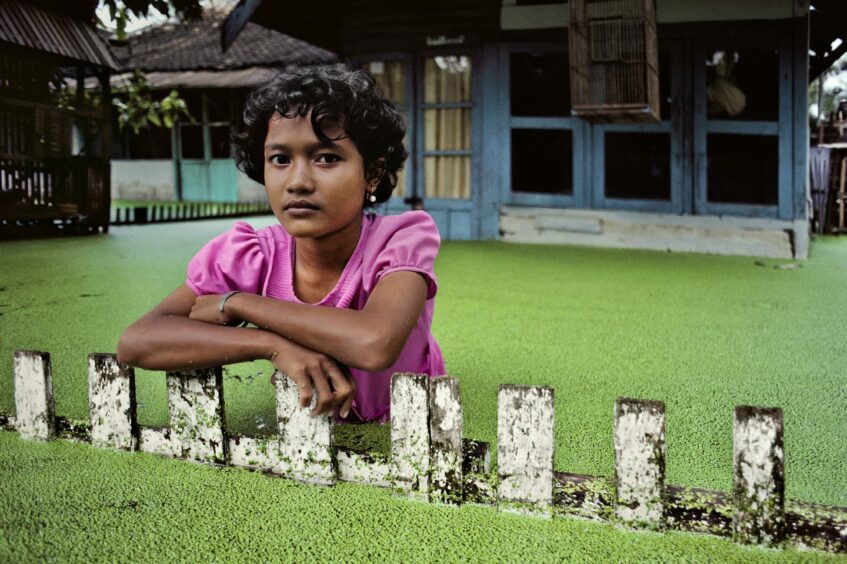 I was in that neighbourhood on and off over four days while developing a story on the monsoon in Indonesia, India and Nepal. I was walking through the water when I saw this girl in her front yard in Bojonegoro, Java.
What struck me was that life goes on. There was no other place to go so they just had to stay in their neighbourhood and wait for the water to subside.
What interested me was the combination of the green duckweed on top of the water that looked like a carpet and her pink dress, but mostly it was her serene look. She was just standing in the water like it was the most normal thing in the world.
Maybe this happened every year and it was just something they had to endure. It says a great deal about human resilience.
Beirut, 1982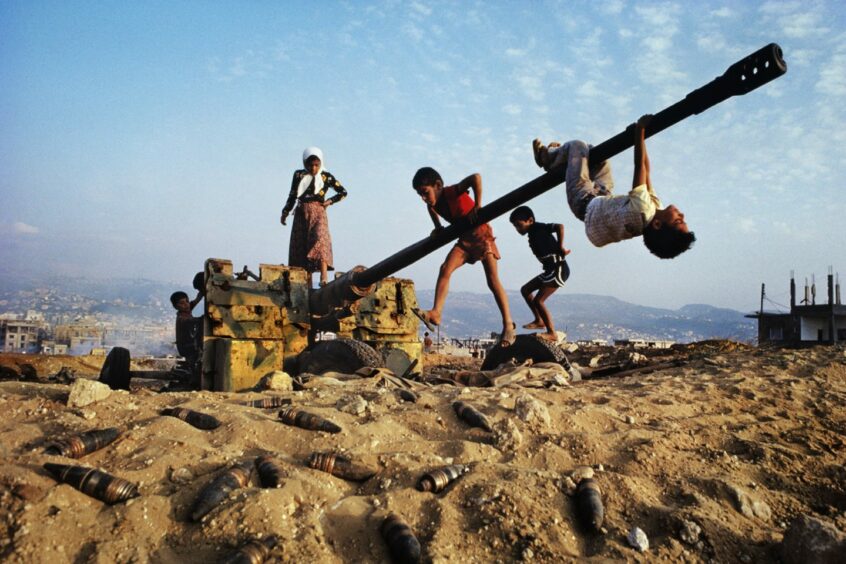 Make-believe conquers the tools of war as children clamber over an abandoned anti-aircraft gun.
McCurry said: "The war in Lebanon had been raging since 1975 when this picture was taken. I was there photographing before the Israeli invasion and during the whole time of the civil war between the Christians and Muslims. That artillery piece was still in operation.
"I don't think the children actually knew what it was – it was just a thing to them. Children are able to adapt and be inventive. There was nobody around, and so they found a way to amuse themselves.
"I don't think they were in danger. There had been fighting in the weeks before, but there wasn't any fighting going on right then. The war was all they knew."
Togo, 2018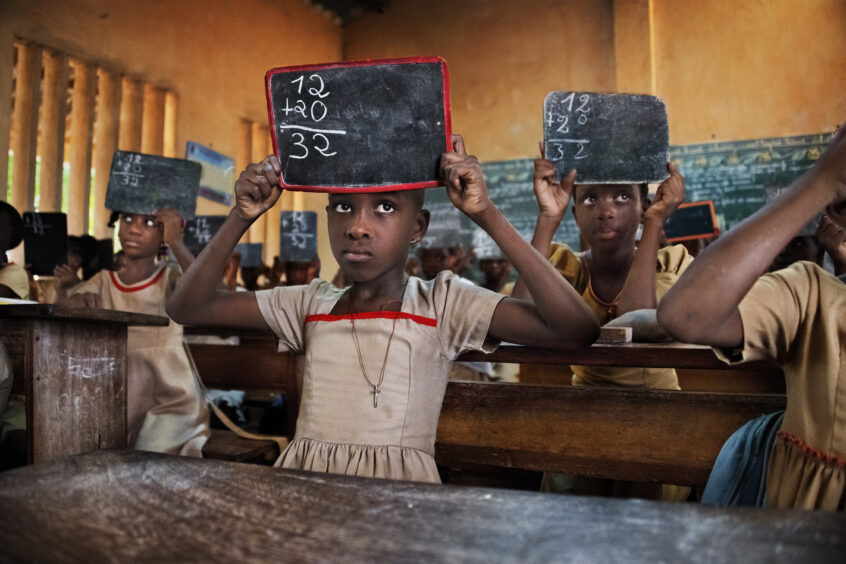 "This shot was taken in 2018 when I was on assignment for a company that operated luxury ships.
"We were wandering around, I saw the school, and thought it would be interesting to see what it was like. I went in and they were in the middle of a maths class.
"I had never before seen the system they had of holding up their little individual chalkboards with their answer to the math question.
"I thought it was interesting and wanted to capture that."
Philippines, 1985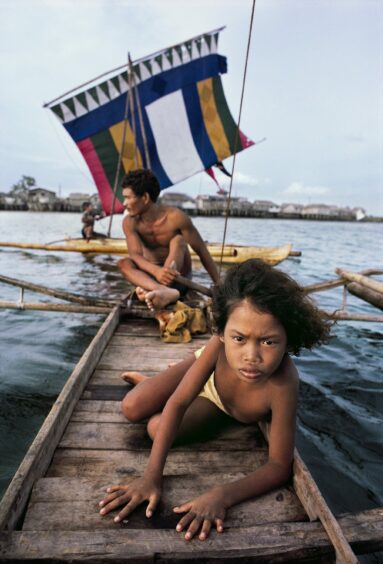 "A Bajau fisher and his daughter – these "Sea Gypsies" live their lives on boats and in stilt homes.
"I was fascinated with living your life on the sea. It is a life so different from how I grew up in Philadelphia; living in a house with a yard and going out and playing football.
"They have a different culture. Life on the sea is all the children knew. Some people live in high-altitude villages in Mongolia where it is cold for most of the year.
"It is the variety of living that intrigues me and how people have adapted to different environments."
Cuba, 2017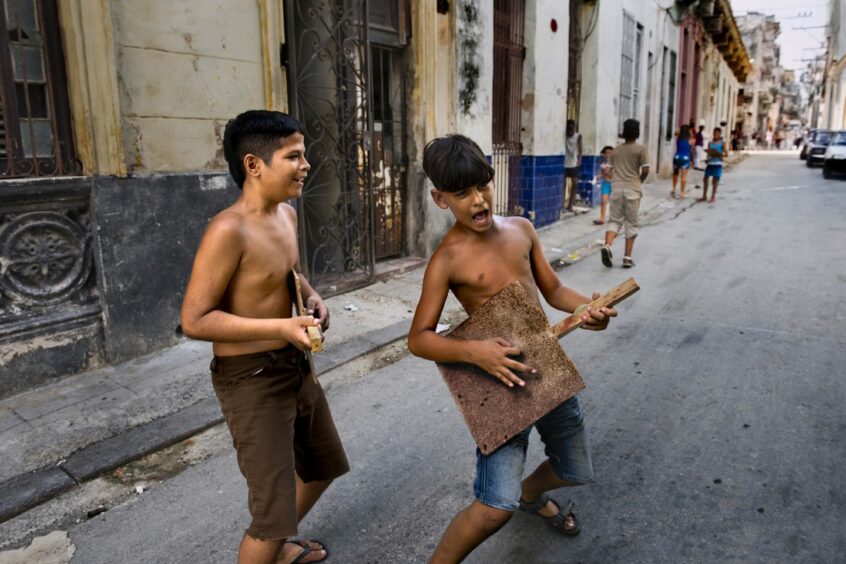 "Cuba is almost in another sort of time and kids still play on the street there. They probably cannot afford a real guitar or any kind of guitar.
"I've been to Cuba about five times but this particular shot was taken about four years ago when I was there for my own photography and not on assignment.
"The boys made this "guitar" out of a couple of pieces of wood. I thought it was inventive to have fun with things found on the street or in a dustbin.
"Kids in the US and UK have toys but a child can be entertained and amused by very simple things."
---
I'd like my girl to be proud of her Scots roots. I am

– Steve McCurry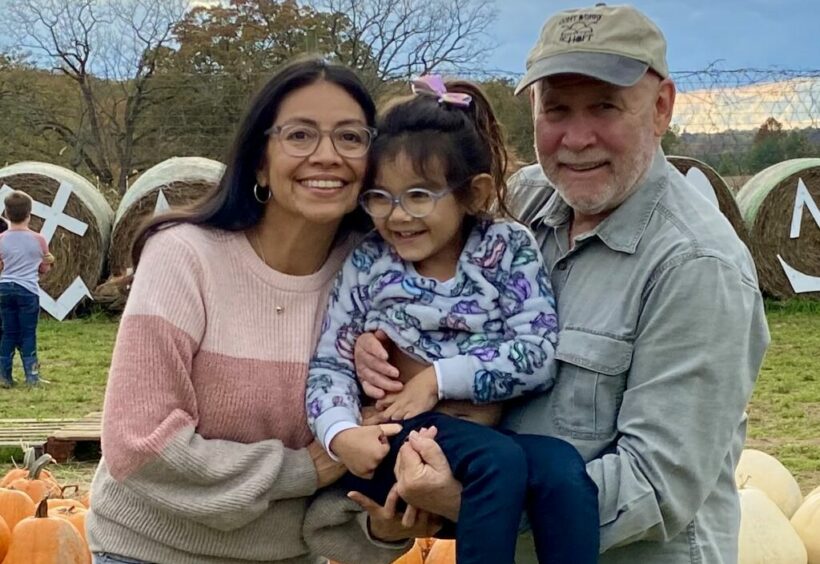 Camera in hand, Steve McCurry has travelled the world but it is Scotland that holds a special place in his heart.
He told The Sunday Post: "My family came to America in the 18th Century from near Aberdeen. They were farmers and wanted a better life."
He said they were given a grant for land and settled in South Carolina. "My great-grandfather Angus McCurry was a soldier in the Revolutionary War, the war of independence."
While some of the family stayed in South Carolina, others moved on. McCurry's grandparents and parents based themselves in Philadelphia. He said: "I am very proud of my Scottish heritage. The Scots are industrious people. I first came to Scotland when I was 22.
"I was with a friend and we went to Cyprus. He stayed there but I went to Cairo and East Africa, then flew to London and hitchhiked to Glasgow."
Facing The Crisis: Exhibition highlights impact of climate emergency on world's most vulnerable communities
It was the first of many visits. He has photographed the Buddhist monastery at Eskdale Muir in Dumfries & Galloway, and has made several trips to Scotland on assignment for distillers Macallan.
Most recently, in September, he was in the Highlands for luxury car maker BMW, taking in locations such as the Alladale Wilderness Reserve, Ardgay, and Dalmally.
He said: "I feel a connection with the land. It is always fun to image what life must have been like for your ancestors. And it's fun to go the villages, some are beautiful and picturesque."
He would like to one day bring an exhibition of his photographs to Scotland and to better explore his Aberdeenshire origins.
Will he bring his wife Andie and daughter Lucia, four, along? "Well sure, absolutely. We just have to find the right situation," he said. "I would like Lucia to know about her heritage, both in Scotland and here in America. Her mother is Hopi, a Native American."
---
Stories And Dreams: Portraits Of Childhood is published by Laurence King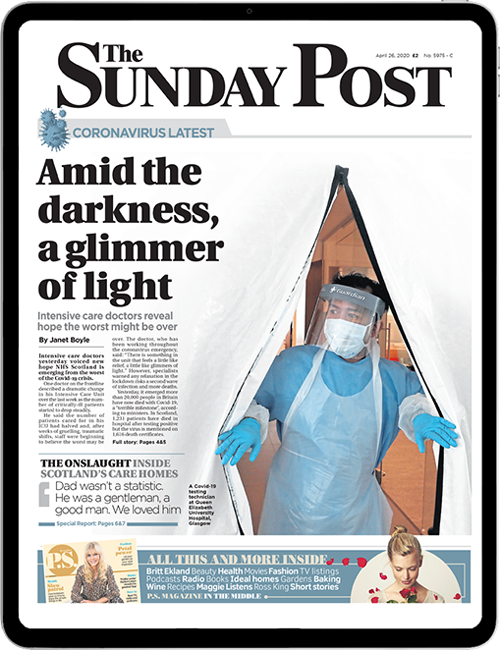 Enjoy the convenience of having The Sunday Post delivered as a digital ePaper straight to your smartphone, tablet or computer.
Subscribe for only £5.49 a month and enjoy all the benefits of the printed paper as a digital replica.
Subscribe