Nicola Sturgeon confirmed Scotland's lockdown will be extended, to protect the country from a potential spike in Covid-19 cases.
The First Minister confirmed measures would continue at Thursday's press briefing, after reports that Boris Johnson is set to drop the current "stay at home" advice and announce easing of some restrictions on Sunday.
She said dropping the "clear, well understood" stay at home message could be a "potentially catastrophic mistake", insisting she would "not be pressurised" into lifting measures in Scotland prematurely.
Ms Sturgeon said Boris Johnson's reported plans to ease measures had not been discussed with the Scottish Government, but the Prime Minister is due to speak with the devolved administrations later today.
She said: "I'd rather not be reading the front pages of the newspapers at midnight to learn what the UK Government is planning."
The Prime Minister's reported plans, as well as relaxing the "stay home, save lives" advice, included encouraging more people to go back to work, encouraging increased use of public transport, and allowing picnics, trips to the park and outings in the countryside.
Nicola Sturgeon said when discussions with the UK Government do take place, she will make "very clear" that she prefers all four nations to make changes together, "at the same pace", to give a clear message to the public.
Yet, she said: "If the Prime Minister decides that he wants to move at a faster pace for England than I consider is right for Scotland, that is his right, I will respect that and I will not criticise him for doing that."
The decisions we take now are a matter of life and death and that is why they weigh so heavily – First Minister Nicola Sturgeon
While "really significant progress" has been made in mitigating the spread of the virus in Scotland, Ms Sturgeon said the current situation "remains fragile" as there are still significant numbers of people north of the border infected with Covid-19.
The R number – the rate of infection – "could still be hovering around one" and could potentially be higher than in other parts of the UK as Scotland's first cases came later than those in England.
The Scottish Government will focus on data showing "a clear downward trend" before any restrictions are eased, the First Minister said.
Ms Sturgeon did say she "may" be prepared in the "immediate future" to change guidance on outdoor exercise, allowing people to go out more than once a day.
However, she added: "The other possible changes that are reported in the media, such as encouraging more people back to work now, opening beer gardens, or encouraging more use of public transport, would not in my judgement be safe for us to make yet.
"What I do not want a few weeks from now is for us to see a resurgence of this virus, and for you to be asking me 'why on Earth did you start to ease lockdown a week or a couple of weeks too early?'.
"The way in which we emerge from lockdown that wee bit more quickly is to stick with the current restrictions now."
She added that lockdown will be reviewed again in three weeks time, but the government may make small changes if evidence suggests it is safe to do so.
---
Live updates:
2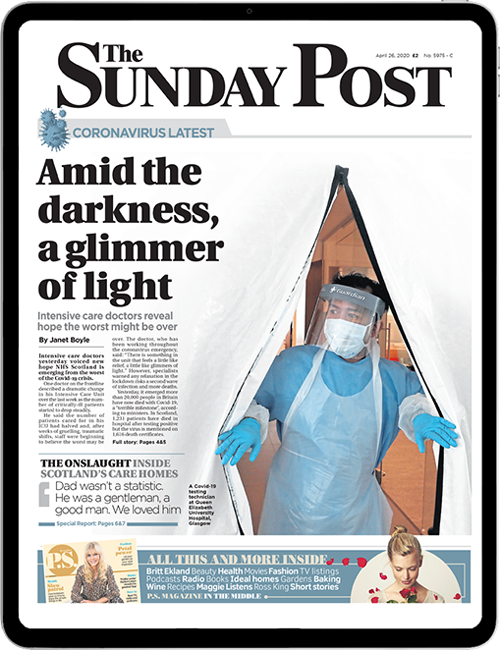 Enjoy the convenience of having The Sunday Post delivered as a digital ePaper straight to your smartphone, tablet or computer.
Subscribe for only £5.49 a month and enjoy all the benefits of the printed paper as a digital replica.
Subscribe