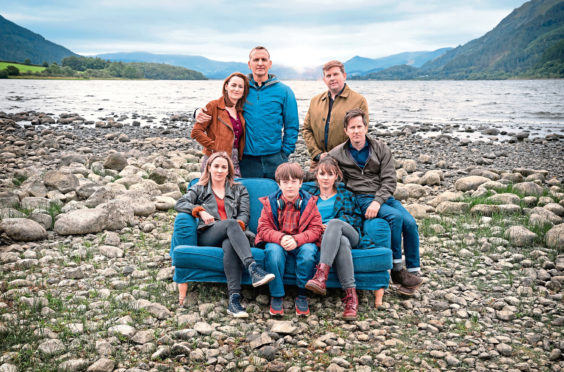 The A Word is one of those TV dramas that subtly tugs at the heartstrings.
Since it last aired in 2017, fans have been eagerly stopping members of the cast on the street to find out when the poignant show – about an autistic boy called Joe and his family – would return.
Now the third series – once again written by Peter Bowker – is back, and you can expect it to be as moving as ever.
"This programme has connected me with the public like no other, because everybody seems to be touched in some way, by autism or Down's syndrome," says Salford-born star Christopher Eccleston, who plays grumpy-but-loveable grandad, Maurice Scott.
"People are going to be watching it in lockdown, and it's about families being on top of each other and involved in each other's lives – it will be quite an interesting reaction."
Pooky Quesnel plays music teacher Louise Wilson, Maurice's girlfriend, and a single parent to Ralph (played by Leon Harrop), who has Down's syndrome.
This series, her story revolves around Ralph's independence, as she discovers in episode one that he plans to marry his girlfriend Katie (played by Sarah Gordy).
"I've got a friend who's an educational psychologist, and when I first got the script and I said, 'Ralph's going to get married' she went: 'Louise won't like that – the parents I know, they really, really struggle letting the kids have their independence because their whole life has been defined, and their whole selves have been defined, in this carer role.'
"All of a sudden, they've got to release the reins – and Louise is the uber-control freak."
Eccleston notes he has enjoyed seeing Harrop carry so much of the storyline in the third series.
"Watching Leon grow as an actor and a person, it's great, and feeling Pete's confidence in writing, 'Leon can do this, Leon can do that' and me and Pooky stepping back."
Discussing Maurice this series, Eccleston explains: "At the grand old age of 56, he's involved in a settled relationship again, and his children are all falling apart. He's quite bewildered by that.
"And then he sees it happening to Louise – the empty nest syndrome. And, of course, he tries to fix it, which is always a bad idea on Maurice's part."
The former Doctor Who star points out that The A Word is the longest job he's ever done.
"We've made 18 hours of telly, playing these characters," he continues.
"A lot has happened to me in the last five years, between 52 and 57, and similarly with Maurice. At the beginning, he was grieving his wife, he'd lost any sense of anchor and then we see him meet Louise… loads has happened. It's odd playing a character for this long."
He later touches on how supportive The A Word team – and Quesnel in particular – were about his mental health issues (in early 2016, he had a breakdown and spent his 52nd birthday in a psychiatric hospital).
"I got poorly towards the end of the first series, and then I think the second series was only the second job since I came out of hospital."
The cast are hopeful they'll get to work together again on The A Word in the future.
Meanwhile, what Quesnel has realised from playing Louise is that, especially with Peter Bowker's writing, "you've just got to be in the moment".
She muses: "You can't think, 'I'm going to play that scene like that', because somehow it has its own alchemy once the characters get on set with the script.
"And the less you plan it, and the more you just give yourself to it, and especially with Down's syndrome actors, because they are so spontaneous and un-contrived… that's what I really think I've learned from this, just trust the moment and trust the script and trust your fellow actors and enjoy it."
The A Word is on BBC One, Tuesdays at 9pm.