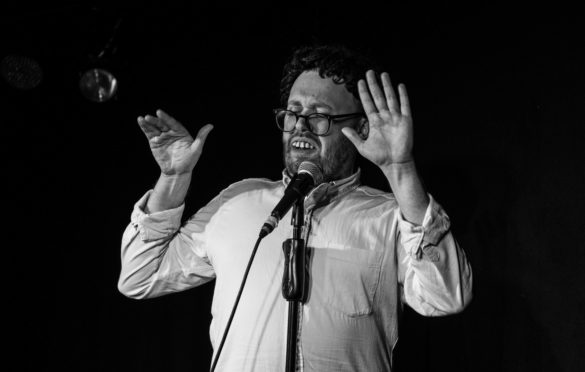 When stepping out onto the stage, most stand-up comedians adopt some sort of persona as part of their act.
But John Kearns makes it a whole lot more obvious – donning a badly-fitting wig and huge fake teeth.
Winner of the Edinburgh comedy award for his Fringe show in 2014, the 32-year-old, from London, is currently on his second nationwide tour.
He heads back to the city next month, with the on-stage accessories packed once again.
"It's a mask, a persona of myself," he explains. "I feel like I'm being extremely honest.
"I remember hearing an interview with a magician who said magic was the most honest art-form because, before anything happens, the magician will tell you that they're going to trick you.
"With stand-up, so many go on and everyone is a lie, everyone's wearing a mask. The people that are selling stadiums or are on TV are everyman people and that's their shtick, that's their mask – they're not like that off stage.
"We all wear a wig and false teeth, but maybe I'm the only idiot who actually does! I'm just being very obvious with it. It's there for you all to see, I'm not hiding behind anything."
The origins of the wig and teeth date back to 2012, where John did a charity fundraiser gig with the theme of Robin Williams films.
He chose to do a Mrs Doubtfire spoof in full costume.
"For so many years I was trying to write funny stuff, trying to find my voice and what I thought made me funny," he recalls.
"Donning this stupid outfit – which is what I like about it, it's odd-  I felt funny, I felt I was being true to myself acting the fool.
"It then gives a nice juxtaposition to my material, which can sometimes be on the sentimental side. I find the banal and the mediocrity of life very funny.
"Alongside the absurd look, I thought I was onto something. I might not do it forever, but I like the feeling it gives the room.
"It's not straight stand-up, I'm not trying to be your mate down the pub. I look different, the wig doesn't fit, the teeth are horrible and you just sit there thinking, well who the **** is this guy?"
John's currently on his second nationwide tour, with a glittering CV to go along with the wig and teeth.
Returning to Edinburgh is particularly special to John, as it's where he scooped an unprecedented double bill of comedy awards.
In 2014, he became the first person to follow up a best newcomer award with the main  award the next year, with Free Fringe show Shtick.
"I was lucky enough to win some awards which meant that I could quit my day job," he says, modestly.
"That was about six years ago and I'm still a professional comedian which was my dream, so Edinburgh's very special in that respect."
Bagging the main award, formerly known as the Perrier and won in the past by the likes of Frank Skinner, Steve Coogan and Al Murray, was quite "intense", John recalls.
"The newcomer award helped financially, and it opens doors and gets you in rooms but what people don't say is that when you get into these rooms there's someone there saying 'well I don't know what to do with you, I just thought I'd have a look at you'.
"The pressure was more that I had to do that all again when I won the main award the year after. I knew exactly what the year ahead was going to be like, it's the same merry-go-round.
"It took it out of me a bit and I had to take some time off after it, but the thing about winning the award isn't the money but it's that you can never win it again, you're out of the race in a way.
"I was up in Edinburgh this year and I just got on with my show. I looked on at that circus and remembered it all.
"There are some people that say awards are meaningless because comedy's subjective, but I can't say it wasn't an important thing.
"Before I won it, I wasn't getting paid to do stand-up and now six years on that's my job. It was a lot of pressure but I brought it onto myself!"
Edinburgh is a very different place when the festival isn't on – something which John is bearing in mind by using the show as a barometer for how he's doing.
"It's always interesting going back when the festival isn't happening. It's a very different audience, people who have been at work all week, have organised babysitters and things like that.
"The pressure's always a bit higher especially with Edinburgh. On the list of places I'm going it's quite a posh part of the UK!
"I always mark it down as one which I use as a barometer of how I'm really doing. Places like Brighton or Bristol are great but you walk away thinking that they're not all going to be like that.
"Edinburgh's very much like London, it's a test to pass. It's different to Glasgow too, a different vibe."
John plays the Monkey Barrel on November 12, a venue he's very fond of.
"They're amazing what they'd done there and they really looked after me at the festival.
"That's the thing about when you're touring around, you build up relationships with comedy promoters and clubs.
"It can be a lonely experience touring around on your own, but it's nice to know in every city there's a little stable which you can crawl into and bed down for the night."
---
John will be performing his latest show Double Take and Fade Away in Edinburgh on 12th and 13th November www.ents24.com/uk/tour-dates/john-kearns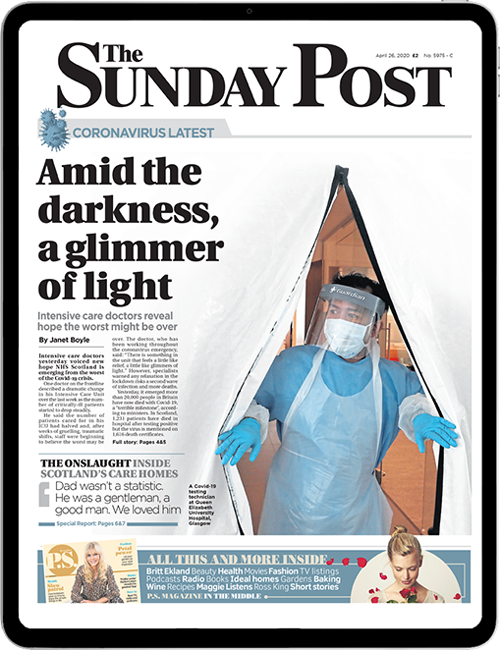 Enjoy the convenience of having The Sunday Post delivered as a digital ePaper straight to your smartphone, tablet or computer.
Subscribe for only £5.49 a month and enjoy all the benefits of the printed paper as a digital replica.
Subscribe