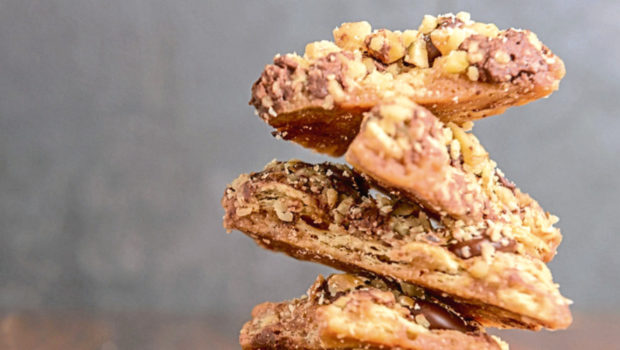 You'll need
75g soft butter
100g demerara sugar
1 large egg
125g plain flour
½tsp baking powder
¼tsp ground cinnamon
75g toffee pieces
125g Bramley apple
4 tbsp rolled oats
Method
Cream butter and sugar together until fluffy. Beat in the egg.
Combine flour, baking powder, cinnamon and toffee pieces,mix into creamed butter.
Finely dice apple, add to the mix.
Take two large pieces of cling film and sprinkle a line of oats down the middle of each. Scoop half the dough on to each and sprinkle with more oats, before using the cling film to roll the dough into a 1-inch wide sausage shape.
Chill in the fridge for an hour.
Preheat oven to 180C/160C Fan/Gas 4. Line a large baking sheet with baking paper. Take solid cookie dough and unwrap, slice each into 8 pieces.
Put pieces on baking paper and top with remaining oats. Bake for 12-14 mins. The edges will be set but the middle a little soft.
Remove from the oven and put tray on a rack to cool.