A TEACHER whose stammer prevented him from speaking at his late father's funeral has become an inspiration after a video that showed him reading a letter apologising to his dad went viral.
John McIntosh recorded the film 28 years after his father David died aged 61. In it, he explains how he "bottled it" when faced with the opportunity to speak at his father's funeral service due to the speech impediment he had never acknowledged.
Now the 58-year-old, of Glasgow, has become a role model after his video for the Scottish Stammering Network was shared thousands of times once it was posted this week.
The dad of two said: "I think people are responding to the vulnerability in what I'm saying. One of the problems with stammering is it's quite invisible. You don't see it represented in the media unless it's comedy characters like Ronnie Barker's Arkwright in Open All Hours, or Derek Nimmo. The reality is very different.
"The number of people with a stammer is around 1 in 100 and some people are in real despair with it, suicidal even.
"It affects every aspect of your life. You don't say the things you want to say, you say the things you're able to say. There are feelings of guilt and shame, because you can't talk fluently, something even children can do."
Like singer Gareth Gates, John benefited from the McGuire Programme, which teaches people who stammer to use breathing techniques when speaking.
John, an English teacher at Eastwood High in East Renfrewshire, said: "Before I became a teacher I did jobs where I didn't need to speak to people.
"When I started teaching, I used avoidance strategies. But the programme says you have to be upfront about your stammer.
"It was terrifying, but I went in one day and left notes in all the teacher's pigeon holes asking them to talk to me about it. I gave assemblies for 250 pupils about stammering, and you could hear a pin drop, pupils stood up and gave a round of applause."
John's video, which you can watch at SundayPost.com, is the first of six to be posted by the Scottish Stammering Network Charity as part of its Hear The Person awareness campaign.
The charity's chairman James Stewart said: "Stammering is often overlooked in society. As a consequence people who stammer can struggle to have their voice heard."
The Scottish Stammering Network open day will be at Glasgow's Teacher Building, St Enoch's Square, on 20 October.
---
Dear Dad,
There's something I want to talk to you about. I've been wanting to talk to you about it for a long time, 28 years to be precise. But it's never been possible, because those 28 years are the 28 years since you died. So what is it that's been on my mind for all those years?
Well, it's basically this. I think I need to apologise to you. Not for anything I did, but for something I didn't do. At your funeral, it was my job to say something about you. And I didn't. I bottled it. I was your oldest son, the head of the family I suppose, and I bottled it. And I'm sorry. I've felt a wee bit ashamed of myself ever since, because I can't put it right now. The chance has gone. I let that whole day pass by without saying a word. And worse, I pretended it was because there was nothing really to say. You'd lived and died, and there was nothing much to say.
I don't think so.
The stories I could have told about you. I could have brought you alive in that church and people would have heard how much you meant to me, and David and Lorraine and the rest of our family. But I was content to give the impression that there was nothing much to say. And why was I so completely unable to do what had to be done? Because of my stammer. I let it beat me again. And, like so many times before, I felt like such a loser.
I'm sure you know already Dad, because you watched me struggle with this for 30 years. As a dad myself now, I know how hard that must have been for you and Mum. Some other people might not believe me, because I was what's known as a covert stammerer. All that means is that my stammer was never openly acknowledged or discussed, and most of the time, I could do a pretty good impression of a fluent person. But regularly, and always when I needed to say something important, I just couldn't get a word out. So I became an expert at just avoiding situations where I might have to talk.
For example. Remember that night when I was about 10, when I came in and said I didn't want to go back to the Cubs and wasn't going to bother with the Scouts. I could tell how disappointed you were. I never told you, but that was because I'd just been told that, as a patrol leader, I would have to take my turn saying the Lord's Prayer at the end of the night. So I had to chuck it, even though I loved the Cubs. I would stammer, and then, it would be out there – people would know. Twenty years later, at your funeral, exactly the same thing happened.
Most people have no idea of how deep this thing can cut, the cruel ways it can rob you of bits of your life. And how could they know? We stammerers don't talk about it.
We're pretty much silent and invisible in society. For decades, I never spoke about my stammer to a single living soul. It was so shameful, it had to be buried. And, most of the time, there's an easy way to hide it. You just become very, very quiet. So as far as anyone else knows, you're just a perfectly normal guy. Until, that is, you open my mouth.
You can never actually rely on your speech. It's unpredictable. Some days it'll give you a pass. Some days you can sneak whole sentences past it before it decides to trip you up. Some days you walk miles in the rain because you can't ask for your train fare.
So you see, on the day of your funeral, I just couldn't risk it. Because with stammering, the more important the thing you want to say, the more important the occasion, the worse the stammer will be. That's one of the rules. And I just knew that, if I'd got up to say something about you in that church, there was a very good chance that I just wouldn't have got through it. The words just wouldn't have come. And it's nothing to do with being nervous. It's not being nervous that makes you stammer, though that's what everyone assumes.
It's the possibility of stammering that makes you nervous. It would have been so embarrassing and humiliating for me, and so uncomfortable for everyone else. Can you imagine the silence as I jerked around and made faces and closed my eyes and generally looked like I was having a stroke? Somebody might have called an ambulance. Not the most dignified eulogy eh? No. I would have felt like I'd let you down in front of everyone. And I didn't want to feel that way.
So I did what I'd always done. I found a way to avoid doing it. And I maintained the illusion of normality in the eyes of other people. What was that novel called? Why be Happy When You Could Be Normal? Story of my life. So we laid you to rest without a word. I chose to say nothing. And I'm sorry.
But that was nearly 30 years ago, and it would be different now. Because you'll be pleased to hear that I've changed. I've learned not to be quite so terrified of stammering in front of other people, not to let the stammer hold me down. Instead, I've learned to fly. I've learned that, when you show a wee bit of courage, stop running and turn to face your fear, it doesn't look quite as scary as you'd always thought.
Five years after your funeral, I became a teacher. And next year I'll be retiring after 25 years at the chalk face. Twenty-five years of telling kids about having a stammer. I still stammer of course. There's no cure…yet. But I don't let it control me now. As I've got older, it feels a bit less important.
I've got things to say, good things. But I've always had good things to say. At your funeral, I kept silent. I didn't say then the things that needed to be said.
But Dad, I'm saying them now.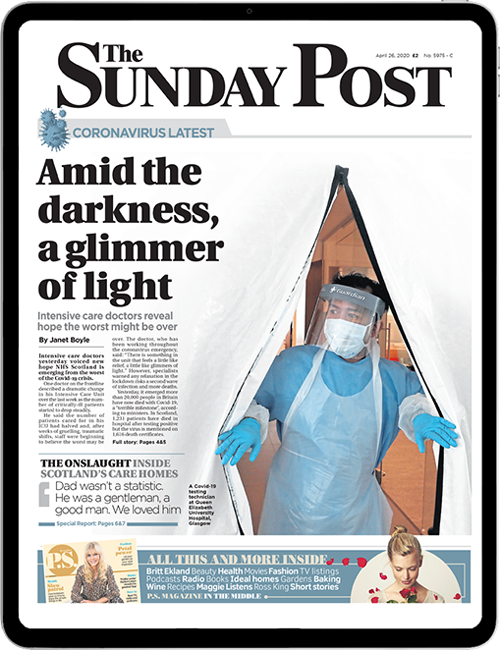 Enjoy the convenience of having The Sunday Post delivered as a digital ePaper straight to your smartphone, tablet or computer.
Subscribe for only £5.49 a month and enjoy all the benefits of the printed paper as a digital replica.
Subscribe