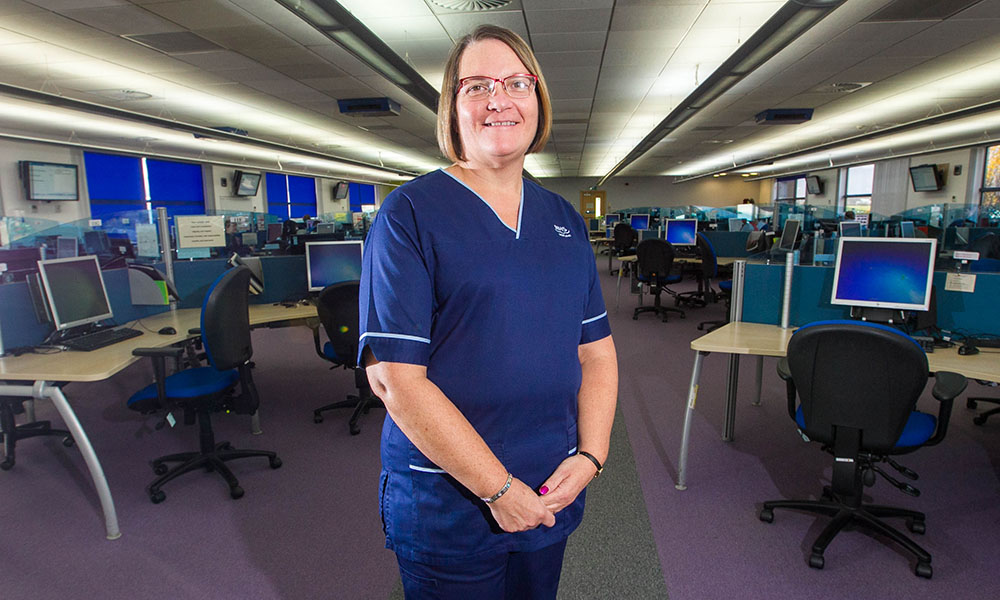 MOST of us will be looking forward to some time off with our families over Christmas and New Year.
But spare a thought for the people working in the NHS across Scotland who will be on duty night and day, and are gearing up for one of the busiest times of the year.
With many community services, including GPs and pharmacies, altering their opening times over the festive period, the staff at the 111 service, run by NHS 24, will be there to help those in need of medical advice.
Far from winding down, staffing will be stepped up to deal with the estimated 90,000-plus calls it will receive over Christmas and New Year.
One of those on duty will be senior charge nurse Susan Forbes, who has worked in the NHS for more than three decades, including in hospital wards and intensive care. Now Susan supervises a team of nursing specialists at NHS 24's busy contact centre in South Queensferry near Edinburgh – a role she has carried out since the service launched in in 2003.
Susan and her team at the East Contact Centre in Norseman House, one of four main centres across Scotland, handle a share of more than 1.5million calls each year.
Nationally, NHS 24 receives between 2,500 (on weekdays) and 8,000 calls a day (at weekends), but over the holiday period – when GP surgeries are closed for four days – calls escalate to a staggering 44,886 calls over Christmas and 50,898 calls over the New Year break.
It's nothing new for Susan who has worked every Christmas or New Year since she joined the telephone-based service.
When she swapped her role in intensive care for the call centre, it was a bit of a change to Susan, and she revealed the thing that surprised her most was the variety of calls received on every shift.
Susan revealed: "A lot of the symptoms we get calls about can be managed at home with good self-care. This includes thing like coughs, colds, and vomiting and diarrhoea, especially if it's in the first 24 hours.
"The message at this time of year is to make sure you have enough over-the-counter remedies at home (like paracetamol, ibuprofen, Calpol for children, anti-histamines and rehydration salts) for common winter illnesses.
"We also receive a lot of calls from people who've forgotten to get their prescription, or are visiting friends and relatives and forgotten to bring their medicines. So the advice is to order only what you need to cover you over the holiday period, be prepared and check your GP's opening hours."
The self-care advice provided over the phone can also be found online at nhsinform.scot The site allows people to access medical advice based on their symptoms, and includes a range of self-help guides, and also a facility for checking the range of nearest services by typing a postcode in. Visiting NHS Inform should be a first port of call for those concerned about more common ailments.
Susan stressed: "It is time to phone NHS 24 if you've tried all the self-help and self-care advice, and your symptoms are not getting any better. When you call our call handlers will take your details and your call be managed according to the severity of your symptoms.
"There is a whole team of clinical specialists who can help with the full range of symptoms presented to us, both physical and mental health. After assessing your symptoms, they may offer further advice or, if they believe you need further treatment, they will organise an appointment for you to see a health professional."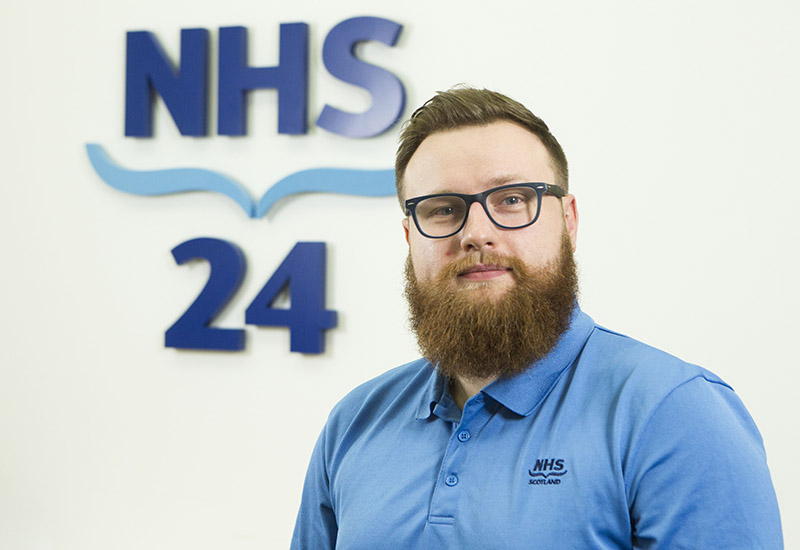 One of them is a nurse practitioner, David Barnes (pictured above). After a career as a staff nurse in neurology at the Queen Elizabeth University Hospital David wanted a new challenge so jumped at the opportunity to care for people who are too ill to wait until their GP practice reopens.
David's new role at NHS 24, which he started in February, is to triage callers and assess how serious their condition is before pointing them in the right direction.
As a staff nurse he has worked over many festive seasons, but this will be his first at NHS 24 answering a wide variety of calls.
David, who is based at the Cardonald centre in Glasgow's southside, said: "NHS 24's 111 service provides a triage, there so people can discuss any health issues of concern during the out-of-hours period. No one phones you when they are having a good day; they're always having a bad day.
"Treble '1' should be called if they have tried treating symptoms at home and they persist. Treble '9' is a medical emergency if you believe someone's life is at risk or if you have had a heart attack or have cardiac symptoms and need assistance."
Often people call 111 as they don't want to bother anybody and need reassurance, but in some cases they actually need urgent medical assistance, as David explained: "Some people maybe aren't aware that they are having a cardiac arrest, stroke or heart attack, they just want to be told they are alright, but often they are not.
"We triage everybody in the same way, by ruling out anything serious. When we cannot rule that out, I pass that call on to the appropriate local service and that might be the Scottish Ambulance Service.
Naturally, given the high number of calls received by NHS 24 each day, especially over the Christmas period, David and Susan have dealt with a wide range of cases.
One in particular sticks in Susan's mind. "Once a lady called us because she had broken a false finger nail. People like that are taking up time that could be spent speaking to someone with a more serious need. Also, if people can try self-care for common, minor conditions instead of calling us, then that would also free up time for us to assess and deal with more serious issues."
David added: "I have received calls about hangovers. People have also called saying they are in extreme 10-out-of-10 pain, but when we ask them if they have taken paracetamol they say they don't like taking painkillers.
"First and foremost, if you are in pain, try simple pain medicine first. If you need non-emergency medical assistance, phone us, we can get you that help, that's why we exist."
David, a father-of-one is on duty over Christmas, while Susan will be covering New Year.
Susan added: "No two days are the same, it is very varied, which is why I do enjoy my job managing a team of nurses. On Boxing Day, New Year's Day and January 2, we are very, very busy with the volume of calls coming in. The staff handling these calls are away from their families working really hard on the phones, and don't get annual leave at this time of year. But NHS 24 staff are extremely dedicated and put patient care first.
"Although we want to advise those with minor common winter illnesses to treat them at home, we certainly don't want to discourage people if they have a genuine health concern, and we are here for them, 24 hours a day.  We often find some people, particularly the elderly, don't want to bother anybody, but when symptoms persist then call 111."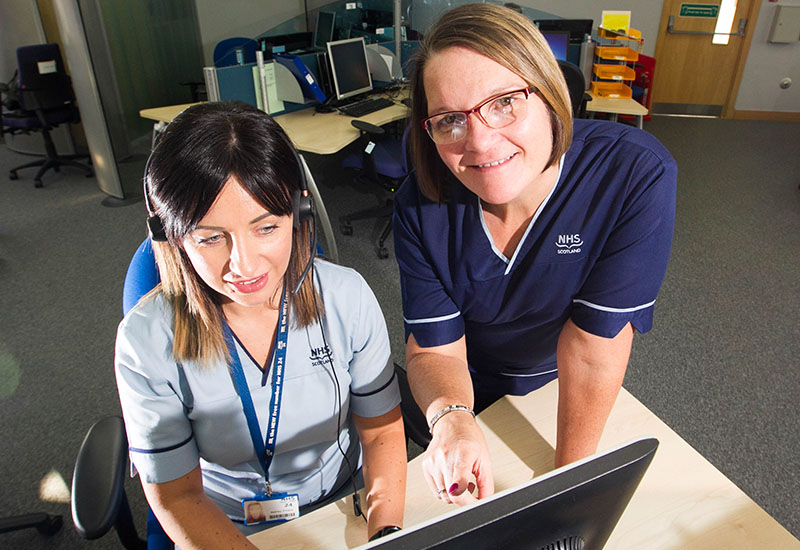 Your Festive Health Checklist
Make sure you know the opening hours of your GP surgery over the festive period
Make sure you have medication, and repeat prescriptions, in plenty time to avoid running out, but don't over-order.
Make sure your cabinet is also well-stocked with over-the-counter remedies such as paracetamol, ibuprofen, anti-histamines and rehydration salts.
Try to look after yourself and family members with cold, coughs and flu-like at home as best you can
If in doubt, or you need non-urgent medical advice, contact your local pharmacy (you can find your nearest one at nhsinform.scot by keying in your postcode)
You can also use the nhsinform.scot site to assess your own symptoms and access a range of free self-help guides. If symptoms are getting worse and you are concerned contact 111.
If you believe you, or someone you know, is having a heart attack or stroke, then call 999 immediately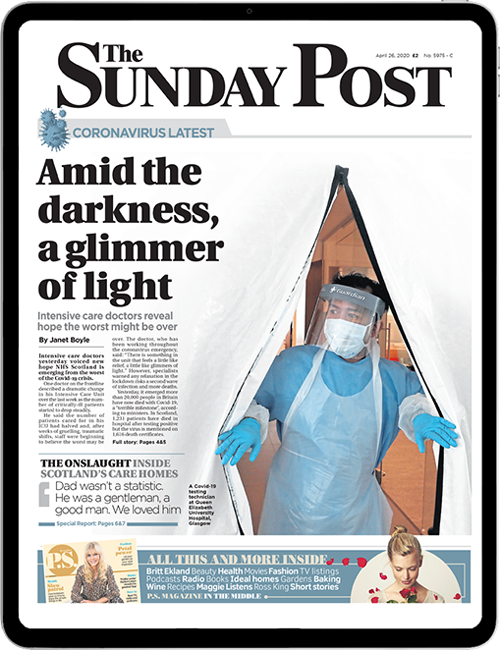 Enjoy the convenience of having The Sunday Post delivered as a digital ePaper straight to your smartphone, tablet or computer.
Subscribe for only £5.49 a month and enjoy all the benefits of the printed paper as a digital replica.
Subscribe