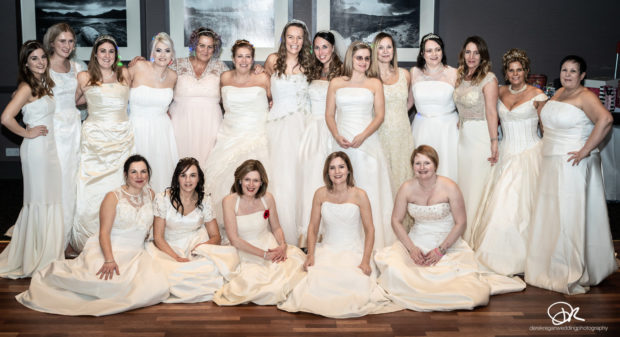 When Lorraine McDonald wears her wedding dress again, it won't be to renew her vows or to mark the anniversary of her own special day.
The mother-of-two will be in her bridal gown to remember her father Gordon, there by her side on the happiest day of her life, but whom she lost 19 years later to pancreatic cancer.
Lorraine, 43, from Cumbernauld, will be surrounded by over 100 other people in their bridalwear for a ball she has organised to raise money and awareness of the disease to coincide with November's Pancreatic Cancer Awareness Month.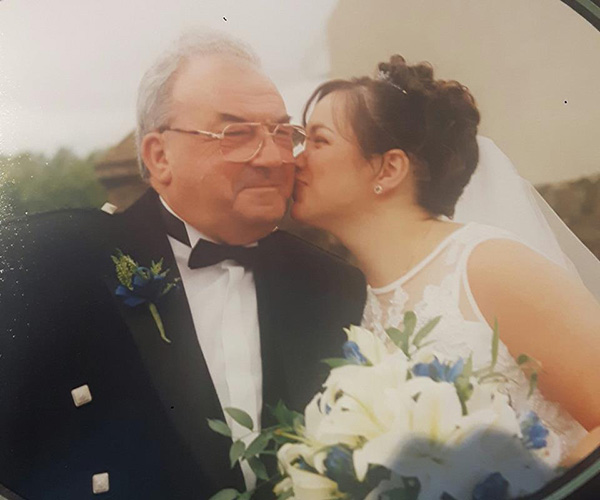 Her father, Gordon Alexander (pictured above with Lorraine), died in April 2018 on his 75th birthday, just 22 days after receiving his cancer diagnosis.
This year, Lorraine's parents would have celebrated their 50th wedding anniversary, and in her father's memory she is supporting Pancreatic Cancer Scotland (PCS). The charity is committed to raising awareness, enhancing education, healthcare, research and support for patients and families in Scotland affected by pancreatic cancer and associated tumours.
She said: "I didn't know anything about pancreatic cancer or about the pancreas. For a long time, he was told losing weight could help his diabetes. And he tried to lose weight, but he only ever lost a few pounds and then put it back on."
But when Gordon suddenly shed weight without trying and then lost his appetite, the family were concerned. He became very tired and when a doctor visited him at home, she suspected cancer and admitted him to hospital. Gordon had an urgent scan the following morning which showed he had pancreatic cancer. It had also spread to his liver.
Fiona Brown, development manager of PCS, explained: "Many people sadly only hear about pancreatic cancer when it affects someone they know. It doesn't present in an obvious way.
It's not possible to feel a lump like other cancers and the symptoms can be vague, poorly understood and often dismissed as less serious health concerns."
Lorraine added: "Now when I look back, I can see there were signs. He wasn't ill as such, but little things had been happening for about a year-and-a-half before his diagnosis, and they were often put down to other things. It's only afterwards that you start piecing it all together."
Of all the major cancers, pancreatic cancer has the lowest survival rates and these numbers have barely changed in 50 years.
Approximately 800 people a year are diagnosed with pancreatic cancer in Scotland.
With a predicted increase of 49.7% by 2027, PCS is determined to stop pancreatic cancer becoming the country's second largest cause of cancer death.
There is currently no standard screening test or early detection method for pancreatic cancer, though research is being conducted in these areas.
Knowing the symptoms and risks remains key to an early diagnosis to give patients the best chance of survival.
To support the charity's vision to make the 2020s the decade of change, PCS has recently launched the 'Pan Can Clan' to bring together a growing and inspiring community of people committed to the cause.
Fiona explains: "Supporters like Lorraine play a key role in bringing their voice, energy, determination and commitment to change the pancreatic cancer story. Their inspiring dedication helps raise funds and awareness and fully embraces our belief that together we can make a difference."
Lorraine has two children, Ellie, 14 and Alexander, nine, runs her own dance school, and has already made a huge difference with her fundraising efforts.
At last year's bridal ball, Lorraine's fundraising team 'Gordy's Girls' raised around £5,000. In April, she completed the Great Stirling Run and, this month, she's expecting around 120 people at the ball for which she is planning to dye her wedding dress purple – the colour associated with pancreatic cancer across the globe.
Lorraine said: "It's all about raising awareness and making a little statement."
Lorraine's Bridal Ball is on November 16, Garfield House Hotel, Stepps. Tickets cost £30 per person.
*To find out how you can help raise awareness or funding for pancreatic cancer visit Pancreatic Cancer Scotland's website here.