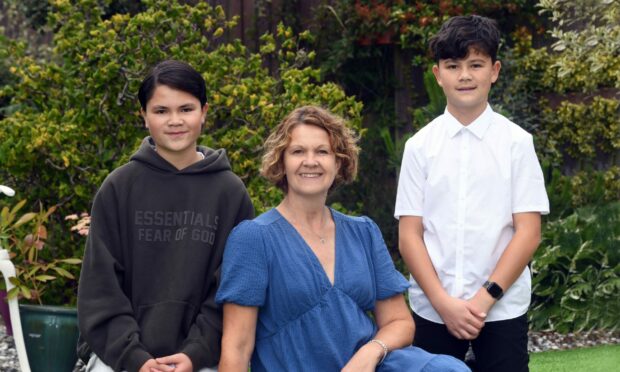 A Scots mum who pleaded with the Scottish Government to be given a new life-saving cancer drug has told how it has given her an extra seven years – and allowed her to see her children growing up.
Mum-of-two Anne Maclean-Chang petitioned former First Minister Nicola Sturgeon in 2016 for the breast cancer drug Kadcyla.
Her metastatic cancer had spread to her liver and doctors had run out of drugs to treat it.
Kadcyla was not offered by the NHS at the time, but it was expected to give women with HER2 positive metastatic disease up to two years extra to live.
NHS Grampian initially refused to give her the drug and Sturgeon said she could not intervene in individual cases.
But, in September 2016, after intensive campaigning by Anne and cancer charities, NHS Grampian relented. The following year the Scottish Medicines Consortium approved its use on the NHS across Scotland.
'I'm able to see my sons grow up'
Anne, a former palliative care nurse who lived in Elgin but has since moved to Larbert in Stirlingshire, said: "Now, almost seven years later, the cancer is undetectable in my liver.
"I am well and able to live to see my sons Ollie and Nathan – who are 12 and 14 – grow up.
"My husband Winston has been a wonderful support throughout. It is so far, so good, for my survival to date. I want to say how important it is to give terminal cancer patients the chance to access new drugs, for them and for the sake of society.
"Getting Kadcyla in 2016 means I can still be mum to our sons. They have two parents, and my husband has the time to be a busy GP.
"Saving cancer patients' lives has a huge impact on them and on the rest of society, not least their families.
"I would encourage everyone who needs access to new life-saving drugs to lobby and campaign. Many women are still alive thanks to everyone who petitioned the Scottish Government from back in 2016 until it was approved for use the following years."
Nine months after being put on the drug, oncologists could detect no signs of cancer in her liver.
She stayed on the breakthrough breast cancer drug for five years until 2021 when it began to cause an autoimmune condition which affected that organ.
Today she takes an older cancer drug Herceptin – which was campaigned for by breast cancer patients in 2005.
Anne said: "I know cancer may return some day but, at the moment, I am here for my family and to help other women facing breast cancer.
"We have always been honest with our sons about my cancer and how I go for treatment to help avoid it returning.
"They were young when I was diagnosed and underwent treatment, and they have a good understanding.
"We have also lost friends to cancer, and they understand the nature of the disease."
Treatment trials
Although she has no plans to return to palliative care nursing, Anne is a volunteer ambassador for the breast cancer charity Make 2nds Count.
It works to support patients with secondary breast cancer and their families. Part of its major role is helping patients find treatment trials to improve their chances of beating cancer.
To date it has referred 330 patients for all available trials.
Evidence shows that patients who can access trials do better than those who can't get on them.
Three nurses act as patient trial advocates for patients desperately seeking to join cancer trials to improve their chances of survival.
Catherine Graham, senior research nurse for cancer clinical trials at the Department of Clinical Oncology at Raigmore Hospital, is one of the specialist nurses spearheading it.
She sees many patients who have run out of options and have nowhere to turn when treatment fails to halt breast cancer.
She said: "To be part of this innovative service for the Highlands and the whole of Scotland is very exciting. It is really tailored to the needs of the patient.
Lesley Stephen, a Make 2nds Count trustee, says drug trials have kept her alive for more than seven years.
The mum of four, 57, paid for her first treatments of Kadcyla before it became available on the NHS in 2017.
However, it didn't work, and in 2015 year she joined a phase one clinical trial at the Beatson in Glasgow.
That trial reduced and stopped tumours growing in her lungs and she remained on it for seven years.
"I am here because of drug trials," she said. The cost of buying Kadcyla was £13,000, paid for by money my mum left me in her will.
"I was lucky enough to get the last pace on the Beatson trial. A life extending seat, in reality."
Her support of Make 2nd Count is driven by raising awareness of clinical trials for patients and giving them opportunities to access to them.
She said: "We do everything in our power to direct breast cancer patients who contact us, a route to suitable drug trials in the UK."
Unfortunately, Lesley had to come off the trial because the drug stopped working. She is now on Herceptin, a breast cancer maintenance drug.
Next month sees a follow-up scan which Lesley hopes will be clear.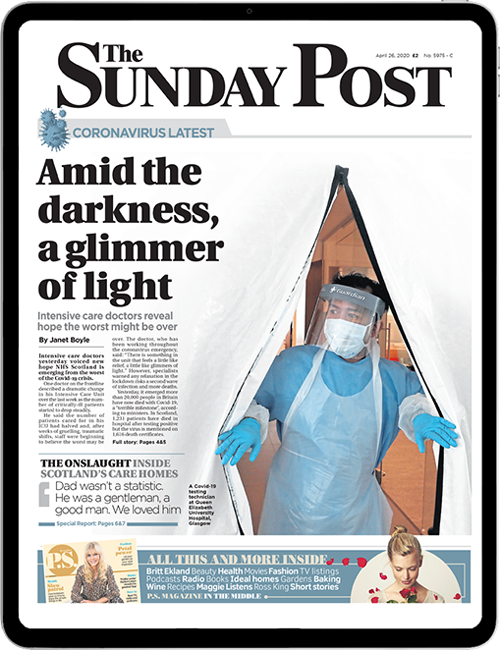 Enjoy the convenience of having The Sunday Post delivered as a digital ePaper straight to your smartphone, tablet or computer.
Subscribe for only £5.49 a month and enjoy all the benefits of the printed paper as a digital replica.
Subscribe