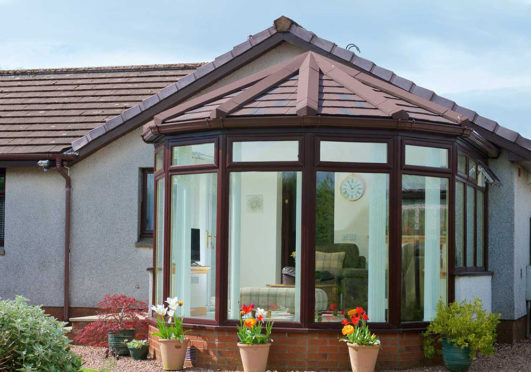 Has your conservatory seen better days? As winter approaches, are you considering retreating back into the rest of the house where you can turn the radiators on full blast?
The good news is that with modern technology and new services on the market, it is possible to reinvigorate an older conservatory or sunroom for year-round enjoyment.
With decades of experience for designing and building conservatories, sunrooms and orangeries under its belt, CR Smith has the know-how to create the perfect additional living spaces for Scottish homes and Scottish weather.
What's more, it has a range of products and services to renovate existing conservatories in need of a new lease of life, whoever built them originally.
Kevin Eadie, who heads up FIX from CR Smith said: "A conservatory that has been in place for a number of years can lose its appeal and homeowners don't always make full use of the space. Modern technology and building techniques, however, mean that most conservatories can be given a new lease of life. A conservatory can be made warmer in the winter and cooler in the summer with the right climate control system and the quality of the roof structure."

FIX from CR Smith's top 4 upgrades:
Climate Control Units: No matter what the weather, fitting a climate control unit will ensure a conservatory is warm in the winter and cool in the summer. These units are easily retro-fitted, extremely quiet and with the addition of a hypo-allergenic filter, will deodorise and purify the air in your home.
Repair Roof Sheets and Finials: Loose roof panels are one of the more common causes of leaks in conservatories, so conservatory roofs need to be regularly maintained. Making sure the cresting and finials and other decorative features are in good shape not only spruces up your conservatory, it also prevents birds nesting in your roof!
Roof Upgrades: For a complete new look, FIX also offers a 356 Composite Roof for a modern tile or slate finish to an existing conservatory. Replacing glass or polycarbonate with a solid roof construction can transform a living space, effectively creating a new extension. Available in a variety of colours and shades, it looks terrific.
Deep Clean: Whether you have years of dirt building up or daunted by the task, FIX from CR Smith offers a premium conservatory cleaning service. Making sure every nook and cranny in your conservatory sparkles will also ensure that every part performs at its optimum best.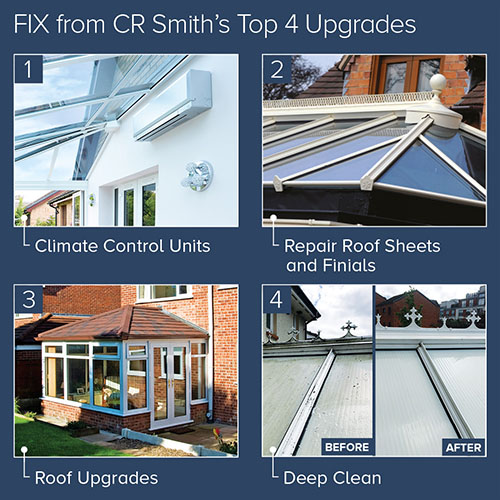 A Sunroom for Christmas?
If anyone needs convincing that a conservatory can be a room for the winter months, customers Mr & Mrs Millar of Cardross used their upgraded living space as the perfect place for the family's Christmas dinner.
The couple had their hearts set on a room that they could enjoy all year round. Having lived with an tired and aging conservatory with a leaky 18 year old polycarbonate roof, they chose a sunroom with a solid, but high roof which gives a great feeling of space.
Building work took place in December and the Millars were amazed at how quickly and efficiently the CR Smith team worked to get the project completed in time for Christmas. Working up to and on Christmas Eve, they ensured that the room was perfect for the Millars' big family dinner.
Mrs Millar commented: "I never thought I would have anything as beautiful as this. It's a great space to live in, giving another dimension to the house. It's become the room I spend the most time in now. We now use it as our main dining room too."
Looking after your investment
Kevin Eadie concluded: "CR Smith has always understood that a home is an investment and needs to be looked after properly. As well as installing our own windows, doors and conservatories, we offer homeowners a range of services to repair and upgrade older – and other companies' – products to ensure that their property investment is maintained.
"A conservatory, sunroom or orangerie needs to be designed and installed by experts to ensure it delivers the kind of room that can be enjoyed all year round. If your conservatory is feeling its age, the good news is that there is a lot we can do to give it a new lease of life."
*Looking to upgrade your older conservatory? FIX at CR Smith can help. Click here to visit the website.