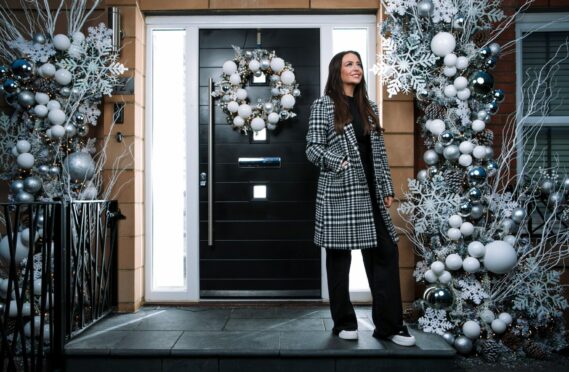 Scots are still determined to light up Christmas despite half of adults cutting back on household spending.
Research for Citizens Advice Scotland (CAS) found 48% of respondents, equivalent to around 2.2 million people, have cut back on spending because as the cost of living rises.
However, stores say customers are spending as much on seasonal lights and decorations as ever. Supermarket chain Asda said feedback on Christmas spending from customers shows many parents are splashing out on fairy lights, trees, tinsel and baubles to make their homes special for their children.
Asda said: "Parents indicated they are keen to spend on their kids and cut back on themselves. They want all the favourite decorations that children love to make Christmas really special."
Meanwhile, John Lewis said momentum is "well and truly building" in-store and online, adding sales of Christmas crackers are up 154% on this time last year, demand for pre-lit trees has jumped by 39% and sales of wreaths and garlands has risen by 48%.
Garden centre giant Dobbies said its festive decorations have been available since October and sales have been steady.
The company's senior Christmas buyer, Lynsey Abbott said: "Our value lines have been incredibly popular, including multipack baubles from £9.99 and individual decorations from £1.99.
"This weekend is also when most people select and take home their real Christmas tree. We are anticipating a busy time."
Claire Stevenson, manager of the Olde Christmas Shoppe in Helensburgh, Argyll and Bute, said: "There has been a big interest in light-up things and things like tinsel garlands as people add a bit of sparkle to their Christmas decor."
Some councils across Scotland this year cut back on public ceremonies to switch on Christmas lights because of rising power costs but many local authorities are still lighting up their cities and towns.
Glasgow is spending big to ensure city residents have a merry Christmas and will splash out almost £300,000 on trees and lights, while Edinburgh is spending around £140,000, similar to last year.
Meanwhile, Citizen Advice Scotland launched its Big Energy Saving Winter campaign, which encourages people worried about bills to seek advice.
It's crazy this year. I've never been busier
By Tracey Bryce
We are all now counting down to Christmas…but Stephanie Smyth started weeks ago after tackling tonnes of trees, hanging hundreds of baubles and wrapping a sleighful of presents.
Ironically, her own home hasn't a single twinkling light because the professional decorator has been too busy sprinkling festive cheer everywhere else.
Smyth, 32, specialises in transforming her clients' homes into winter wonderlands featuring everything from 15ft Christmas trees to front door garland and wreath light installations.
She has seen no sign of the economic uncertainty slowing the rush to decorate for Christmas.
"It is crazy this year," Smyth said. "It's massive. People seem to want to go bigger and better every year now.
"Everyone wants to show off their tree on Instagram, and for their décor to look better than their neighbours. It's so competitive!"
Smyth, a wedding and events organiser, only started covering Christmas a couple of years ago, but says demand has taken off.
It seems hiring a pro to deck the halls for you is the trend for 2022, with Smyth selling out of slots for festive décor months ago.
"Christmas definitely got bigger during Covid when everyone focused on the big events and had nothing else to do. And it seems to have just got bigger every year since then.
"Christmas seems to come earlier and earlier. As soon as Halloween is over, everyone starts going Christmas crazy! So really, we are busy throughout November as there otherwise isn't enough time to get it all done.
"This year, we have over 40 jobs booked in just for Christmas – and I've turned quite a few enquiries away because that's us fully booked."
Creating the perfect winter wonderland has become an art form for Smyth, who has amassed a following of 13.7k on Instagram. Her in demand designs, which range from traditional to whacky to completely over the top, definitely have the wow factor, and add glitz and glamour to any home.
"I kind of fell into Christmas décor by accident," the former primary school teacher confessed. "I primarily do weddings and events, but a couple of Christmases ago a friend asked me to do her tree after seeing mine. Before I knew it I was being asked to do trees for other friends and family and it soon became part of the business."
It's an enjoyable time to work though for Smyth, whose parents used to give her free reign of decorating the family tree.
"From the age of about seven, my mum and dad would get out all the decorations and let me do it and put my toys in.
"So we'd have a tree full of tinsel and Barbies and I would play around it all the time. Christmas season is so much more enjoyable than weddings, it's much more fun. Weddings are great but they can be stressful trying to get everything perfect.
"At Christmas, everyone is happy and relaxed. For me, there is nothing better than finishing a job and stepping back to look at it. It's magical. And seeing the smiles on people's faces is a great feeling. It really is a lovely job to do at a special time of year."
Smyth, from Glasgow, charges £300 for a basic tree, but the bill can stretch into thousands of pounds for more extravagant designs.
"Clients ask us to decorate for them for a number of reasons," Smyth said. "Perhaps they're not feeling great, or pregnant, or have kids or busy jobs and just can't find the time to get their trees or bannisters or front doors the way they want them. The decoration requests vary. Some people like traditional, others go for over-the-top glam. And then there are sometimes themed requests, like candy cane or Disney or The Grinch. I've even been asked for a Barbie tree before.
"This year, it's all about fabric, weaving ribbon through the tree. For colours, it's mostly greys, beiges and neutrals, but everyone has their own personalities, so there are still plenty of pastel or monochrome too.
"A big ask for this year is personalised and bespoke baubles, which I create myself when not out on the road. But whatever the brief, I always put my own spin on it. A lot of my ideas come from America. They are so big and bold with Christmas there and I think it's starting to come here slowly too."
Sometimes an install takes a full day, but Smyth and her team can often squeeze three trees into one day. "It's hard work, but we have a system where there are three of us working on it at once, so one doing lights, one doing baubles.
"I've been quite lucky to not have any disasters but I remember leaving a house and a beautifully decorated tree only to get a call from the owner a few hours later saying her dog had knocked it over and asking us to come back and fix it!"
Smyth will be hanging up her Santa hat on the 15th, ready to get her own house organised for Christmas. "We have a bit of a rest over Christmas before we're back to it for a hectic lead up to Valentine's Day, then the cycle starts again!" she said.
"And that gives me time to get my own tree up. I started it away back in November as I knew I'd be busy, but I didn't like it so I pulled it back down and haven't got around to trying it again!"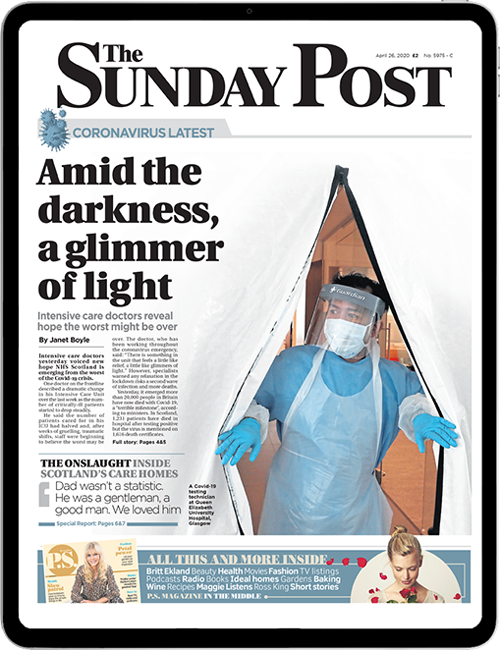 Enjoy the convenience of having The Sunday Post delivered as a digital ePaper straight to your smartphone, tablet or computer.
Subscribe for only £5.49 a month and enjoy all the benefits of the printed paper as a digital replica.
Subscribe