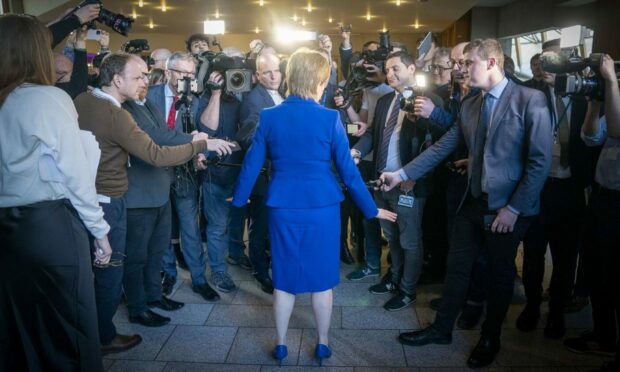 SNP chiefs passed around crucial internal information on shared laptops that couldn't leave the room as paranoia grew over damaging leaks, according to senior figures in the party.
In a series of interviews, insiders revealed the extent of a "culture of secrecy" in meetings.
One even echoed Donald Trump by calling on bosses to "drain the swamp".
It comes as party members continue to react to dramatic events since Nicola Sturgeon resigned as leader in February. Police questioned her husband, the former party chief executive Peter Murrell, last month in connection with a probe into finances.
Meanwhile, a row erupted in North Lanarkshire over the alleged failure to investigate complaints of sexual harassment against former SNP council leader Jordan Linden. The debacle has seen seven councillors leave the local SNP group.
It's a s**t show. I'm aware there have been issues with HQ for a long time and not just around finances.

– SNP source
Those with experience dealing with the internal complaints procedure describe it as a bigger mess than the details documented in a leaked report into Labour's handling of anti-Semitism under Jeremy Corbyn.
'Ridiculous meetings'
One senior source revealed how a "culture of secrecy" within the highest echelons of the party would spill over into meetings with National Executive Committee members when discussing finances.
He said: "We've been asking questions for years and getting roadblocked and told it's not relevant.
"There were ridiculous meetings where because there was a previous leak they started withholding documentation.
"They would say things like we're not going to provide you with a paper copy of this, we'll pass around a laptop so you can see it on screen.
"And that was the extent of what they got to see.
"That's no way to run any organisation. In no other organisation I've ever been involved in would that have been accepted."
An SNP MP said he had experienced numbered documents being handed out and then collected back in and checked at the end of other meetings with senior colleagues.
'Dysfunctional'
Meanwhile, party figures described a dysfunctional complaints process where problems go unresolved for years.
We were told about one branch in Glasgow where it has taken four years for the national executive to address multiple complaints against "two or three individuals".
A source said: "It's a s**t show. I'm aware there have been issues with HQ for a long time and not just around finances.
"There have been complaints that have gone to HQ from across Scotland – some serious complaints – that were sent to people like Peter [Murrell].
"There was this whole climate of essentially if we just don't deal with it or acknowledge it, it will just disappear. That is what is now coming back to bite them all on the arse.
"In some senses, I'm kind of thankful that is the case.
"It's a bit Trumpesque to say it but I do actually think we need to drain the swamp."
An SNP MP said that is "not an unfair description" and told us the complaints process should now be taken away from party bosses and dealt with by committee.
He said: "The culture has to change. There is a need for substantial internal reform.
"There needs to be a complaints process that is worthy of the name and we need to have a serious look at vetting.
"There are branches that have been waiting years for responses to complaints."
'Marking your own homework'
The MP said he does not get the impression things have improved since Mr Murrell left.
"When I got a copy of the leaked Labour report I thought to myself that is far more professional than the way we deal with stuff," he said.
"There's an element of marking your own homework."
Scottish Conservative chairman Craig Hoy said the revelations are a "devastating testimony" to paranoia, secrecy and stonewalling under Mr Murrell's leadership.
Mr Hoy said: "We knew that a tiny clique at the top of the party hoarded information and decision making but it's mind-boggling to think that they wouldn't print or email details to supposedly loyal colleagues for fear of leaks.
"Never again can SNP politicians try to claim with a straight face that their party is open and transparent."
An SNP spokesperson said: "The SNP's democratically elected National Executive Committee has governed the party well for many years and, under the leadership of Humza Yousaf, the SNP is undertaking work to go further to improve our governance and transparency wherever we can.
"If any member has suggestions on where to make improvements on governance then they are encouraged to feed into the review group already under way."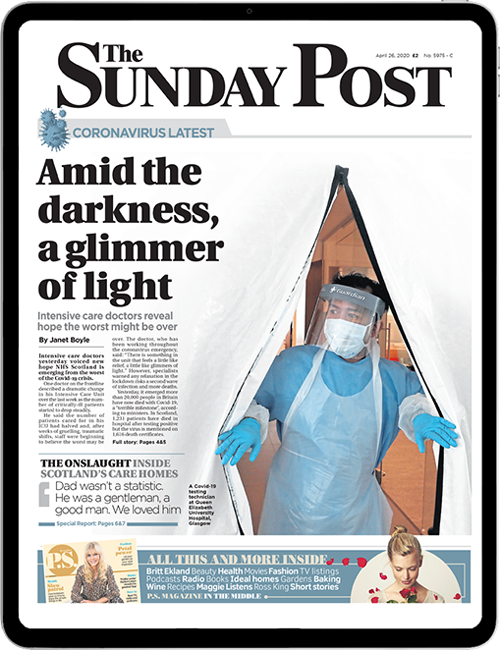 Enjoy the convenience of having The Sunday Post delivered as a digital ePaper straight to your smartphone, tablet or computer.
Subscribe for only £5.49 a month and enjoy all the benefits of the printed paper as a digital replica.
Subscribe