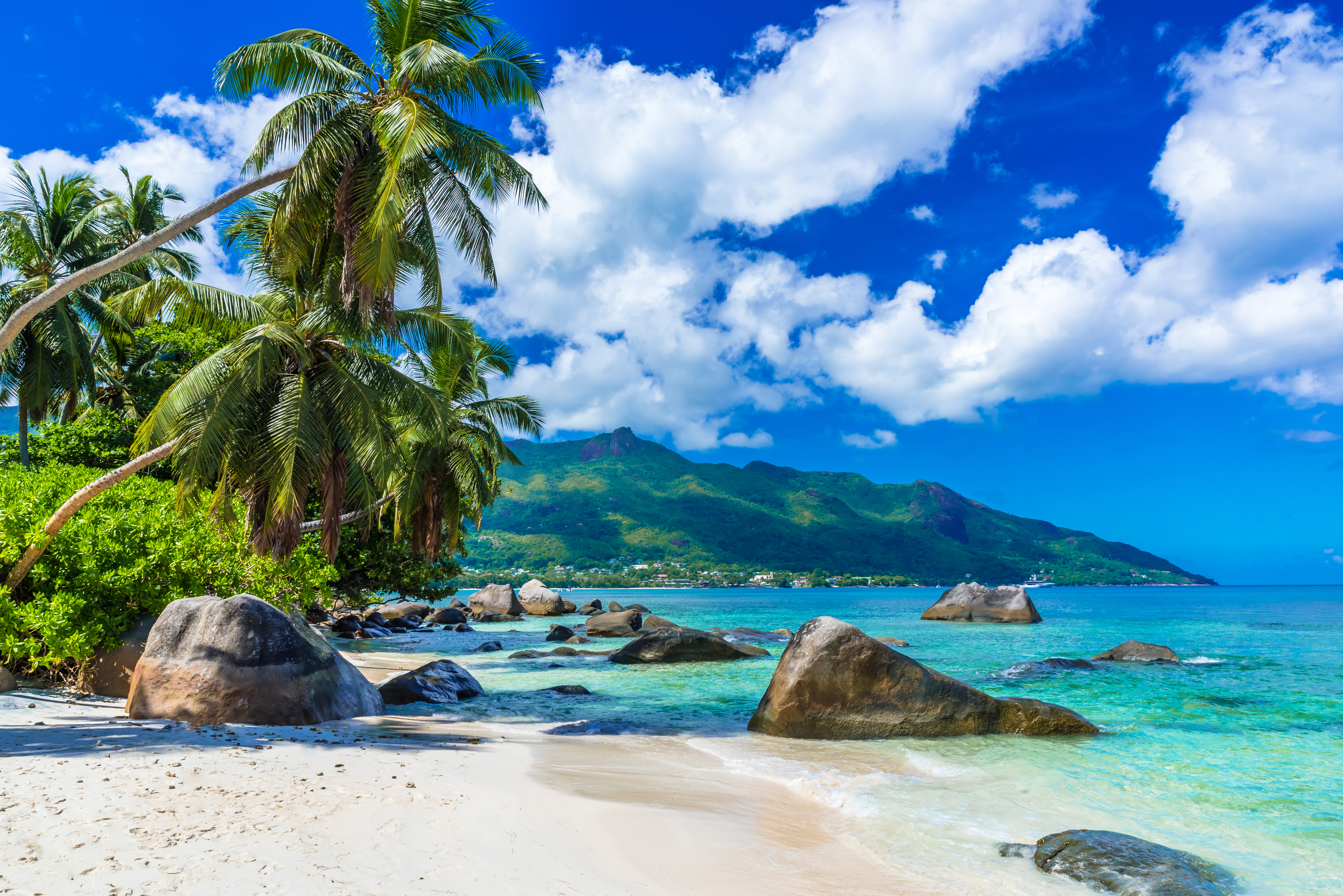 THE Seychelles, a low-lying archipelago of 115 islands off the east coast of Africa, is quite easily the most stunning place I've ever visited.
You don't have to take my word for it. The Seychelles' beaches are frequently named among the most beautiful in the world, none more so than Anse Lazio in the north west of the beautiful isle of Praslin.
As I watch the waves of the Indian Ocean lap against the talc-like sand, listening to the gentle swish-swish of the palm trees swaying, for a fleeting moment I wonder if I've been duped – this must be a computer simulation.
The islands' location, just south of the equator, means temperatures range between a balmy 24 and 31C year-round.
I'm here in late May, which marks the tail-end of the humid season (Nov-Apr).
Even when it does rain, the showers are over before I have to do the unthinkable and unfurl an umbrella.
Beneath spotless blue skies, Praslin is blanketed in lush vegetation.
You can get up close and personal with it at Vallée de Mai Nature Reserve, an ancient palm forest believed to be around 165 million years old. A UNESCO World Heritage Site, it's home to the rare Coco de Mer palm tree, which is endemic to Praslin and so highly prized that it features on the Seychelles' coat of arms.
The fruit of the tree can be used in food and skincare, and sales of Coco de Mer nuts – which are shaped like a woman's bottom and nicknamed the "butt nut" by locals – are strictly controlled.
This is just one of the many things I learn about the Seychelles from my Vallée de Mai tour guide, Sean, who is more fascinating than all the teachers I had at school combined.
He begins by showing us the screwpine – a tree with stilt-like roots that makes it look like it "walks" – before plucking wild cinnamon and allspice for us to sample the smells, all while regaling us with tales of local delicacies such as fruit bat curry, as we stroll in the shade beneath the canopies.
European, Asian and African influences combine to form the unique culture of the Seychelles.
The main language is Creole. Words are spelled as they sound, and formed as a literal expression of what they mean. The word for snail, "kourpa", for instance, translates as "doesn't run".
I think about this a lot. It perfectly encapsulates the Seychellois way of life.
The islands' natural beauty is plain as day, unspoiled.
And the pace of life, languid and easy-breezy, is decidedly snail-like.
This is no bad thing. I'm fully immersed in my surroundings, especially when I make the 20-minute catamaran journey to the neighbouring isle of La Digue.
Quiet and sleepy, with very few cars driving around, what La Digue lacks in energy it makes up for in bursts of colour, from the rainbow of boats docked at the jetty to the emerald green of the coconut trees that grow in abundance at L'Union Estate, a coconut and vanilla plantation.
There's plenty to see at this estate including a traditional bull-powered coconut oil mill, an old plantation house and an enormous boulder under which giant tortoises slumber.
There's also the entrance to Anse Source D'Argent – my favourite beach.
I paddle through the transparent sea, warm as bathwater, before finding a secluded cove to sunbathe in amid sloping granite rocks.All too soon, I return to Praslin to stay at Raffles Seychelles, an all-villa resort discreetly built into the hillside near Anse Lazio beach.
It is hands-down the most luxurious place I've stayed.
My garden view villa has its own private plunge pool and there's a prosecco station at the breakfast buffet.
When I visit the spa, I settle into an hour-long massage, I smile and realise the sound of the waves and lilting birdsong isn't coming from a "Relaxing Sounds" CD.
Afterwards, I slowly slink off the table in a state of serenity, my transition complete. I'm now a snail and I won't be running any time soon.
Facts
You can't fly direct to the Seychelles from Scotland, but you can go from Glasgow via Dubai with Etihad with British Airways from London Heathrow. britishairways.com
A villa at Raffles Seychelles, including breakfast, costs from £870 per night. raffles.com/praslin