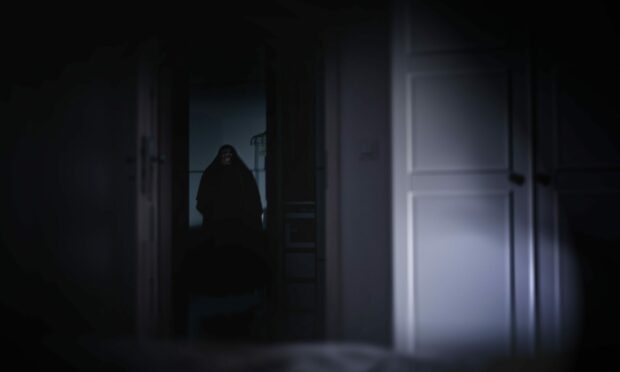 It always starts the same way.
I am in bed, warm, still tucked up, but something doesn't feel right. The bedroom looks normal, if not a little blurred around the edges. Any attempt to lift my head sends it spinning.
Someone is walking slowly along the landing beyond the closed door, I can hear their footsteps. Everything in my brain wants to run, but my body isn't listening.
The door handle starts creeping downwards. Panic rises, the room spins. As it reaches the bottom, the door itself starts opening inwards.
Relax, breathe, it's not real.
By the time the dark, indistinguishable figure takes its first step into the room, I have usually got myself out.
I had been experiencing sleep paralysis for a couple of years before I found out it was something different to a normal nightmare. It was also a long time before I found anyone else who had found themselves invisibly bound to their beds.
For many, the hallucinations change, but for me the scene is always the same. At least my repeated role in this horror film has trained me how to free myself from it, and to expect it during periods of high stress.
I close my eyes, focus on my breathing and work my way up my body from the tips of my toes to the top on my hear, relaxing every inch.
Years of Googling hasn't taken me much further on my journey to understanding exactly what happens in my brain when I find myself stuck, so I spoke to sleep expert Martin Seeley in an attempt to get to the bottom of it.
Sleep expert Martin Seeley
Martin Seeley has been in the sleep industry since the 80s and is founder and chief executive of MattressNextDay.
Having started out working with his Dad, mattresses are in Martin's blood, and he loves providing customers with any help possible to get the best night's sleep. A prominent figure in the bed world, Martin knows how to overcome any sleep-related problem, offering you the most expert advice and information on a range of health and lifestyle matters.
What is sleep paralysis?
Sleep paralysis is a phenomenon that occurs when a person temporarily experiences a sense of being awake but is unable to move their body. It can also involve vivid hallucinations and a feeling of pressure on the chest, making breathing difficult.
Sleep paralysis usually occurs either as the person is falling asleep (hypnagogic or predormital sleep paralysis) or as they are waking up (hypnopompic or postdormital sleep paralysis).
What causes sleep paralysis?
The exact cause of sleep paralysis is not fully understood, but it's believed to be related to disruptions in the sleep cycle and the interaction between different stages of sleep, particularly rapid eye movement (REM) sleep and wakefulness.
During REM sleep, the brain is highly active, and most dreaming occurs. The brain sends signals to inhibit muscle movement during REM sleep to prevent acting out dreams. In sleep paralysis, these signals persist even as a person becomes conscious, leading to the sensation of being paralysed.
Does everyone experience sleep paralysis?
Not everyone experiences sleep paralysis, but it is relatively common. Studies have shown that a significant percentage of the population may experience at least one episode of sleep paralysis in their lifetime.
Some factors that may increase the likelihood of experiencing sleep paralysis include:
Sleep deprivation: Irregular sleep patterns or lack of sleep can increase the risk of sleep paralysis.
Sleep disorders: Conditions like narcolepsy, insomnia, and sleep apnea can contribute to sleep paralysis.
Sleep position: Sleeping on your back can increase the likelihood of sleep paralysis.
Stress and anxiety: High levels of stress can trigger sleep disturbances, including sleep paralysis.
Changes in sleep schedule: Shift work or changes in sleep patterns can disrupt the sleep cycle and lead to sleep paralysis.
What happens when someone experiences sleep paralysis?
People's experiences of sleep paralysis can vary. Some may only experience the sensation of being unable to move, while others might also have hallucinations that can be frightening or disturbing.
These hallucinations can involve seeing or sensing the presence of entities, feeling pressure on the chest, hearing strange sounds, or having a sense of impending doom.
Is sleep paralysis dangerous?
Experiencing occasional sleep paralysis is generally not a cause for concern. It is often a benign phenomenon and is more likely to occur under certain conditions, such as when sleep is disrupted.
However, if sleep paralysis becomes frequent, significantly impacts sleep quality, or is accompanied by other sleep disorders, it's advisable to consult a healthcare professional.
How can you deal with sleep paralysis?
Dealing with sleep paralysis can involve several strategies.
Stay calm: Remind yourself that it's a temporary phenomenon and will pass.
Focus on breathing: Try to regulate your breathing to help calm your body.
Try to move small muscles: Focus on moving your fingers or toes, which can sometimes help break the paralysis.
Close your eyes: If hallucinations are distressing, closing your eyes might prevent visual disturbances.
Improve sleep hygiene: Maintain a regular sleep schedule, create a comfortable sleep environment, and manage stress.
Address underlying conditions: If sleep paralysis is linked to sleep disorders, addressing those issues can reduce its occurrence.
Medical consultation: If sleep paralysis is frequent or severely impacting your sleep quality, consider consulting a sleep specialist.
Remember that while sleep paralysis can be unsettling, it is generally not harmful.
If you're concerned or experience severe distress due to sleep paralysis, seeking advice from a healthcare professional is recommended.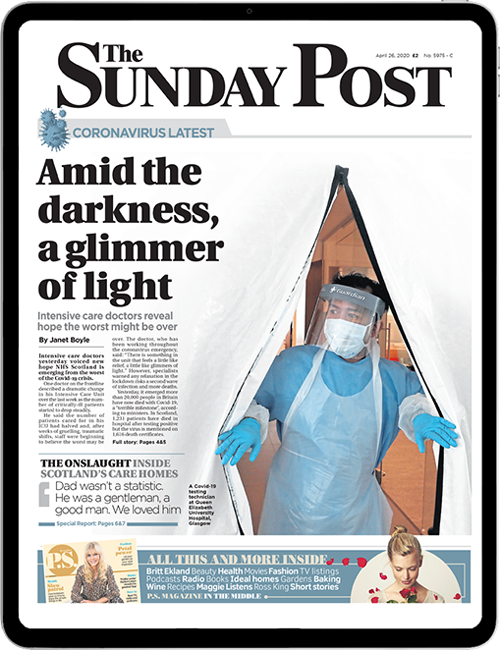 Enjoy the convenience of having The Sunday Post delivered as a digital ePaper straight to your smartphone, tablet or computer.
Subscribe for only £5.49 a month and enjoy all the benefits of the printed paper as a digital replica.
Subscribe