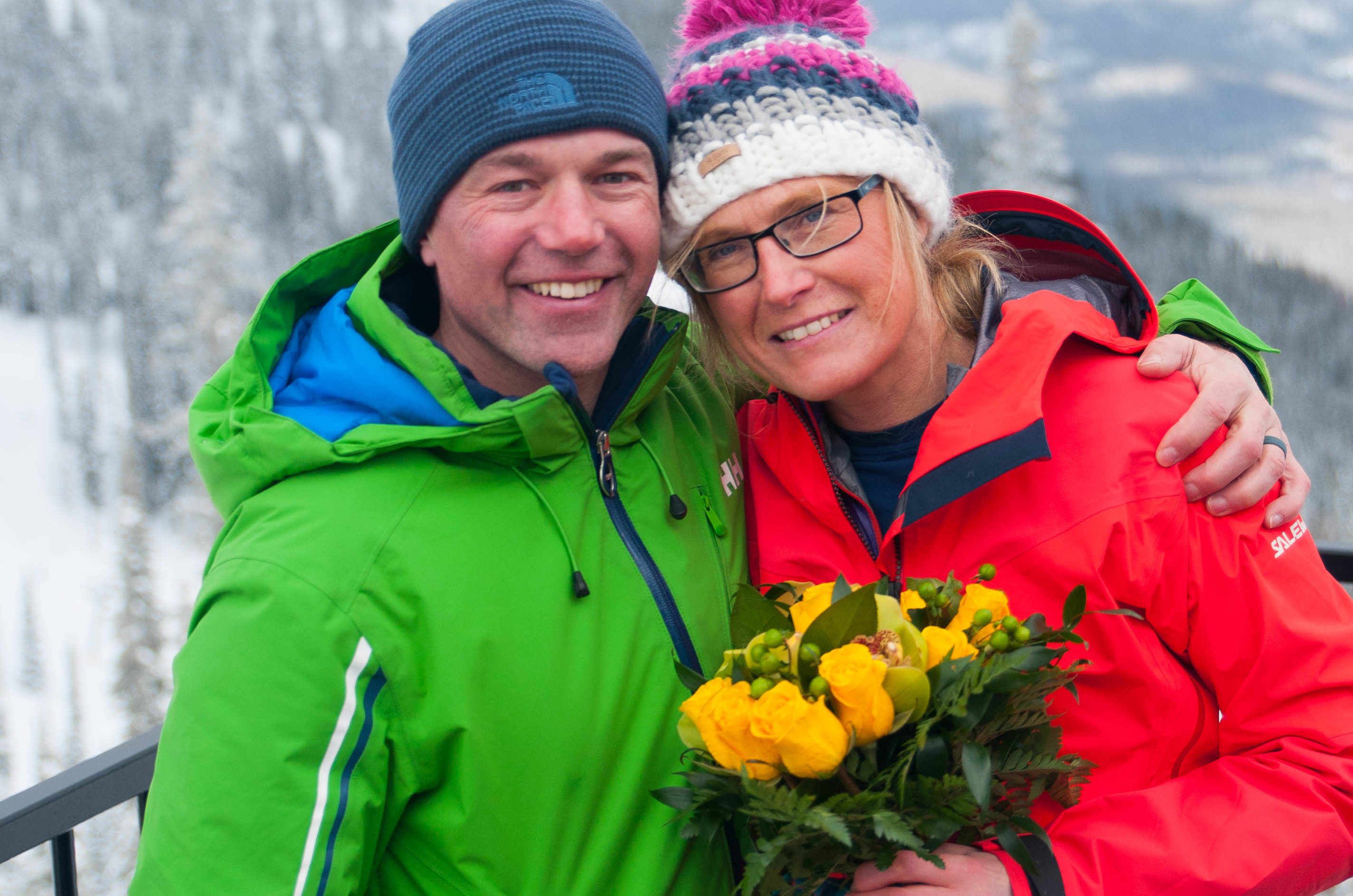 A HAPPY bride has told how she tied the knot on the ski slopes when her partner proposed – after she had already arranged a surprise wedding.
Fiona Russell and Gordon Lacey turned a skiing holiday turned into a honeymoon after they got engaged and hitched a few days later.
Contract manager Gordon got down on one ski and proposed to his long-term partner, Fiona, a journalist and outdoors sports blogger.
What he didn't know was that Fiona had been planning to ask him – she had even secretly booked a marriage commissioner – while on holiday in Canada.
Fiona, 49, said: "I immediately said yes and then asked him if he would like to get married two days later on the slopes!
"It was amazing that we'd both sort of had our own plans about this and tried to surprise each other.
"It was such a great coincidence that while Gordon had planned to propose on the slopes, I had also made tentative plans for a wedding."
The couple from Bearsden, East Dunbartonshire, are both outdoors enthusiasts.
Gordon is a keen climber and mountaineer, while Fiona is a triathlete, trail runner and Munro bagger. They met while walking a mountain range in Kintail in the Scottish Highlands more than eight years ago.
Fiona, who has a 19-year-old daughter Havana, said: "I had already been married before and I wasn't sure I needed a piece of paper to say how much we loved each other.
"Added to this, I am not a big fan of the tradition and fuss of weddings in the UK. I always said to Gordon that I wasn't bothered about being married."
Skiing is the couple's shared passion and their dream holiday on the so-called "Powder Highway" in British Columbia had been planned for months.
Gordon, 46, said: "I knew there was a chance that Fiona might say no but I thought the setting on a ski slope might persuade her.
"But she said yes without hesitation. It was such a great feeling. It was a very special moment."
Then came his surprise. Just a few days before, Fiona had already arranged the wedding.
She explained: "To get married in British Columbia you need a licence. It only costs about £55 and you simply present your passports at a special office.
"I didn't even need Gordon with me when I went to the local government office in a small town, Revelstoke, where we were staying for a couple of nights.
"The licence was immediately valid and I thought that if he didn't like the idea it was not a lot of money to lose."
Before leaving for the holiday, Fiona had also been in touch with a marriage commissioner.
She said: "I found a woman online who lived near a resort called Fernie, which I had heard was beautiful and she said she would be available if Gordon said yes.
"We put a date and time in the diary and agreed to meet at the base of a chairlift."
The couple's ceremony, which lasted less than 15 minutes, took place on March 5 in Fernie Alpine Resort at the top of the Timber Express lift.
Surrounded by onlookers, they said their vows – written themselves – on the outside deck of a mountain café.
The bride wore a red and blue ski outfit and a pop-pom hat, while the groom was dressed in a green ski jacket and sporting a blue beanie. They both kept on their ski boots – and they exchanged silicon "sports" rings, one pink and one dark grey.
They popped a bottle of Champagne on a nearby slope and shared it with other skiers.
Fiona said: "It was the most amazing way for us to be married. It was a short but very personal exchange of vows with the most fantastic backdrop of snowy mountains.
"The only thing is, I think we'll need to organise a party so that all our friends and family can celebrate too. They were very surprised by our wedding announcement on Facebook."