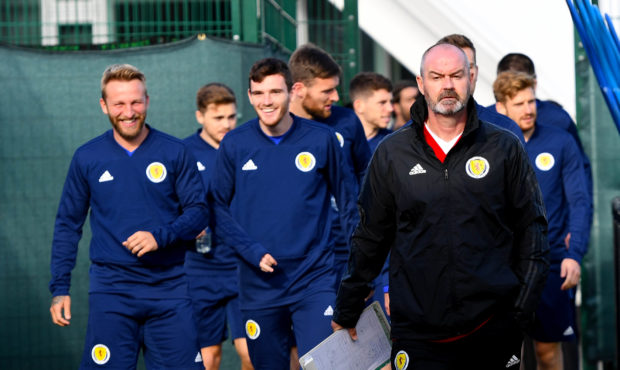 Important decisions will need to made in Scottish football in the next week or two.
The SFA would like the SPFL to cancel the Premiership card on the weekend of March 21/22, immediately before Scotland's Euro 2020 Play-off semi-final against Israel.
That would allow Steve Clarke some extra preparation time with his squad, and allow a few of the players to have a proper rest ahead of the vital game.
In an ideal world, this would be a straightforward decision. The schedule would be cleared in a heartbeat.
But these days, there are so many different people to please, and contracts to be honoured.
The fixture schedule for the SPFL is absolutely crammed as it is. There is barely a spare date on their calendar.
With the Old Firm still in Europe, it makes things even more difficult as the midweeks are getting eaten up.
I'm sure the SPFL's top brass, Neil Doncaster and Iain Blair, would love to support the request from their counterparts along the corridor on Hampden's sixth floor.
But it's not as simple as that.
Neil sits on the SFA Professional Game Board, so he should enjoy a good working relationship with the chief executive, Ian Maxwell, and the rest of the hierarchy.
However, the final decision will not be down to Neil.
He can only put the request to his member clubs, for them to discuss and reach a decision.
What I'd consider doing is allowing every club to make up its own mind.
Why does it have to be a collective decision by the SPFL Premiership?
Only four clubs will have probable Scotland squad players involved. Five, if Dundee United striker Lawrence Shankland is caled up from the Championship club.
Celtic are due to play at home to St Johnstone, Rangers are away to St Mirren, Aberdeen are at Livingston, and Kilmarnock visit Motherwell.
It could well be that after discussions with chief executives, managers and players, Celtic would clear their weekend to help Scotland.
But Rangers may choose not to. Or vice-versa.
Kilmarnock might be happy postponing, but Aberdeen could still insist on fulfilling their fixture that weekend.
Another factor is that Rangers' visit to Paisley is likely to be a live television game that weekend.
Would Sky Sports or BT Sport be willing to pull it?
And would St Mirren want to postpone a weekend sell-out, with all of the revenue from tickets and hospitality that come with it, to go to a midweek date when the income would not be as good?
Would the SFA be willing to compensate clubs fully for any financial shortfall?
All in all, there is no easy solution.
In future, one thing the SFA could look at doing – that would cut down on potential fixture pile-ups in the second half of the season – would be to do away with Scottish Cup replays.
Doing that would free up weekends and give them a much better chance of getting a full card postponed should this situation arise again.
Whatever happens, I hope it works out for Steve Clarke and his players.
Sure, we are only talking about seven or eight players here.
But any small advantages would be welcomed by Steve with open arms.
The English Premier League and Championship cards – involving clubs where the majority of the Scotland squad ply their trade – will go ahead regardless that weekend, but that's to be expected.
But it shouldn't be beyond the realms of possibility that our clubs can help our national team.
We are talking about trying to qualify for a major tournament for the first time in 22 years. This is a national situation.
Our clubs should try their best to be as helpful as they can, rather than be negative.
There are obstacles in the way, but let's all try to get over them. Don't use the barriers as excuses.
Steve's other concern will be if Celtic and Rangers are still in the Europa League by that stage.
If Neil Lennon's side can get past FC Copenhagen, and Steven Gerrard's team beat Braga, the second legs of their last 16 ties will be played on Thursday, March 19.
That would mean the Old Firm's Premiership games would be moved to the Sunday immediately before Scotland play Israel.
It would be quite frightening to think that the manager and his staff would only get three days to work with some of his key players, as they wouldn't be able to join in until the Monday morning.
And even then, it would be for a warm down.
I'm not saying Steve should get the players for eight or nine days ahead of the Israel tie.
A full week in an international camp can lead to boredom.
But try to give him five or six days with the home-based lads to give them proper preparation for tactics and the mental aspect of this massive occasion.
As all successful managers and leaders have said, it's the small percentage gains that all add up in the bigger picture.
So let's do the right thing.