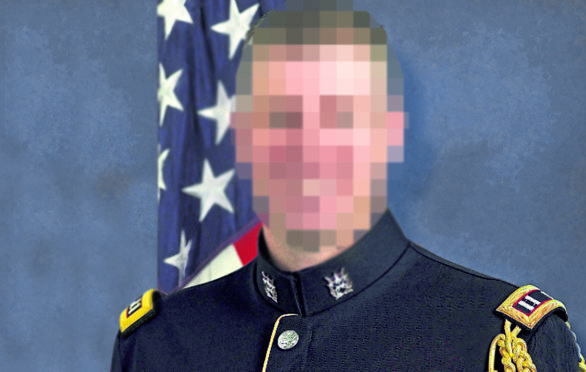 A US soldier is the unwitting frontman for one of the world's biggest dating site frauds preying on women looking for love online, we can reveal.
The photograph of the handsome soldier, in full dress uniform, has been doctored and used countless times by crime gangs as they persuade victims, from around the globe to send them money.
Estimates suggest dating site fraud costs Scots up to £4 million a year and, around the world, bogus online profiles using the American soldier's photograph are estimated to have raked in up to £1m.
One Scots victim, a 54-year-old widow, today tells how she lost her £17,000 life savings to the fraudsters after being contacted by a man pretending to be the soldier on an online dating site.
Now battling depression, she said: "I tend to take people at face value. I never thought people could lie and cheat like this. He made me feel special and I gave him all I had. I might have been gullible but I don't deserve this. No one does."
The soldier's photograph has been used on a series of dating sites in Europe and America, often with other men's heads superimposed, and is now thought to be deployed by a number of different fraud factories.
Following our investigation, politicians and charities have demanded greater online regulation and urged internet firms to do more to root out ­organised crime gangs preying on vulnerable victims.
Figures obtained by The Sunday Post reveal the number of cases reported to Police Scotland's fraud unit is likely to double this year, with 24% of victims aged 66 or over.
Detective Sergeant Gary Dalgleish, from Police Scotland's Economic Crime and Financial Investigation Unit, said: "Online romance scams are happening daily. Most days we will come in and there are a few cases that have come in overnight. We've seen cases where people have lost hundreds of thousands of pounds to someone they believe they are in a relationship with.
"The number of cases recorded has increased in recent years, but the ones we hear about are just the tip of the iceberg. Fraud in general terms is ­massively under-reported and the same is undoubtedly true for romance fraud.
"It may be due to ­embarrassment or a reluctance to relive what has happened but it is important to realise that those responsible are organised, cunning and clever."
Police Scotland was told of just 67 victims of suspected romance fraud in Scotland in 2018/19, involving £251,000. This year's ­figure is expected to top 130.
But specialist officers believe that is only a small proportion of cases, with romance fraud costing British victims up to £40 million a year and Scots losing up to £4m.
DS Dalgleish, who has been investigating these types of crimes for the past five years, said women were often targeted via dating websites with fake profiles but also via social media.
He said: "Romance fraud often happens when people meet potential partners on dating websites or accept friend requests from people they don't know on social media sites like Facebook.
"They lure them into what they feel is a real relationship, then start asking for money. It's usually small amounts at first, then larger sums. And before they know it people have parted with substantial sums of money.
"One of our biggest, most recent cases involved contact being made on an online dating site that developed into a physical face-to-face meeting and that's when the deceit and extortion began.
"It ended up being a four-year campaign of taking control of their wages – but not paying mortgage or bills and keeping the money for themselves.
"They were living in the house, so easily intercepting mail to cover their tracks.
"It resulted in the house being repossessed. The person was convicted of a £60,000 fraud but the true figure was probably north of £100,000.
"The impact on the victim is not limited to the loss of money but also the loss of the relationship. In some cases the loss of the relationship was far harder than the loss of money."
Politicians yesterday demanded urgent action to regulate online sites and impose greater responsibility on operators to identify suspicious behaviour. Critics say tighter vetting and checks on applicants to join dating sites and a greater use of facial recognition and other security technologies could help curb fraudsters.
Julian Knight, a member of the Culture Media and Sport Committee in the last parliament, said: "Sadly these figures are not surprising. Behind every ­statistic is a wrecked life, so I would join in calling for the dating websites to ensure they take the strongest action against bogus profiles. Internet platforms have a responsibility to their shareholders and to wider society to ensure checks are made.
"This could be dealt with by responsible management. It does not actually require legislation. These platforms must take responsibility for the content other people publish on their websites.
"The platforms should be ­considered to be a publisher and therefore they must take reasonable steps to prevent real harm to people's lives.
"They need to invest in better algorithms that find and stop individuals who are creating these profiles which defraud people."
Michelle Supple, director of Age Scotland, said: "Unfortunately, anyone can fall for a scam regardless of their age. However, older people can be at greater risk. Someone who lives alone and has limited social contacts may feel isolated, lonely and be more vulnerable, which makes it all the more devastating if their trust is abused by a scammer.
"Dating websites can be a great way to meet someone from the comfort of your own home. But we would urge older people always to be careful and to protect themselves by knowing what to look out for and what to do if they suspect a scam.
"We would also encourage ­dating sites to implement rigorous safety measures, such as thorough vetting of everyone who signs up.
"It is really important the new Hate Crime Bill, announced in the most recent Programme for Government, includes a new statutory aggravator for crimes committed against people because of their age."
The rising number of romance fraud is alarming, according to Sandra Harkness of the Society of Chief Officers of Trading Standards in Scotland (SCOTSS), and makes the case for action.
She said: "We work closely with 'tech' firms to ensure they are doing all they can. One of our ­biggest difficulties is ­encouraging victims to come forward, particularly when it involves a romance scam, because people are not only embarrassed and don't want to admit that it's happened to them, but they are also suffering emotionally and psychologically.
"We want to encourage anyone who has been a victim to come forward. They will never be judged, and sometimes the smallest piece of information can help us stop those who do this in their tracks.
"The people behind these schemes are usually well-­practised in how to best target victims at their most vulnerable times, often after losing someone or being ­ widowed. Organised crime may also be involved."
The woman duped by the ­fraudsters posing as the American soldier, who we have chosen not to identify, was targeted after joining Match.com but the dating site says it is doing all it can to protect women who register. But, like social media, it can be a hard area to police.
A spokesperson said: "We have a dedicated team who monitor security on the site, through both AI, in the form of machine learning technology, and human checks.
"This includes reviewing photos and profiles of new members and identifying any potentially unusual behaviour. We are constantly reviewing our safety methods and we proactively communicate safe dating advice to our members and within our platform."
---
"The money was all my life savings and meant to pay for my retirement. I just feel so foolish, so humiliated"
Carol, 54, a widow, thought she had met the man of her dreams when an American soldier messaged her on an internet dating site.
He bombarded her with charming emails and calls so she was happy to help out the man who had made her feel special.
Instead, it was the start of a scam that cost her £17,000. Now battling depression, the mum from Glasgow describes her ordeal.
I lost my husband in 2005 and was left on my own, bringing up a son. As the years went on, my friends tried to convince me to give online dating a go.
I wasn't that interested, but one day I overheard a woman in my hairdresser's talking about how she'd met a lovely guy on a dating site. So I decided to sign up.
In December 2017, I set up a profile on Match.com and within a few days I got a message from a man called James Webb. He told me he was an American soldier in South Korea and his profile photograph showed him in an army uniform.
We emailed back and forth and he quickly asked me to move the chat to Google Hangouts, a messenger service on another site.
He seemed nice. He told me all about his life, saying he had a teenage daughter and worked as a truck driver in the army. He explained he was based in North Korea where he was regularly shot at by snipers and told me a roadside bomb had recently killed one of his comrades. It sounded terrifying.
He asked about my life too and I was flattered that someone like him would be so interested in me. I told him all about my son and my own job. We even chatted on webcam.
The image was grainy but I was convinced the man I spoke to was the same man from his photograph. He called me his "darling" and "love" and made me feel special.
After a few weeks he told me he hadn't received a "care package", a gift box soldiers get from home. I thought that was a shame so I posted off some sweets, toiletries and shortbread. The address was in Ghana and at the time it didn't seem strange because he said it had to be sent via the United Nations.
Soon after I got an email from a Mr Godwin, from the UN, saying the package had been received.
A few days later James asked if I would accept a package for him – his personal belongings for safe keeping. I was reluctant. After all, I hardly knew him. But a week later I received an email from Amsterdam customs saying they had a package addressed to me and I had to pay £1,000 to release it.
It was a lot of money, but I wanted to help James out and he promised I'd get my money back. So I paid it.
That wasn't the end of it. Soon I was getting emails from customs demanding more money. All the while this Mr Godwin was messaging me saying he was stranded with the package in Amsterdam, and James was messaging several times a day pleading with me to make sure his parcel was safe.
The emails became more threatening, demanding payment. I had recently received a small inheritance from the death of my dad so I used that, but the more I paid, the more they asked for.
I think the most I paid out was £9,500 in one go.
James assured me at every stage I would get it all back once the package was in safe hands. Eventually a cheque for £10,000 did arrive, but when I took it to the bank in November, they said it was fake. That's when I realised it was a scam – but by then I had paid out £17,000.
Looking back, I can't believe I was so stupid. At one point, I barely had enough money for food because I was paying them all my wages. I thought I was going to lose my house as I was struggling to make the mortgage payments.
I tend to take people at face value. I never thought people could lie and cheat like that. I was so naive. I've reported it to the police and they are looking into it, but they can't do anything about getting my money back.
It was all BACS payments into different sort codes and account numbers and the money was gone within a few hours. It's hard because I don't feel I will ever get any justice or closure.
That money was my savings. It was supposed to set me up for retirement. I feel ashamed and humiliated.
I'm suffering from depression and some days I don't want to get out of bed. But If I can save one other woman from going through this, it might help.
---
"Suddenly, after I lost my husband, all sorts of military personnel got in touch with me"
By Ruth Grover, anti-fraud campaigner
After losing my husband, I changed my Facebook status to widowed and all of a sudden I was a very popular woman.
I was contacted by so many men, wanting to chat or know more about me. From captains to generals, there was a whole host of military personnel wanting to get in touch.
I was sceptical, so I Googled it – and that's when I found out about romance scams. The fact I was retired and widowed made me a perfect target.
My research led me to realise there were plenty of places to report romance fraud – but nothing existed to warn women before it happened.
So, five years ago, I set up Scamhaters United, a forum where women could share their experiences of online dating fraud.
Between the website and social media channels, Scamhaters receives 7,000 hits a day from women around the globe who have either been contacted by scammers or duped out of money.
They share pictures, names and information about the scammers in the hope they can prevent other women from parting with cash.
It has taken over my life, but I can't back down.
We have helped thousands of women, but it's just a fraction of those affected.
So many get sucked in. They trust this man at the other end of the computer and, for them, it becomes reality.
I've heard of cases where people's lives have been ruined.
These scammers work in teams and in shifts, so they're there all the time – and invite women to sites like Google Hangouts so they can connect with lots of women at a time.
It's like a full-time job for them.
It's often a military person and usually starts off friendly with them calling you "babe" or "beautiful" or "my love".
The scammers are clever and even go so far as to engage in webcam chats.
They spend weeks recording footage of someone then use it in a chat. They can pause it, make it jump to a point where the person is laughing, type when the person is typing, etc. It comes off as realistic. And all makes victims further believe the lie.
They get into your head and develop a relationship you think is real. But soon they will ask for money, whether for food or medical bills, or to pay for a ticket so they can come and see you – or paying to release a package.
Those are the tell-tale signs it's a scam.
To help women, we need to educate them and raise awareness. It's okay to talk to people online but, as soon as they ask for money, people need to realise it's a scam and it's time to walk away.
There needs to be more scepticism.
We're so aware of other types of scams, like calls from the Microsoft engineer asking for bank details. We need to make sure romance fraud registers on the same level so the romance scammers can be stopped before any damage is done.
---
Con artists know exactly what to say
Psychologist Dr Pauline Rennie-Peyton says romance scams are so successful because scammers tell their victims what they want to hear.
"I don't think it matters whether you meet online or in the local pub. People have a box that fits the person they want to be with," she said.
"I think that people who take them for a ride are chameleons who find a way to fit into
that box. And if they don't fit the box, you will find a way to make them fit.
"The thing about online dating is that people are striving to meet their perfect person – and anyone can make themselves sound like the perfect person.
"Romance scams work because the relationship is always a secret. A common one is the scammer being in the secret service. Not telling anyone about the relationship is key, because outsiders would spot the warning signs it is a scam.
"And when people think they've met the man or woman of their dreams, they choose to ignore these signs.
"Scammers work by telling their victims what they want to hear. They tell them they're beautiful, they listen, fish for information and then, later on, feed it back. For example, if a divorced woman says her ex-husband didn't like her cooking and she never met his friends, the scammer would say: 'I can't wait for you to cook for me and meet my friends'.
"With social media, they can find out so much about you – from your hair colour to your favourite dinner – and they use these details to manipulate.
"Romance scams happen to men, just as much as women – and its often for larger amounts. From the single mum who needs help to fix her car so she can take her child to school to paying for flights for the eastern European woman they met online to come over then never appears…it happens all the time.
"The key to not becoming a victim is to look for the warning signs. If someone seems too good to be true, they probably are."
---
How to protect yourself
GET IN THE KNOW
Get to know the person – not the profile – and ask plenty of questions. Don't rush into an online relationship.
DO SOME CHECKS
Put the name, profile pictures or any repeat phrases and the term "dating scam" into your search engine.
TELL YOUR FRIENDS
Talk to your friends and family about your dating choices. Be wary of anyone who tells you not to tell others about them. A request to keep things secret is a warning sign.
DON'T GO ANYWHERE
Don't move the conversation off a dating site until you are confident they are who they say they are.
DON'T SEND MONEY
Never send money to someone you've met online, no matter how long you've been speaking to them.