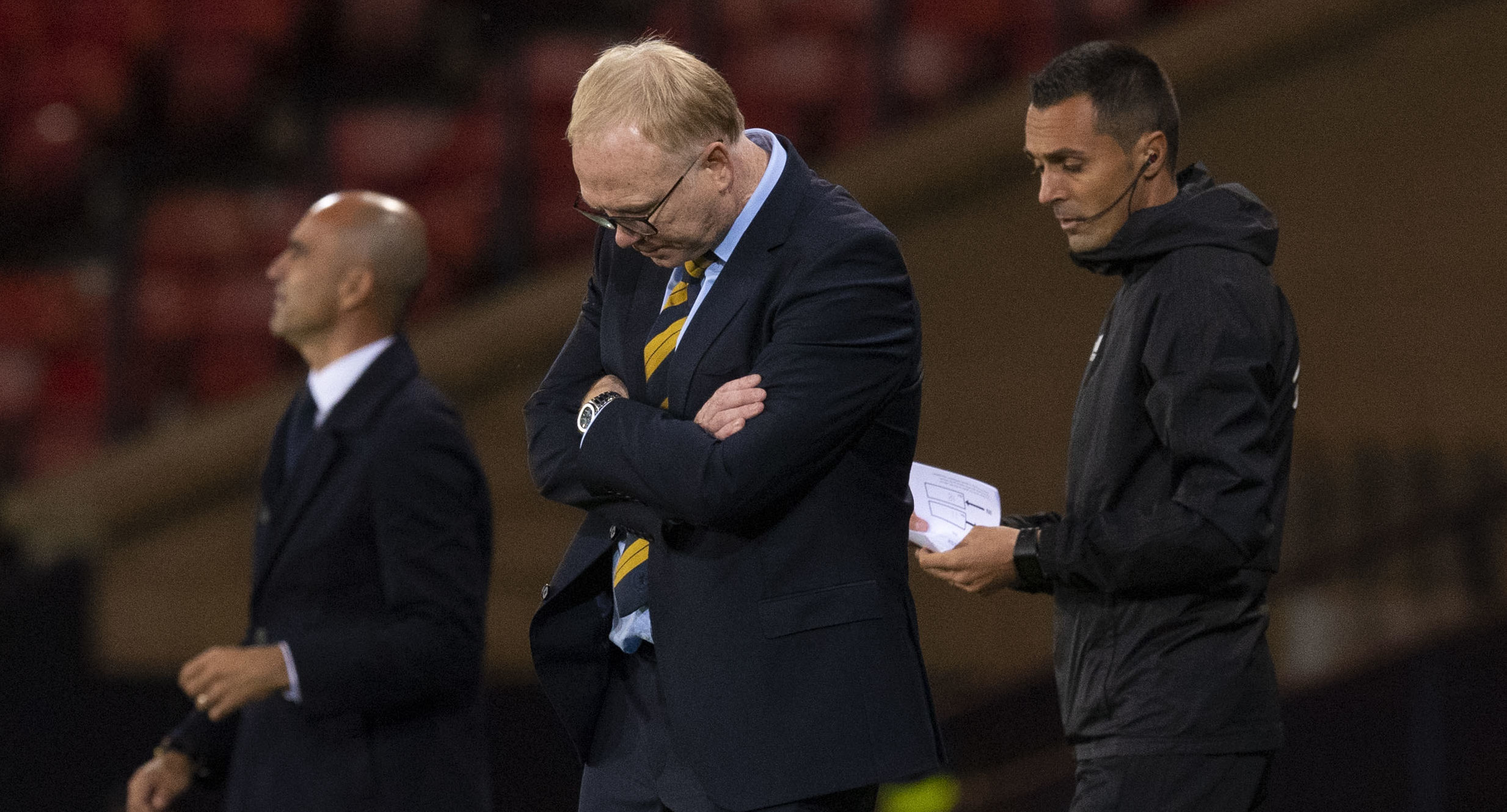 SCOTLAND'S 4-0 defeat to Belgium was a sore one.
There is no doubt that the manager and the players will have been hurting badly in the past 24 hours.
To be a part of the heaviest home defeat in 45 years should not have been sitting well with any of them.
I should know.
I was part of the team that lost 5-0 to England in February, 1973.
It was a really cold evening and the game – set up to celebrate the SFA's Centenary – was classed as a friendly. But that didn't make the defeat any easier to take.
It never sat comfortably with me to lose any game of football.
But, as a group, we didn't lie down back then and feel sorry for ourselves.
Within 12 months, we qualified for the 1974 World Cup Finals.
Let's hope that we are saying something similar by the end of 2019, and Scotland is celebrating being part of Euro 2020.
The hard work to make that dream become a reality starts tomorrow night, in the qualifier against Albania.
Let's rise to the challenge and do it.
We just need to hope there are no deep-rooted scars from Friday night.
Roberto Martinez's men inflicted some serious wounds, and there was always the danger that was going to be the case as they are a talented side and have been ranked in the top four in the world for a period of time.
Indeed, they finished third at the World Cup Finals in Russia.
So it was unrealistic to think we were going to beat Belgium. They have been in brilliant form, and have genuinely world-class players in the likes of Eden Hazard and Thibaut Courtois.
Indeed, their best player, Kevin De Bruyne, wasn't playing as he is injured.
Thankfully, Albania – ranked 58th in the world – aren't in the same class.
That said, even they will have the talent to capitalise on some of the mistakes we made on Friday night.
For example, the opening goal we lost on the half-hour was sloppy. The third and fourth goals were equally concerning.
We simply can't afford to gift any opposition opportunities.
This defeat was Alex McLeish's fourth in the five games he has been back in charge, all of which have been friendlies.
Tomorrow night will be his first competitive encounter – and he simply has to win the game.
With this just being a four-game section, you need to put six points on the board from the two
Hampden clashes, and nick something away from home.
Albania will arrive in Glasgow in buoyant mood after their 1-0 win against Israel. They top the section, so we have to quickly dampen their spirits.
They must not be given any encouragement.
It could well be that the Scotland players will be a wee bit tentative after the Belgium defeat. But they cannot dwell on that negative.
That's why Alex and the coaching staff will be working hard on the psychological side, just as much as the tactical side.
Of course, to win games of football at any level, you need to be able to score goals.
At the moment, we have Leigh Griffiths as our main striker. He has the ability to produce a moment or two of magic, as we all remember from the free-kicks against England.
We can't, however, always rely on set-pieces. We need to provide Leigh with service, and he needs help in the final third of the pitch.
We don't have an abundance of options for the No. 9 jersey. With
Oli McBurnie withdrawing from the squad through injury, it has left us short.
If you look at the SPFL Premiership, there aren't too many Scotsmen leading the line.
Kris Boyd and Kenny Miller will do that more often than not this season. But, with the greatest of respect, they are not the answer at this stage for the national team.
So there is clearly an opportunity for someone to go and grab, and I think Tony Watt should be challenging himself to do it.
This should be a light-bulb moment for him.
He has started the season very well at St Johnstone and picked up the Premiership Player of the Month award.
Now he has to show has the maturity as a person, and the consistency as a striker, to keep it going and force his way into the squad for next month's games.
That, however, is a few weeks down the line. The here and now is the most important.
We go into the Albania game in a set of circumstances that is far from ideal.
We all just need to get behind Alex and the players.
And, as ever, inside the stadium, the Tartan Army will play a vital role.