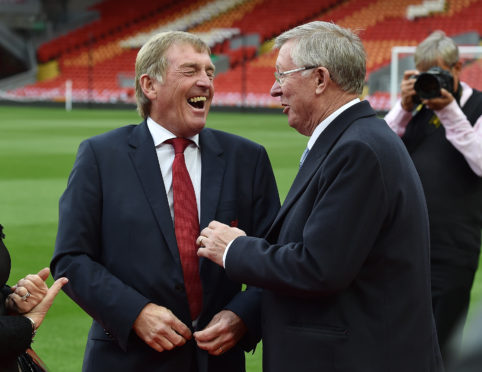 Sir Alex Ferguson and myself no longer have any direct influence on how a game of football might unfold.
But today, from up in the stands, we will be kicking every ball.
It's Manchester United versus Liverpool, one of the biggest games of the season, the one both sets of fans look for first when the fixtures are announced in June.
Personally, I can't wait to get to Old Trafford.
I will meet Sir Alex before kick-off and, as ever, warm handshakes will be exchanged followed by a wee blether.
We'll then take our seats and urge our own to take the three points.
That will to win never leaves you.
The last time Liverpool left United's patch with the three points was five years ago, but we go into the game as favourites, which is totally understandable.
Jurgen Klopp and the players have started the season on fire, winning every league match.
They deserve enormous credit to have 24 points from eight games because they could have taken their foot off the gas after winning the Champions League last season and rested on their laurels.
But that is just not their way.
Every pre-season, Jurgen comes in with the mindset to improve on the previous campaign, and he drums that into his staff and squad.
So the Premier League title was an obvious target, and they have set an excellent early pace and are going to take some catching.
They are already 15 points ahead of United. How times have changed.
It wasn't so long ago that United would be the leaders at this stage, and leaving most teams in their shadow.
Sir Alex was a dominant figure for more than 20 years and delivered incredible success.
But since he retired in the summer of 2013, United have had four different managers.
They started with Davie Moyes, and that lasted less than a year. In my opinion, Davie deserved longer.
Louis van Gaal followed, and then it was Jose Mourinho.
Now they have Ole Gunnar Solskjaer in the hotseat, someone who knows the club inside out.
Ole is a more-than-decent fella. But, like his predecessors, he needs to be given time.
There is no quick fix at United, or any other club for that matter.
Yes, they have won the FA Cup and the Europa League since Sir Alex left but they were used to winning titles and being in the mix for the Champions League.
I know it's easy to say, but there needs to be collective patience. The manager needs time to mould his squad.
Stability, more often than not, is the key to success.
Jurgen Klopp is now four years with Liverpool and look what he has achieved.
Again, though, it wasn't done overnight. He needed time to assess, change and build.
Having the backing of the board and the fans allowed him to put things in place. There was no need for him to rush and make rash decisions.
And to go with the stability, he also has ability. That is so important.
He really has got the whole club going.
I'm delighted for him because he is a really likeable and humble person. He is also fantastic at his job.
It's not often you get someone with the full package.
He makes sure the team play with principles, philosophies and togetherness. He impresses and improves every year.
Andy Robertson is a classic example of what the team is all about.
It's great to see him being such an integral part of the team, and there will be another Scotsman on the pitch today.
Scott McTominay, I expect, will start in the centre of midfield for United.
He caught my eye last season with some mature performances for one so young.
He looks as though he has kicked on again and looks every inch the part of a Manchester United player.
It's fine having ability, but you also have to cope with being a player for clubs as huge as Liverpool and United.
His performances for Scotland have also been good, and I thought he drove the team on against San Marino last Sunday and enjoyed being more involved in the final third.
He may have more defensive work to do today, but we will wait and see.
I expect Liverpool to win but you can never take anything for granted.
In the last game against Leicester City, it took a last-minute penalty to secure the three points. Before that, the Sheffield United goalkeeper made a mistake to give us a 1-0 away win.
Sometimes, in other games, you might not get that wee bit of luck that you deserve.
That's something not even Sir Alex could control.