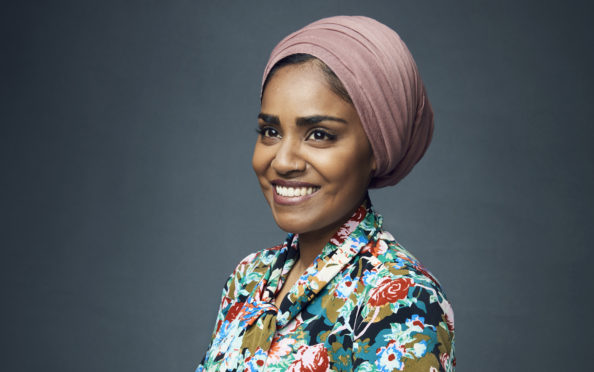 Not so long ago, Nadiya Hussain would have shied away from being called a role model.
But in the four years since winning The Great British Bake Off and becoming a household name, the mum of three has embraced the sense of responsibility that comes with being in the public eye.
Whether it's speaking honestly about her long battle with anxiety or representing British Muslim women, the 34-year-old believes talking openly is the key to progress, rather than keeping things bottled up inside.
"If you'd asked me four years ago, do you feel a sense of responsibility – you are a Muslim woman in the public eye when there are not that many, if any, of you? I would have said that's completely incidental and I don't want to talk about it," admitted Nadiya.
"Now, that's definitely changed for me. I do feel a responsibility to be honest and talk about things people don't talk about.
"I grew up in a community where talking and being honest and speaking about emotions is something you weren't raised to do.
"I'm raising my children in the completely opposite way to that, teaching them to speak about their emotions and speak about what worries them.
"I'm also British and we have this stoic, stiff upper lip where we say keep calm and carry on, and really, that's no different to the community I grew up in, where people don't talk about their emotions or things that happened.
"We're very much told to get on with it and I'm not about that. I want people to talk about the things that worry them.
"I think by talking about issues close to my heart and having a voice, it allows other people to have a voice and that's very important."
The next step in the process is the release of Nadiya's autobiography, Finding My Voice, in which she reveals she was sexually assaulted as a child, the bullying torment she endured at school and how she had to skip meals before she found fame due to financial constraints.
"I had a battle with myself over writing the book," she said. "I knew I wanted to write something, but I had to ask myself how much I wanted to write and what I wanted to get out of it.
"I want anyone who picks it up to be able to identify with it, but it was as much for me as it was for everyone else."
Born in Luton to Bangladeshi parents, Nadiya has five siblings and her dad owned an Indian restaurant.
She was only 20 when she married Abdal in an arranged marriage, and the couple have two sons, Musa and Dawud, and a daughter, Maryam.
It was Abdal who applied for Bake Off on his wife's behalf and encouraged her to take part.
Nadiya says it was becoming a mum that gave her the courage to pursue everything she has done since.
"There is no responsibility bigger than having children, actually raising human beings, keeping them alive and making them good people," smiled Nadiya. "So nothing else frightens me any more."
One parenting worry is the extra issues her kids have to deal with compared to her generation.
"When I look back at myself as a teenager, I didn't worry about the things my children worry about now," she continued.
"My eldest is 13 and has just started on Instagram. I really toyed with keeping him away from social media, but it's the way they communicate, so why take it away from him?
"It was a difficult decision, but the issues they have are very different from the ones we grew up with. But worry is still worry and anxiety is still anxiety, so it's about learning to handle it, and to talk and deal with it together.
"You can't hide things as much any more. It's there for everyone to see, so it's harder for them and a different kind of hard, but we need to set them up with the tools to handle those situations.
"We have a rule in our house that we turn off phones at 7pm and put them in a biscuit tin.
"Those of us who grew up being bullied or tormented, we could come home and that would be our safe place. But with social media you can bring the bullying and torment into the palm of your hand in bed. There's no end to it.
"I'll sneakily bring my phone back out when they're asleep, but now that my son is on social media he'll see I've posted something at such and such a time. I can't hide anything any more."
Nadiya's feelings on social media are mixed.
"I love and hate it in the same breath. Anyone who is on it knows there is so much good and you can spread the word about something really quickly, but then there are the trolls and the criticism.
"I feel sorry for my kids because they will hear about the things I put out there when they go to school or from their friends because their parents are talking about them."
A government report on community cohesion said Nadiya had done more for British-Muslim relations than 10 years of government policy.
That, she says, was astounding to hear, but she's now realised what an "important platform" she's been given.
"I couldn't believe it was about me when I read it," she said. "It could have been anyone but it just so happened to be me.
"I've grown up my whole life asking what my purpose is, why am I here and what is my job, and then I am given this platform.
"Growing up as a Muslim woman, I could never pick up a book and identify with the voice, characters or words, so to get to write a book where lots of people – not just Muslim women – will say, 'I get that', is so important.
"I didn't realise how important representation was until my kids started growing up.
"The first time I took my daughter to the theatre four years ago, she said there was no one on stage with in-between skin like her.
"She's growing up in a world where she doesn't identify with anyone because no one looks like her in normal things like the theatre.
"Then she got a part in Les Mis and it dawned on her three weeks into the role that she is the in-between skin girl she was talking about.
"She fulfilled her own prophecy and, like my daughter, with this book I now get to be the person I wish I had read about.
"I can't imagine having this platform and not doing anything with it. It's such an honour and a privilege."
Finding My Voice by Nadiya Hussain is out now, from Headline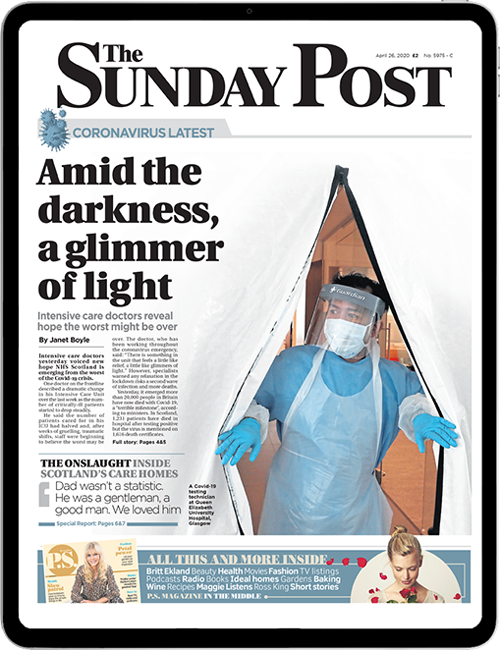 Enjoy the convenience of having The Sunday Post delivered as a digital ePaper straight to your smartphone, tablet or computer.
Subscribe for only £5.49 a month and enjoy all the benefits of the printed paper as a digital replica.
Subscribe