He has travelled the world helping to protect communities from the terrible legacy of war but it took the pandemic for Simon Conway to feel at home in his own neighbourhood.
The former Army officer turned author said: "I'm working in a business where we talk about how important communities are – spending my life working in communities ringed by mines where we try to make it safe to go outdoors – yet, at the same time, I've had this itinerant lifestyle and never actually engaged with any community I've lived in. Now I have."
Conway, who has worked with the Halo Trust, a charity that removes war debris such as landmines, for more than 20 years, said: "I've spent a lot of the time here in a cottage in rural Dumfriesshire and I've got to know my neighbours. For all that it's only a tiny hamlet of 10 houses, I've got to know them and I'm keen on them."
Work around the world
Conway – director of capability at the organisation, co-ordinating its response to the urbanisation of warfare and growing use of improvised explosive devices – did still manage to make some trips during the pandemic. Although his usual amount of travel was reduced, he worked in places like Libya, Guinea-Bissau and Malawi.
He says the work the charity does can be very gratifying, especially when returning to an area years later and they can see the difference the removal of landmines has had.
"There are minefields in parts of Cambodia I was involved in clearing more than 20 years ago, and I went back not too long ago and saw communities completely transformed," he said. "We would pitch up in the late-1990s in villages surrounded by mines, where the occupants couldn't use the land, and they were basically having to go through the dangerous business of walking through minefields to try to get to work as day labourers at the Thai border. It was the only way they could support themselves and their families.
"These communities were not recognised, they didn't have schools, but now they have roads, schools and support, and that all came from us employing people from those villages to train them to clear mines, and with their first salary payment they were able to start using the land.
"If you go back now, there are large numbers who have no memories of it ever being a minefield, so one of the interesting things is, we've been most successful when we've been forgotten. It's fantastic to see these places transformed and you take pleasure from it."
Travelling to war-torn countries and working in the business of explosives disposal is a job seemingly fraught with danger, but Conway says the main issue isn't with clearing mines. "We have very well established operational procedures, good body armour and detectors, very good training, and a remarkably low casualty list," he said. "What concerns me more is often how bad the roads are and the carnage from accidents, particularly in countries that are developing fast and putting down tarmac for the first time. Also security – we lost 11 staff in Afghanistan in June in an attack on one of our remote de-mining camps and that was very upsetting to lose so many colleagues."
Becoming an author
Conway, who is married to BBC journalist Sarah Smith, is about to release his seventh novel, The Saboteur. It's a spy thriller filled with action and political intrigue, and is a standalone sequel to last year's bestseller, The Stranger, featuring MI6 agent Jude Lyon – a book that had the Literary Review critic describing Conway as a "roaring and prodigal talent".
Becoming an author was all Conway ever wanted, but finding inspiration for his writing took him down an unlikely road and ultimately led to him joining the Halo Trust.
"I wrote my first book when I was about 10, on 200 pages of foolscap paper with a pencil. It's what I always wanted to do," he explained. "I studied English Lit at Edinburgh and left university wishing to be a writer.
"I was living in York, bartending, and was having a great time but had only written 28 pages in a year and it just wasn't going anywhere, so I felt I had to sort myself out and get some discipline in my life. A lot of writers I had respect for – Hemingway, Robert Stone, Orwell – had all served in some form in the military or in overseas work, so it seemed like a good thing to go and do. It was also an opportunity to test myself and see what I was made of.
"I come from an academic background rather than a military one, but one of the interesting things about the Army is it's full of people who have a problem with authority, which doesn't make sense, but it did mean I was surrounded by other troublemakers."
Army career
Conway became an infantry officer and saw active duty with The Queen's Own Highlanders (Seaforth and Camerons) in West Belfast. After he left the Army in 1994, he lived on Islay and wrote his first novel, Damaged. An Army colleague visited the island and told him about a job going with the Halo Trust in Cambodia. Conway thought it sounded like the perfect job for him.
"There was a great camaraderie working with fantastic people in the Army, many of whom I'm still in touch with now, and I don't think I would have got into Halo in those days without having been in the military, so it facilitated for me what was a bigger and more significant experience of working for Halo, which has allowed me to see the world."
Those experiences have also had an impact on his writing.
He said: "My day job has provided me with a rich vein of material, particularly locations. If I've been somewhere to get a good sense of the way it looks and smells, that helps when writing fiction, because I want to create believable landscapes for the readers and that's something I try to do as accurately as I can. Being in places like Iraq, Libya, Syria and Yemen, seeing the extent of what happens overseas affects us at home, has informed my writing and given me texture."
It's great to be back in the bookshops. Signing copies of The Saboteur and The Stranger at Topping & Co bookshop in Edinburgh @ToppingsEdin #judelyon #guyfowle #fiction #Thriller @HodderBooks pic.twitter.com/D0Ls9zj00k

— Simon Conway (@simongconway) August 13, 2021
Conway has written his novels on planes and trains in locations around the world, but the first person to read each of his drafts is always wife Sarah, the BBC's Scotland editor.
"Sarah is my first editor, and she usually comes back with a bunch of recommendations – and usually they are good ones and I will change it. Sometimes I'll be writing while listening to Sarah doing the Today programme on Radio 4 – it's quite odd to be writing my book while hearing my wife on the radio.
"As for future plans, I'm going to start working part-time with the Halo Trust from October, doing three days a week, in order to spend more time writing and hopefully to also give a bit more time for reflection. I'll still travel – there are interesting projects in Africa and Central America, looking at violence reduction and trying to bring homicide rates down. There are results from places like Glasgow, Chicago and LA that can inform what we do.
"There are some really interesting things coming up in the future that will certainly keep me busy."
---
The Saboteur is out on Thursday, Hodder & Stoughton.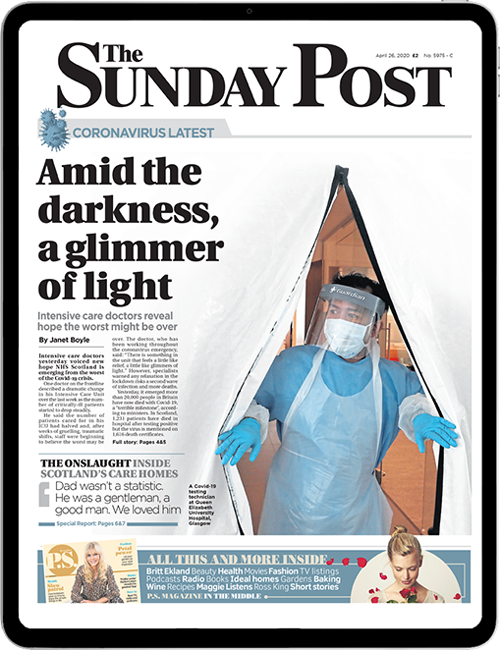 Enjoy the convenience of having The Sunday Post delivered as a digital ePaper straight to your smartphone, tablet or computer.
Subscribe for only £5.49 a month and enjoy all the benefits of the printed paper as a digital replica.
Subscribe