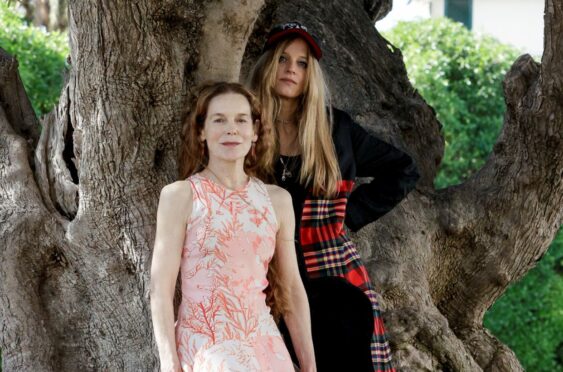 It is inspired by one of the darkest times in Scotland's history but award-winning movie She Will brings the terrible persecution of women condemned as witches into the here and now.
A supernatural chiller, directed and co-written by Charlotte Colbert, the film was produced by horror maestro Dario Argento and the cast includes Star Trek's Alice Krige, My Best Friend's Wedding's Rupert Everett and Clockwork Orange legend Malcolm McDowell.
However, for the director, the real star of the film is Scotland, even though her six-week location shoot in the depths of winter risked freezing and frightening her cast.
Colbert said: "Scotland is dramatic. When we were filming in the Cairngorms we were either ankle-deep in mud or skating on frozen earth – but the beauty and drama of the landscape helped feed into the film."
Colbert's debut feature film covers a lot of thematic ground, from Gothic horror to personal revenge to feminism and the Me Too movement, but it is rooted in Scotland's history of witchcraft and how that past has been remembered.
For centuries women were burned alive at the stake or hanged for heresy. Those accused of practising witchcraft were hunted down and put to death across Europe – with Scotland marked out as the biggest persecutor. In the 17th and 18th Centuries, more than 4,000 women were put to death, leading to a modern campaign to pardon the witch-hunt victims.
Nicola Sturgeon formally apologised on International Women's Day but a bill intended to lead to an official pardon for those tortured and often executed under the Witchcraft Act 1563 has been launched at Holryood where supporters say righting the historical wrong will ease the battle against misogyny and prejudice today.
Colbert, who is based in Sussex, said: "We were filming in the place where the last woman accused of witchcraft was burned. It's a very fascinating place because the land seems to contain all those stories and tragedies. It's something we could feel while filming."
She Will stars Alice Krige as an actress recovering from breast cancer who travels to the Highlands with her nurse in order to recuperate in peace. To her dismay, she's not alone: her bolthole is part of an arty retreat and a motley crew of new-age residents, led by a flamboyant Rupert Everett in pearl earrings and an Indiana Jones hat, are excited to have a famous actress in their midst.
The remote location is also the site of historic witch-burning, and soon ghostly memories are disturbingly revived.
Shooting around the Cairngorms required Everett and Krige braving lochside breezes and late-night shoots to make the most of the landscapes. "My favourite of all the places we found was right in the middle of nature with a little river at the bottom and wild animals and a little cabin at the top of the track," said Colbert.
"I thought it was amazing but the production team were literally sweating and I could see that they were thinking: 'if we forget so much as a sock, it's going to take an hour and a half to go back down and fetch it'."
Not everything went to plan, she admitted. A scene had been written where one of the characters is surprised on a night walk by a wild fox. On the day a rather different beast was supplied by the animal handlers. Colbert said: "The fox making his guest appearance was Basil the overweight fox, who arrived filled with shortbread."
She Will won the Golden Leopard for Best First Film at the Locarno Film Festival and was in the official selection at the London Film Festival, the Sitges Fantastic Fest in Spain and Thessaloniki.
The filmmaker is particularly proud that they managed to use a real haunted house as Krige's spooky retreat.
Bannockburn House in Stirling dates back to 1675, and in the 18th Century Bonnie Prince Charlie made it his HQ when he was trying to drum up support for the Jacobite cause.
More recently it's been a popular hotspot for ghost hunters because of its spooky rooms and sightings of a murdered king roaming the halls and a young woman glimpsed by the balcony,
Colbert said: "It's a surreal location. Kota Eberhead, one of our lead actors, and Liam, who is in our crew, both claim they definitely saw a ghost there."
However, some of the house's chills were easier to explain: Bannockburn House also had no central heating.
Star: Visiting the Highlands made me feel like I'd come home. I was blown away
Actress Alice Krige is a veteran in fantasy and horror cinema from her early role as the evil Borg Queen in Star Trek: First Contact (pictured above) to a vampire mother in The Little Vampire and a witch in Gretel and Hansel: A Dark Fairy Tale.
She says she thought she had done enough research to know about the witch burnings in Europe, but Scotland's brutal history took her by surprise. "I didn't know Scotland was the place on the old continent that burned the most women – that shocked me," she says.
Krige signed up for She Will after meeting director Charlotte Colbert. The two women got on so well that, instead of auditioning, Colbert offered her the role on the spot. "We were in the same imaginative space," says Krige.
Even filming outdoors in the Highlands after dark in winter did not dampen the South African star's enthusiasm for She Will. "There's a scene when I'm in the wood in nothing but a nightdress and bare feet," recalls the 68-year-old. "The make-up department put masking tape under the soles of my feet so I wouldn't freeze, but I spent a lot of the time in the mud or stepping on pine cones."
Despite the cool temperatures, Scotland has given Alice some of her warmest receptions. She was a struggling 27-year-old nobody when she arrived in St Andrews to take on a lead role as Sibyl Gordon in the flick Chariots Of Fire and met her now-husband Paul Schoolman on the set.
She also credits Glasgow with a memorable Star Trek convention where lookalikes from the Starship Enterprise and Klingons drank her under the table.
But her first visit to Scotland was a holiday while a student at the Central School of Speech and Drama in London. She said: "I'd moved to London from Africa and visiting the Highlands made me feel like I'd come home. I was totally blown away by the scenery.
"I also appeared in a production of Shakespeare's As You Like It at the Edinburgh Festival," she says. "It was possibly the worst performance I'd given but I loved being at the Festival."
Krige starred in many films and TV programmes over the years, including Netflix hit The OA, Thor: The Dark World, and The Alienist.
In 2000 she spent the summer filming in Edinburgh and Culross for The Little Vampire, where they played husband and wife bloodsuckers in the movie.
"I spend a lot of time in Los Angeles, so the scenery in Scotland is like a balm to my soul," she says. "I also find the Scots so forthright and direct."
---
She Will screens in cinemas from Friday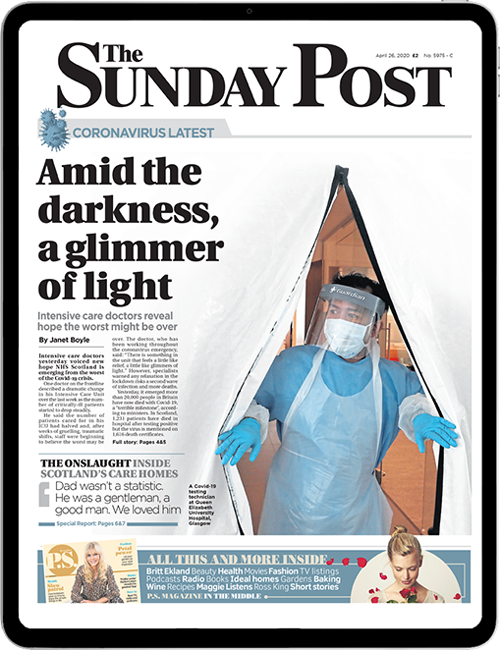 Enjoy the convenience of having The Sunday Post delivered as a digital ePaper straight to your smartphone, tablet or computer.
Subscribe for only £5.49 a month and enjoy all the benefits of the printed paper as a digital replica.
Subscribe