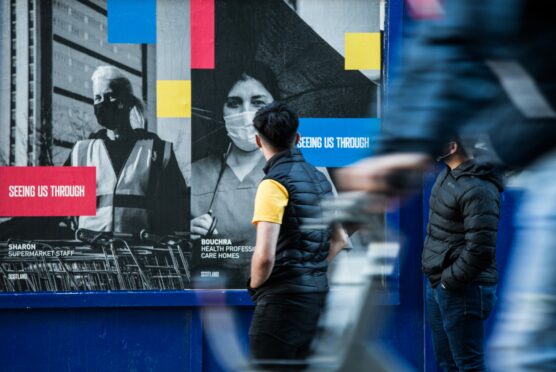 They are the unsung heroes who have kept the wheels spinning since the pandemic turned the world on its head.
Now a street art project is shining a light on the people who have been quietly bridging the gaps every one of us needs to cross.
Seeing Us Through, photographs by artist Martin Gray, launches in Dundee this week after earlier displays in Glasgow and Edinburgh, with the pictures assembled in prominent positions at street level.
Gray said: "We've expressed how grateful we've been to our health and welfare professionals but a myriad of other workers, all of them important, have also kept us all going."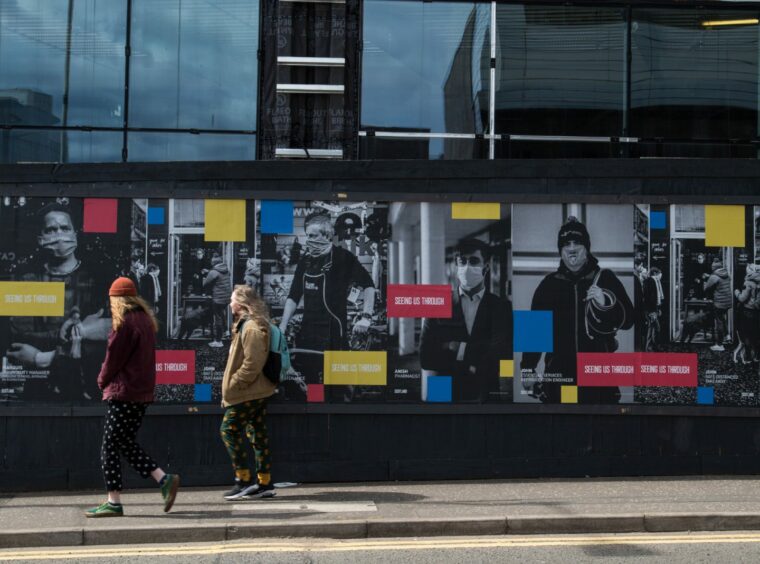 Gray, whose previous street photography projects include Barras People, a study of Glasgow's legendary market, explained: "At a time when we were all bleaching our groceries, and worried about how dangerous this virus was, these people were out there, quietly seeing us through.
"They still are. They haven't stopped, we're not out of the woods yet, we don't know what's coming in the winter but, for me, this has been a chance to meet people and find out more about what they do and how modestly they just get on with it."
The black and white images are contrasted with vivid colours, a mix designed to reflect a sense of optimism during dark days.
Gray said: "I created colourful patterns on the actual portraits so that four or five or six together became part of a mural. They became this community of people.
"I think the colours symbolise trying to be optimistic during such dark times."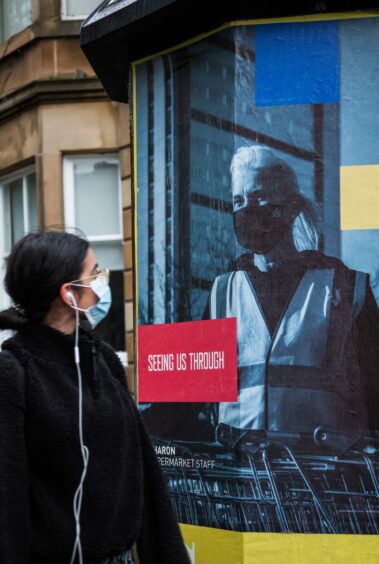 Gray used word of mouth to find his subjects, speaking to people he knew in and around the cities.
He was partly inspired by the fact that his brother was employed in a supermarket, and went to work every day from the start of lockdown in March 2020 while the rest of us were under strict orders to stay at home as the country grappled with the onset of the coronavirus.
One of the subjects he was most affected by was John, a Glasgow engineer whose job it was to regulate temperatures of refrigerators in pharmacies.
Gray said: "His mum died from Covid at the beginning, yet here he was doing this work to ensure that others were safe.
"He was such an example of someone who we don't necessarily think about but whose work is so important and who has been so personally affected by the pandemic.
"Community in Scotland is alive and well. They weren't going around thinking they were heroes. They knew they were taking a risk. But they just had to do it."
---
My heroes
Photographer Martin Gray on some of his everyday heroes
Siobhan McArthur, a cleaner in Fife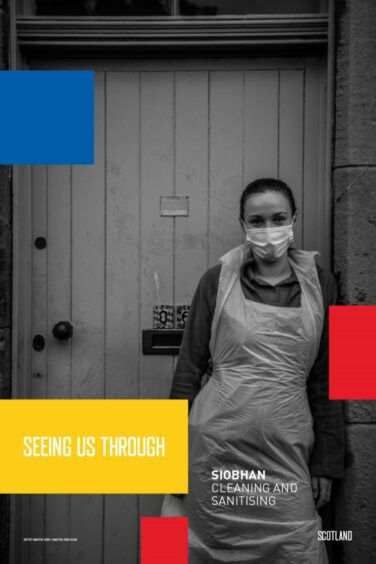 She has grafted away, cleaning, sanitising, and I'd heard people saying how she went way beyond the call of duty, cleaning someone's house when they've maybe even had a personal mess, gone and laundered their clothes and not charged them.
Ray Bowman, care home maintenance
Someone whose mother is in the care home where Ray works says he is great with the residents. He does all the necessary work but has also made these amazing signs from old pieces of metal. He is a great artisan craftsman, doing exquisite metalwork. I love how he's using his trades to make the place better for people in the care home, which was obviously hit hard by the pandemic.
Amanda Paladini, Fruit Bowls Community Garden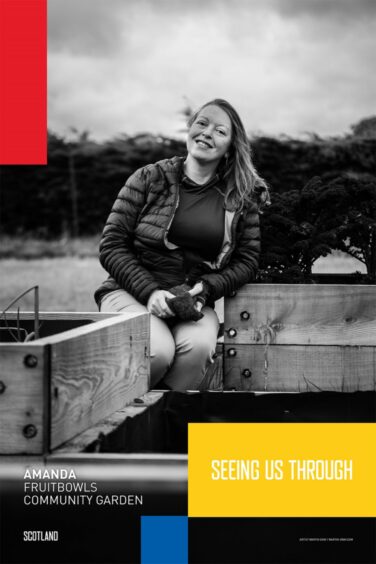 She's part of a community garden project on an old bowling green, and anyone who wants to be a part of it can come along. They made raised beds to help older people and, because it was outdoors and socially spaced, people felt they could talk to each other. It's all about sustainability as well.
Marianthi Macdonald, a jewellery maker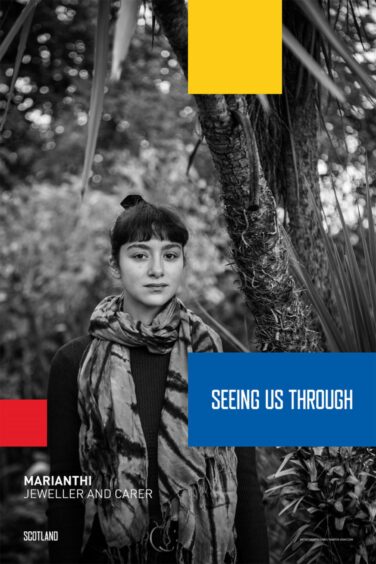 Marianthi works with sustainable materials but suddenly found herself as a carer for her grandmother during a period when people were really worried about homes. She represents that hidden world of carers who aren't officially carers, doing great work for people who really need it.
Lynsey Penny, Dundee West End Community Fridge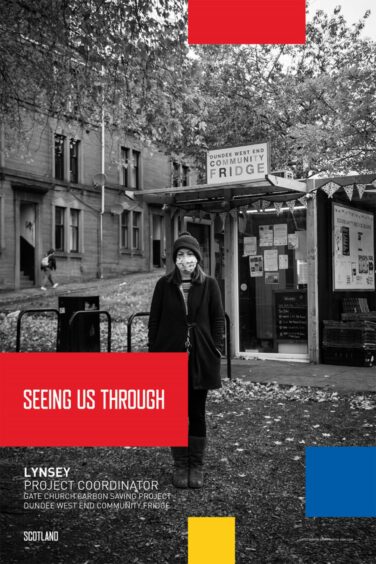 Fridge is run by Gate Church Carbon Saving Project, which helps people on low incomes and promotes good practice around climate-change issues. It saves surplus food from supermarkets and businesses and share it with the community, without referrals. They've also helped people by addressing social isolation during the pandemic.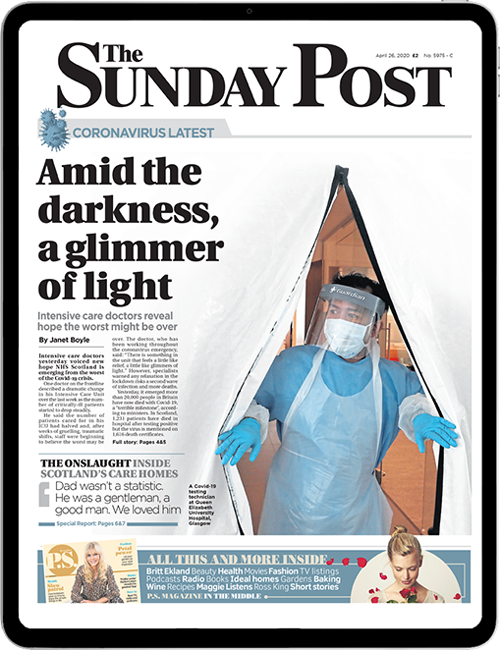 Enjoy the convenience of having The Sunday Post delivered as a digital ePaper straight to your smartphone, tablet or computer.
Subscribe for only £5.49 a month and enjoy all the benefits of the printed paper as a digital replica.
Subscribe