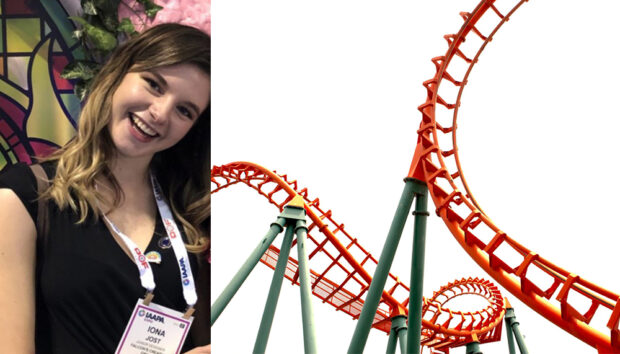 Her little hands gripping the safety rails, her eyes alight with excitement, three-year-old Iona Jost trundled around and around on the caterpillar train at a seafront funfair and fell in love.
The passion ignited that day has, many years later, led from Codona's Amusements in Aberdeen to the theme parks of Florida where she is helping design some of the world's most popular and thrilling fun rides.
The excitement and escapism of a theme park has been a lifelong lure for Jost and, as a child, she remembers creating a honeymoon destination after marrying off her favourite toy, a skeleton, to one of her Barbie dolls.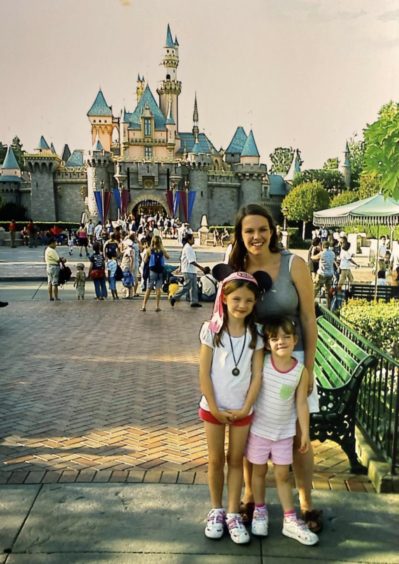 "I would make them go on holiday together to a fantasy land made out of old egg boxes and soap powder boxes from the kitchen," she said.
"However, on the family days out to the caterpillar ride I felt I could have lived there forever.
"I was lucky to have had parents who spotted my level of fun and imagination early and encouraged me. Neither dismissed it as a passing childhood notion but steered me towards making it a career."
The ride is a story
Two years into a job as a designer with theme park attraction creators Falcon's Creative Group in Florida, she explains what it takes to leave people happy, terrified and wanting more.
"You capture them by guiding them through a story – beginning, middle and end – whether it is through a scary castle and surviving demons or going on a rollercoaster where each plunge downwards makes your heart want to burst.
"The length of ride, whether it be five or 15 minutes, must take in a full story from beginning to end.
"If you look back to the Victorian carnivals you can see visitors on a journey on a horse and it was probably the closest anyone got to flying to through the air 130 or so years ago.
"Today, with the huge advances in screen technology, we can make them feel as though they are riding on the back of a mythical creature and with life-like monsters springing up to grab them.
"The shock threshold may have been pushed back but I don't think we have reached the limit. I believe we never will, because people will want to be scared and excited.
"We have evolved over more than 200,000 years as humans to want to be thrilled. I would be surprised if Stone Age people did not glide down hillsides on tree trunks to escape the daily grind of hunting."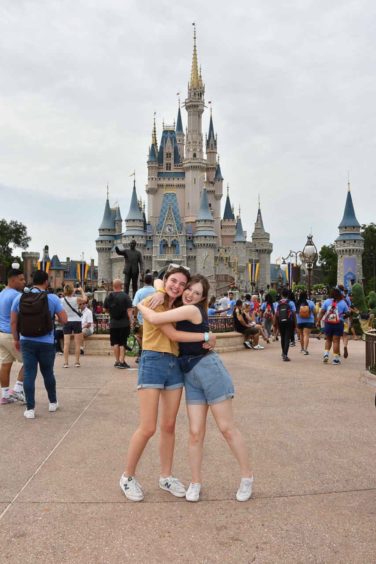 Can rides be too scary, though. "The closer we take people closer to reality with the atmosphere of a theme park, the more realistic it becomes and yes, there are always the occasional escapees or people who try to bolt off the ride," she adds.
Jost sees a potential for teaching conservation through theme park rides: "There are opportunities to educate people on, say, global warming, as well as entertaining them. We need that more than ever."
While there will always be a place in her heart for Cadona's caterpillar, her favourites are now the Pirates Of The Caribbean and the cavernous Avatar: Flight Of Passage rides in Disney's Animal Kingdom.
Avatar uses technology to perch riders on stationary bikes but gives them the feeling of being on the back of a flying banshee. More than a century on from the Victorian carousel, the thrill of flight remains.
On the subject of rules, she said: "Parameters must be set for children and families where fun and excitement overrides fear-fuelled trips. Older children and young adults want to be scared.
"Boundaries are set where you cannot not design or create anything too morbid such as dead bodies or inappropriate detail."
Recent work
Jost's recent work includes a new Katmandu theme park in the Dominican Republic.
She landed the job with Falcon's Creative Group in Florida during a work placement in her third year studying interior and spatial design at Edinburgh's Napier University.
She submitted a portfolio of designs illustrated on quality paper, instead of using on-screen images, of theme park ride ideas.
"I felt I wanted to offer something different and that had taken time to create because I was competing against many candidates who would offer only on-screen designs. It was a gamble, but it paid off.
"Shortly after my online interview the company called to ask me to join them.
"That worked out well enough to be offered a junior job in theme park design and I had to decide whether to return to complete my honours degree or go for a job I had always wanted.
"I settled for a three-year ordinary degree because I had the job I would be chasing a year later with no guarantee of success."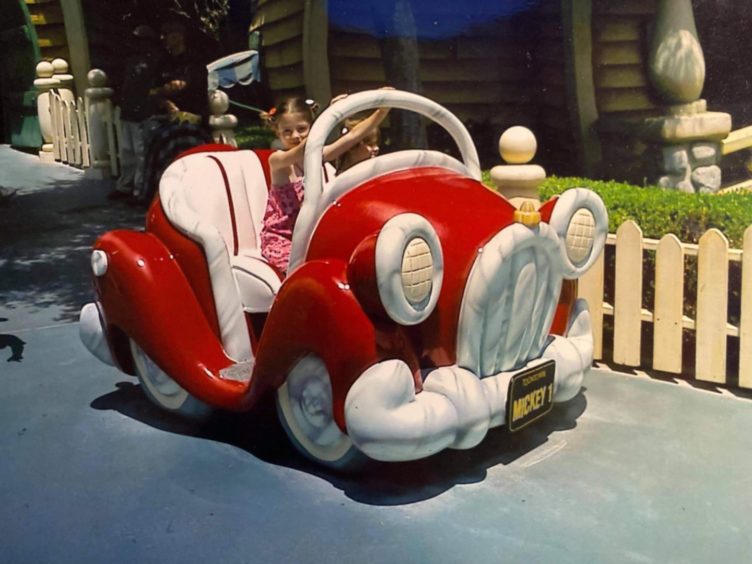 Two years on, she has been promoted to win a place at the designers desk.
"If I am still able at 90, you will see me at a theme park whether on a ride or dining out in a café full of old characters. I never want to lose the thrill."
While little girls back home will still be gripping the handrail on the caterpillar train, Jost spends her days off wandering around American theme parks with her partner and colleague, Jimmy Stuart.
"Yes, I had to go the US to find a guy with a Scottish name," she laughs.
Would an amusement park wedding be an option? "I am not making any promises but there is a good chance it would. Of course, you have to be asked first."
---
---
The biggest
Scheduled to take the first thrill-seekers in 2023, the Falcon's Flight attraction being built in Saudia Arabia will be the world's longest, highest and fastest rollercoaster.
The track at the Six Flags Qiddiya park, will run to 2.5 miles, while the coaster will climb 655ft, drop 525ft straight down and hit 156mph.
The current world record holder for fastest coaster is Formula Rossa at Ferrari World Abu Dhabi, which reaches 149mph. The highest is Six Flags Great Adventure's Kingda Ka, in New Jersey, at 456ft and the longest is the Steel Dragon 2000 at Nagashima Spa Land, in Japan, at 8133ft.
The attraction
The attraction of theme park thrill rides has been studied by scientists in a range of fields. Dr Richard Stephens, senior lecturer in psychology at Keele University believes there is something in all of us that enjoys going faster but our individual speedometers are set differently.
He said: "One aspect of riding rollercoasters that is enjoyed by all is the feeling of moving at speed. A child, having learned to walk, will soon begin to run. Riding a bike is fun, but riding downhill is more so. This is because of a psychological phenomenon called 'flow'. Flow is the happy space between boredom and stress.
"Speeding up increases challenge to a point where things get more interesting. But flow can also explain why some people aren't fans of rollercoasters. There comes a point where the speed is perceived as overwhelming. A negative feeling of stress takes over from the enjoyment of flow. Now we are in a realm of experience that not everybody is comfortable with."
Scientific American looked at the suggestion dopamine, a type of neurotransmitter, might explain why some people love rollercoasters more than others: "This line of research sets out the possibility that enjoyment of intense physical experiences such as riding on rollercoasters may reflect individual differences in brain chemistry," Dr Stephens said. "People who have higher levels of dopamine may be more prone to sensation-seeking behaviours, from harmless rollercoaster rides to taking drugs."
The song
Perhaps singer Jonathan Richman and his Modern Lovers put it best and most simply in his 1977 classic Rollercoaster By The Sea
You see I went on the rollercoaster last night when I was feeling bad

Down by the sea in Santa Cruz and I was feeling sad

But we went down, and around, and it knocked me out of my head.

Well, I went on the coaster and my heart was heavy as lead

But we went down, and around, and it knocked me out of my head.

I say whoa-oh-oh, for it knocked me out of my head. Let's go…

Hey rollercoaster by the sea, thank you for helping me

And rollercoaster by the water, made me feel more as I oughtta

Well, you knocked me out of my head…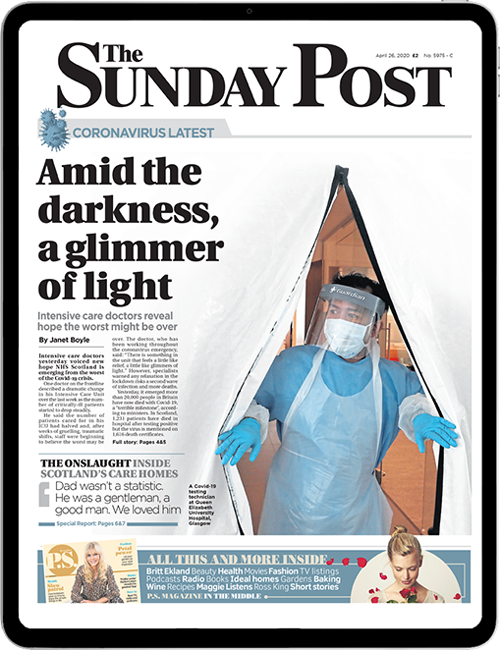 Enjoy the convenience of having The Sunday Post delivered as a digital ePaper straight to your smartphone, tablet or computer.
Subscribe for only £5.49 a month and enjoy all the benefits of the printed paper as a digital replica.
Subscribe