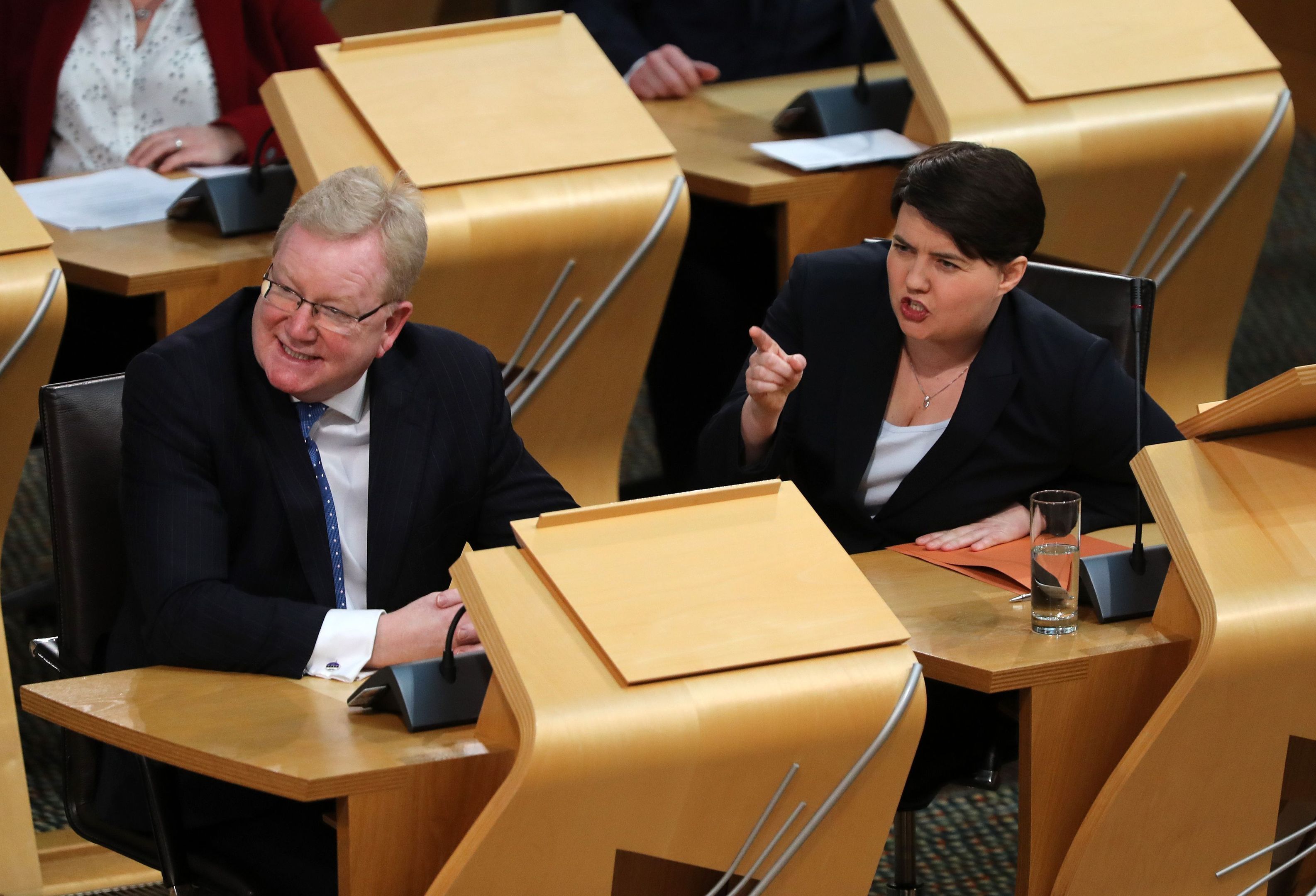 FIRST MINISTER'S QUESTIONS today saw party leaders Ruth Davidson, Kezia Dugdale and Willie Rennie challenge Nicola Sturgeon on her priorities.
Tory leader Ruth Davidson and  Labour leader Kezia Dugdale both urged the SNP leader to turn her attention to domestic issues, such the health service and funding for public services, as opposed to a second referendum on independence.
Ms Sturgeon had previously stated that this week's Supreme Court ruling on Brexit raised "fundamental issues" for Scotland.
Judges ruled that while MPs must be given a vote before Theresa May triggers Article 50, the UK Government is "not legally compelled" to consult the devolved administrations.
The First Minister criticised the Tories for having "created the Brexit disaster the rest of us are all now dealing with" and also condemned Labour after it said it would not block the triggering of Article 50 to start the formal process of exiting the European Union.
Ms Sturgeon said: "Labour yet again roll over and do exactly what they are told by the Conservative Party.
"No wonder the Scottish Labour Party is in the pathetic state it is in today, not the courage of its convictions."
On Tuesday the First Minister had questioned if Scotland was "content for our future to be dictated by an increasingly right-wing Westminster government with just one MP here" and asked if it was "better that we take our future into our own hands".
She said at the time: "'It is becoming ever clearer that this is a choice that Scotland must make."
Scottish Conservative leader Ruth Davidson told her at Holyrood: "I want a country that is run by a Scottish Government that spends it's every waking hour sorting out public services and not obsessing about another referendum.
"A Scottish Government that actually wants to deal with the child obesity crisis, not one plotting how Brexit can be used to create more division and uncertainty in Scotland, that's the country that I want back."
Ms Davidson blasted: "She says we must confront independence but I think it's time she confronted the failings of 10 years of this incompetent SNP government and tackled them instead."
Labour's Kezia Dugdale also pressed the First Minister, saying that at a time when poverty is impacting the lives of too many Scots "the First Minister's response is to play a game of Russian roulette with the constitution and impose cuts on school and valued local services".
She added: "She should stop the grandstanding on Europe, end the games on independence and tell us this: what really is the SNP's top priority – is it closing the gap between the richest and the rest, or is it just another divisive independence referendum?"
The leader of the Scottish Liberal Democrats has accused the First Minister of failing to take budget proposals from other parties "seriously".
Willie Rennie claimed Nicola Sturgeon's "obsession" with independence was distracting her from focusing on dealing with Scotland's problems and the budget.
The First Minister said she would "apologise to no-one for standing up for Scotland's interests" and spent every day focusing on Scotland's issues.
The Scottish Government's 2017/2018 budget proposals come before parliament for a stage one debate next week and, as a minority administration, the support of another party is needed to pass the financial plan.
Mr Rennie said at First Minister's Questions: "Our costed budget proposals are urgent.
"Yesterday, her government failed to command a majority for her budget in this parliament, it's not looking good for next week, does she recognise that?
He added: "With a week to go until the budget, the clock is ticking. Will she change in time? Will she look at the proposals from the other parties seriously rather than the way that she is doing just now or will independence always be first?"
Ms Sturgeon said "in spite the tone of his question", Mr Rennie has been in discussion with Finance Secretary Derek Mackay about budget positions.
She added: "Willie Rennie knows that we are carefully and seriously considering his proposals, as we will any reasonable proposals that come forward.
"I should say we are not getting any reasonable proposals from the Conservatives or from the Labour Party, they've already decided their position on this budget.