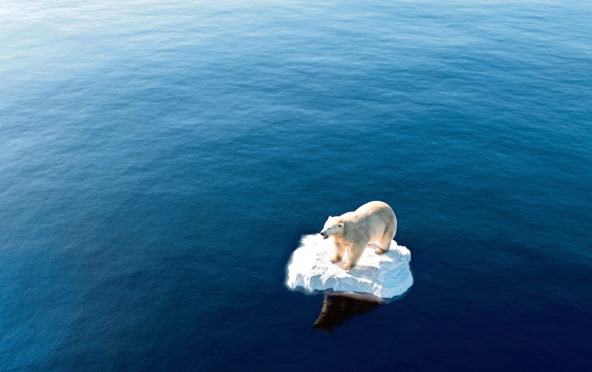 Scotland's political leaders stand accused of neglecting the most urgent issue facing Scotland – and the planet – during the Holyrood campaign as experts and campaigners warn history, not voters, will judge their actions on climate change.
All the party's manifestos include promises to curb global warming but the leaders have been criticised for failing to seriously address the issue before polling day on Thursday.
Greenpeace UK's head of politics, Rebecca Newsom, said: "One of the most important markers of whether Scottish political parties are taking the climate emergency seriously is their policy on North Sea oil and gas.
"Scotland must lead by example to stop new extraction and support workers to transition to well-paid green jobs. But so far, only the Scottish Greens have committed to end new licences for oil and gas.
"The SNP appears to be starting to recognise the problem, without making enough firm commitments. Scottish Labour appear to want to have their cake and eat it while the Scottish Conservatives seem to be in full denial." Jamie Livingstone, head of Oxfam Scotland, said: "Scotland has relatively strong legal commitments to cut emissions, but we have missed our last two annual targets. While climate action features across the manifestos, history will not judge the next Scottish Parliament on promises made."
Fabrice Leveque, head of policy at WWF Scotland, said the staging of the pivotal climate change summit, COP26, in Glasgow in November means Scotland has an opportunity to lead by example: "There is an opportunity for the next Scottish Government to walk the talk on climate change by accelerating action, putting in place new investments and policies, and ending activities that work against our climate and nature responsibilities."
Two retired doctors who were prosecuted for their part in climate protests believe the issue should be top of the political agenda.
Former GPs Cath and Richard Dyer said most parties have failed to properly address the issue in this campaign. Cath, 71, said: "We have less than 10 years to reverse serious climate change and need all parties to speak out louder about this."
---
Leaders say they are serious about climate change.
Is that enough?
By Richard Dixon, Friends of the Earth Scotland
This should have been the climate emergency election.
It is our first chance to vote for MSPs since the new Climate Act with its tougher targets, since the Scottish Government declared a climate emergency and since protests by 40,000 people in September 2019 called for more action to reduce climate emissions.
The politicians we are about to elect will make absolutely vital decisions over the next five years which will deliver a just transition out of fossil fuels and set us firmly on the path to zero climate emissions, or they will delay the action we need and prolong our fossil fuel fixation.
The good news is that all the main parties say they are serious about climate change, talk about creating green jobs and are planning to have a just transition for workers and communities who currently depend on the oil and gas industry. But is it enough and, most importantly, is it fast enough?
In the 2015 Paris Agreement the world's nations agreed to try to keep the warming of the planet to less than 1.5°C. We've got less than a decade to avoid that disaster threshold. If we are serious that means almost everything has got to change, from where our energy comes from, how we heat our homes, how we travel to what we eat.
There are many good proposals in the manifestos, which would definitely take us in the right direction. But perhaps the big flaw is the blindness to the need to stop extracting oil and gas – if you are in a hole, stop digging!
The Greens are pretty specific about this, the LibDems acknowledge that this has got to happen sometime, while the Tories say the oil industry will be with us for decades to come. All but the Greens have some enthusiasm for carbon capture and storage, the industry delaying tactic that has been trying to get off the ground for 20 years, and would let them keep on pumping the oil for years while pretending it'll be all right in the end.
One possible outcome of the election is that the Greens and the SNP negotiate a coalition to run the country for the next five years. If so, my hope is that the Greens would drive a bargain that makes Scotland finally admit that we can't take out every last drop of oil and urgently begins the transition in earnest.
---
We must keep hope but we must act, act now, act decisively

– Lorna Slater, Co-leader, Scottish Greens
I said right at the beginning of the campaign that at this election our future is at stake. Climate science dictates that we have fewer than 10 years to radically change our economy to restrict the emissions that are warming the planet.
Five years ago, in the Paris Agreement, the nations of the world signed up to acknowledge the overwhelming scientific evidence that gives us now just nine years before we reach a point of no return, one that threatens life on earth
Things are going to change dramatically one way or the other. Our ice is melting faster, sea levels are rising faster, food and water shortages are increasing, and vast populations are increasingly relocating in the hopes of finding more inhabitable parts of the planet.
The choice is to do something about it right now or leave the next generation struggling to survive. We need radical change now, not by putting all the pressure on individuals to change their behaviour but by using the power of governments decisively and by controlling the excesses of big business which still profit from pursuing a war against our environment.
This isn't a time to give up hope. Quite the opposite. This is the time to take matters into our own hands, to build a Scotland that can lead Europe in tackling the climate emergency.
All the other parties talk green, but fail to address the urgency of this crisis.
Championing eye-catching targets that will not bite for decades while continuing to spend millions on new motorways and back maximum extraction of fossil fuels just won't cut it any more.
Denmark, New Zealand, Ireland and others have already announced an end to exploration for new oil wells. Scotland needs to join them.
The Scottish Greens are the party with a plan to build a cleaner, fairer more prosperous country, to realign our economy behind efforts to tackle the climate emergency and create the jobs needed to drive that economy. Things could be so different. We can work shorter hours, build things to last, put care of one another and wellbeing at the centre of our economic planning.
I'm optimistic about the future of Scotland, but there is no time to lose. That's why the time to vote green is now. Our future depends on it.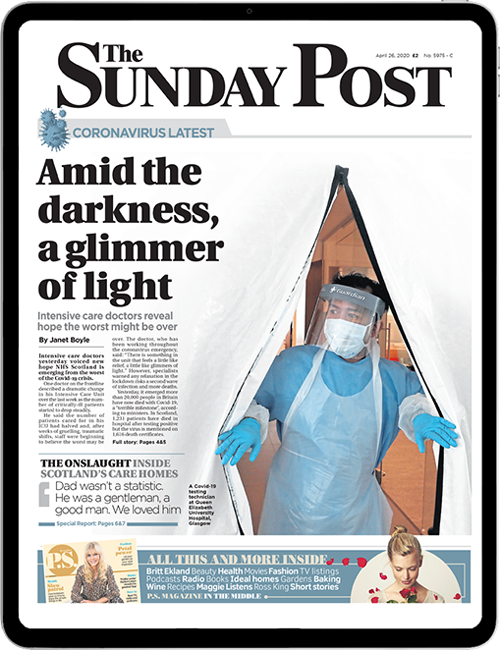 Enjoy the convenience of having The Sunday Post delivered as a digital ePaper straight to your smartphone, tablet or computer.
Subscribe for only £5.49 a month and enjoy all the benefits of the printed paper as a digital replica.
Subscribe