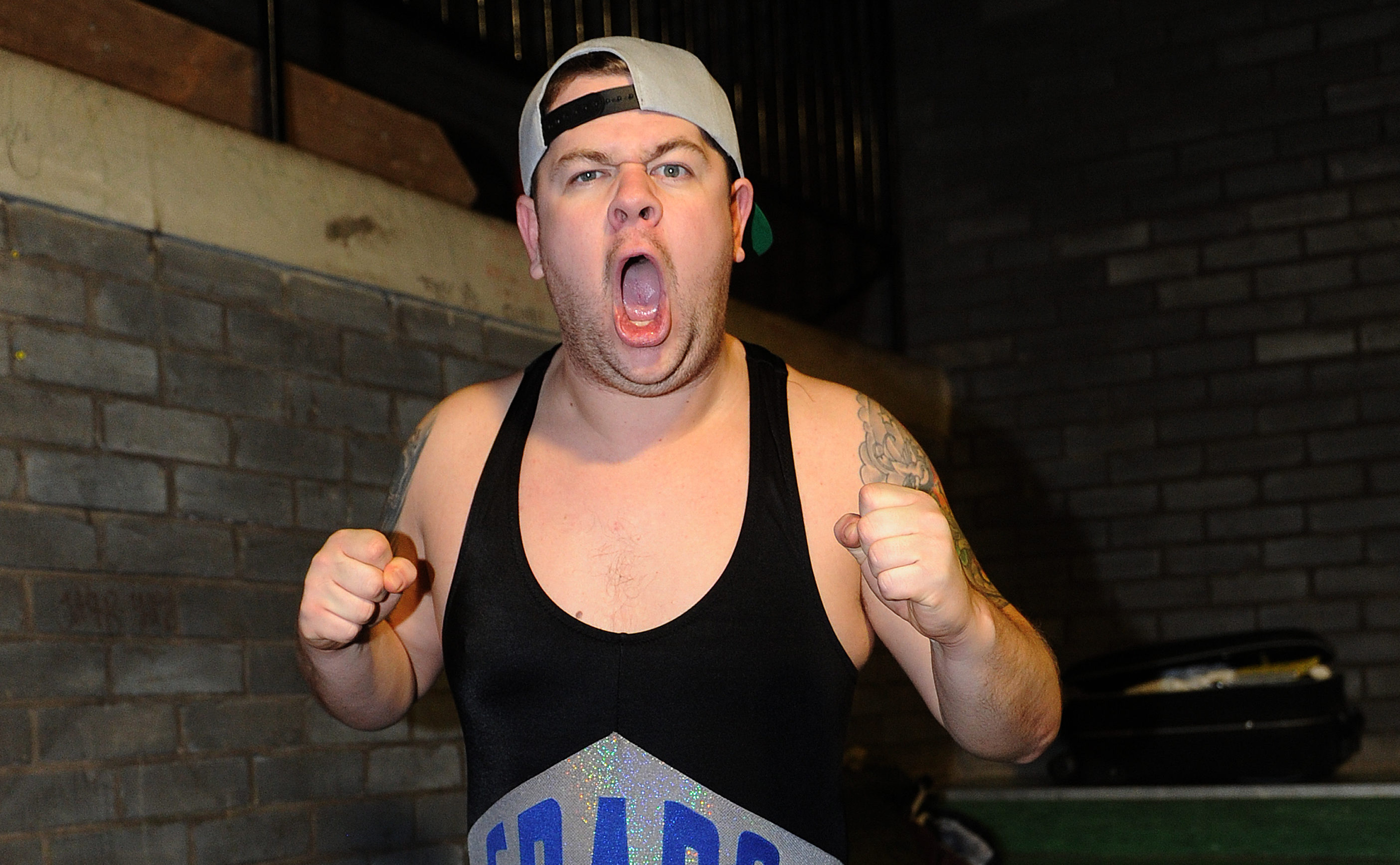 WELL on his way to national treasure status, Grado is a very busy man.
The 30-year-old, a.k.a. Graeme Stevely, has become one of Scotland's most familiar faces through a string of TV appearances.
And it's set to be a hectic end to 2018 for the man 'fae the tap end of Stevenston'.
"I'm running about in high heels for ten hours of the day so I'm burst!" he laughs, as he chats to The Sunday Post, having been locked in rehearsals for his upcoming panto run at the Glasgow Pavilion.
Playing an ugly sister in this year's production of Cinderella (and in a wig that's been compared to The Bairn from The Broons), he's putting his comic acting credentials to good use – after all, he is a BAFTA winner now.
"When we went to the BAFTAs that night I didn't really think about us winning," Grado, star of hit BBC comedy Scot Squad, says.
"Once I got there and they started announcing the winners I thought, I want one of these!
"It was a brilliant atmosphere sitting with all the troops from Scot Squad and when it got announced it was like a goal being scored at the fitba, we were jumping about daft!
"I'm looking forward to putting it on the CV – BAFTA award winning actor Grado."
While success keeps coming with his acting career, wrestling remains his first love.
A fan since childhood, he's been a staple in the British scene over the past few years and has also wrestled around the world with major US promotion Impact.
He was also ITV's revamped World of Sport's first champion, but his roots are firmly in Scotland with Glasgow-based Insane Championship Wrestling, who he'll be turning out for next weekend at The SSE Hydro in ICW: Fear & Loathing XI.
"When I turned 12 years old I got totally obsessed by wrestling," Grado recalls. "Every minute of the day I thought about wrestling. I used to phone into a radio show on Talksport every Saturday night from my granny's house."
From that show, he found out about a wrestling school in East Kilbride and, in 2002 and at the age of 14, started going along every other weekend.
He debuted in the ring in 2004, with matches every couple of months.
But it wasn't until 2012, and some creative use of YouTube, that his wrestling career really took off.
He was desperate to be a part of a show a promoter had arranged in neighbouring town Ardrossan, and his spot on the card depended on securing 20 ticket sales.
So Grado recorded a wrestling promo threatening to 'batter dafties' and it was an instant hit, being shared across his friends' Facebook profiles and beyond.
It was seen by Mark Dallas, founder of ICW, and the rest was history.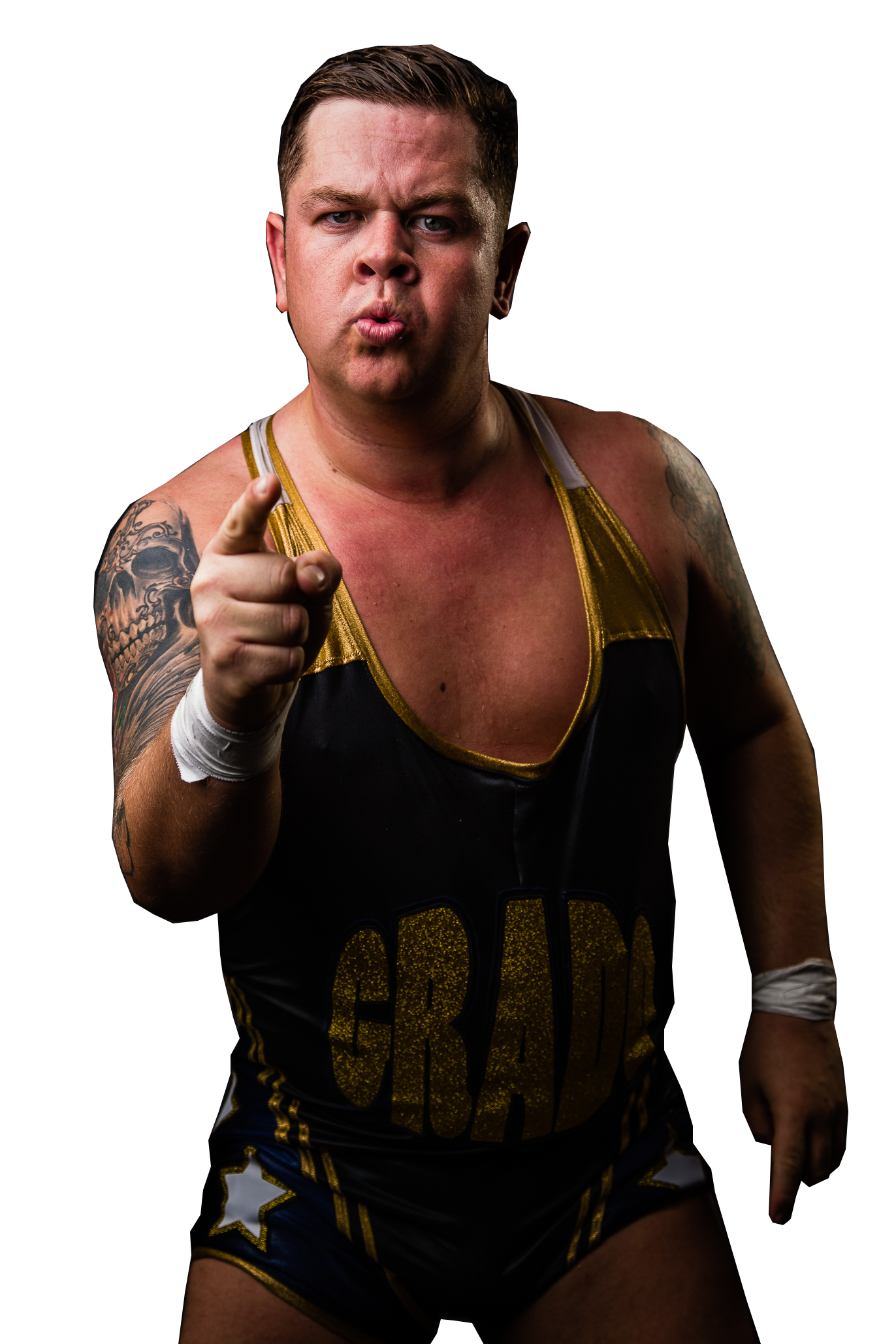 The two had in fact met before, back in 2002.
"I'll never forget it, we did a training session with Jake 'The Snake' Roberts in a post office warehouse in East Kilbride, because the trainer was a part time postman, part time wrestler," Grado explains.
"It was crazy, Drew [Galloway, now starring in the WWE as Drew McIntyre] was there, Mark was there. We got a lift back from East Kilbride to Glasgow Central to get the train back home and Mark said to me, he was 16 at the time: 'in a couple of years time I'm going to start my own over-18s wrestling promotion like ECW, we'll have big stunts and it'll be completely different from any other wrestling company.'
"I'll always remember that and it's crazy to think that he accomplished his dreams. When he was telling me this, he only ever wanted to run places like Maryhill Community Centre – never did he think he'd end up running The Hydro or the SECC."
Throughout his career, Grado has had the opportunity to face and team up with some of the biggest names in the business, a slightly surreal experience considering he grew up idolising most of them.
"There's nothing better," he admits. "I was looking at a video today of me tagging with Bubba Ray Dudley in Marietta, Ohio. I sometimes have to pinch myself! I've tagged with Tommy Dreamer, the late great Vader, Scotty 2 Hotty, Al Snow, Jeff Hardy… it's crazy man."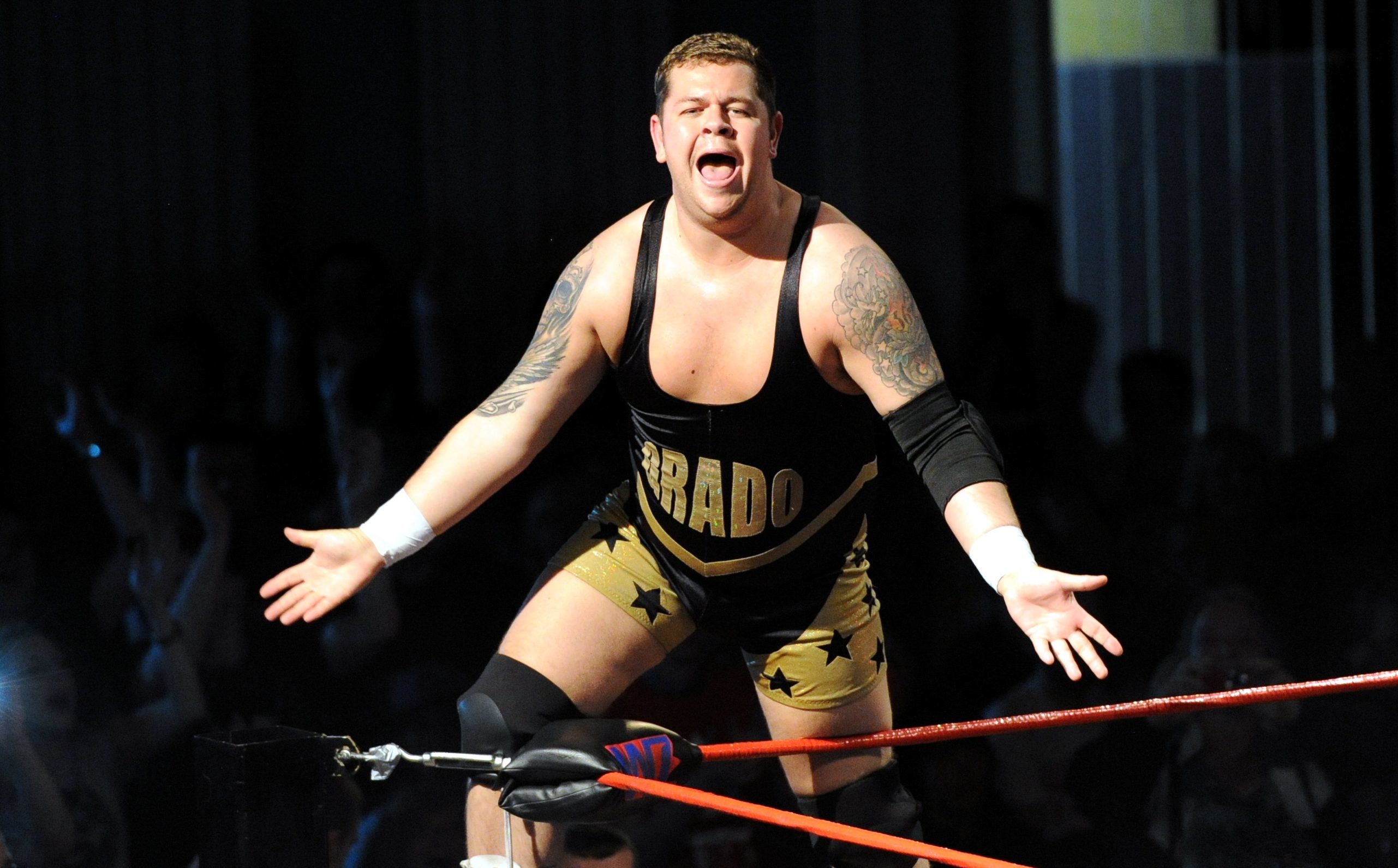 While the opponents and venues may change, there's one thing that stays the same – the warm-up ritual before heading out to the ring.
"No matter how big my match is, a town hall or an arena, I do ten press ups, ten squats then I touch my toes and jog on the spot for five seconds," Grado says. "Then I'm ready to go. If I don't do that then I feel like I'm cursed."
That ritual will be dusted down again when he takes on James Storm at Fear and Loathing XI.
It's the promotion's third show in the huge arena, having worked its way up from the community halls, via iconic venues including the Barrowlands, The Garage and the O2 ABC.
Owner Mark Dallas has even hinted that he'd love to run a show at the national stadium one day, and Grado reckons that it's achievable.
"I firmly believe that Mark could run Hampden," Grado admits. "Everything else he's promised he's more or less delivered. We sold out Barrowlands, SECC, and then we're running the Hydro.
"Once he gets set in his ways he'll make sure it happens. He just needs the right match. Give it a couple of years and ICW could run Hampden."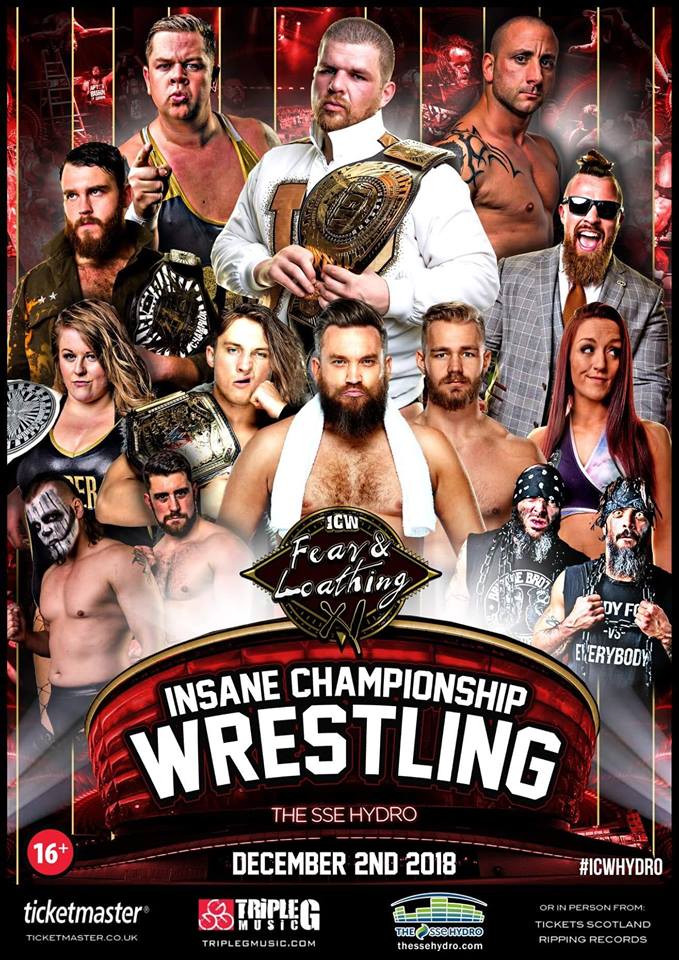 For now it's The Hydro, with a crowd of thousands expected to head to the Glasgow arena for a night of thrilling action.
"I missed last year's Hydro show and the year before I was in a six-man tag," Grado says. "It was fun but there's nothing better than a singles match.
"The fact I'm wrestling James, who I've got a lot of respect for and who I've travelled up and down America with in Impact, is cool. I'm nervous because I haven't had a big match like this in a while."
The thrill of performing in front of a Scottish crowd is second to none for Grado, who says that fellow wrestlers would watch ICW videos and tell him they were desperate to come.
"No matter where you go to wrestle in the world, there's no better crowd than Glasgow," he says.
"There are guys who've wrestled at Wrestlemanias, in Japan, all over the world and they're choking to get a slice of ICW.
"It's purely that emotion that comes from the crowd, they totally get into it, it's like their cup final when they come to watch us at big events."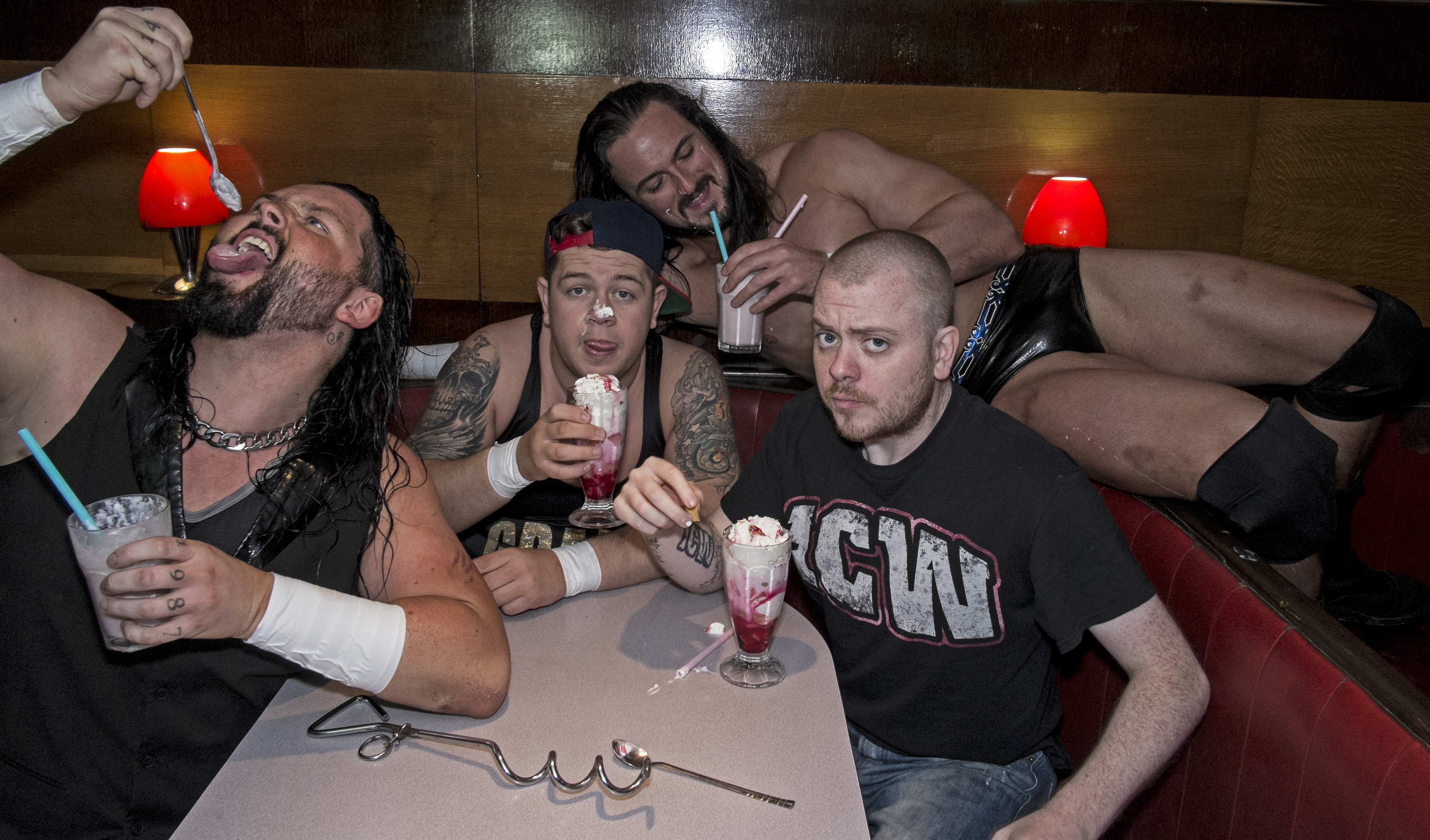 Grado famously uses Madonna's Like A Prayer as entrance music, which always gets a warm response from fans.
He says: "I left ICW for a year and that was one of the biggest things I missed. When I came back in July, I was worried about the reaction I was going to get.
"When my music hit and I came out… there's no words to describe it. There's no better feeling than seeing grown men jumping about to Madonna!"
As well as Grado's match, the Fear and Loathing card is packed with talent, seeing original ICW stars mixing with talent from across the world.
Lionheart faces Jackie Polo for the ICW title in the culmination of a bitter rivalry, while Viper and Kay Lee Ray square off in a Queens of Insanity match.
There's a little help too from the company's partnership with the WWE, with the global giant's NXT stars Tyler Bate, Trent Seven and UK champion Pete Dunne teaming up as the all-English team known as British Strong Style against ICW Originals Wolfgang and BT Gunn.
Added to the tartan side of that clash as a special returning guest is 'Scottish Supernova' Noam Dar, who impressed so much in ICW that he's now part of the WWE's main roster.
"I'm looking forward to seeing the return of Noam," Grado says. "He's like a wee brother to me. We grew up on the road together, every Friday, Saturday, Sunday we'd spend together.
"It's amazing to see that he's now in America being successful. I can't wait to see what reaction he gets at The Hydro. I always told him he was going to be a superstar and make it to the WWE and now he's living his dream!"
ICW' finding a new home in The Hydro has coincided with a resurgence in British wrestling.
In the past couple of years, ITV's revamped World of Sport and the WWE'S NXT UK have vied for the best UK talent, aiming to get a slice of an already thriving independent scene packed with talented athletes and tremendous story-tellers.
And Grado reckons the 2014 BBC documentary on ICW, Insane Fight Club, played a pivotal role in the revitalisation of British wrestling.
"It opened up a lot of people's eyes who didn't know this existed and the talent that was there.
"For years and years, British wrestlers always wanted to go to America but in the space between the mid-2000s and now there have been so many talented British wrestlers who became noticed, Guys like Noam, Pete, Sha Samuels and Will Ospreay."
A wonder how many aul yins are getting wound up and stuck at 14 across pic.twitter.com/emoTqR4r3Z

— GRADO (@gradowrestling) November 18, 2018
When it comes to Grado himself, with a big personality and brilliant comic timing, his popularity has skyrocketed inside the ring and out.
That's led to where he is now – juggling TV, wrestling and pantomime commitments, and being firmly in the Scottish public eye.
"I remember the first time I was in a wrestling magazine I was delighted," he says, "but being an answer in a crossword puzzle is a highlight.
"I'm sure it would have burst a few of the old folk's heids trying to figure out who I am!"
---
Insane Championship Wrestling: Fear & Loathing XI, The SSE Hydro, Sunday December 2, visit www.insanewrestling.co.uk for ticket info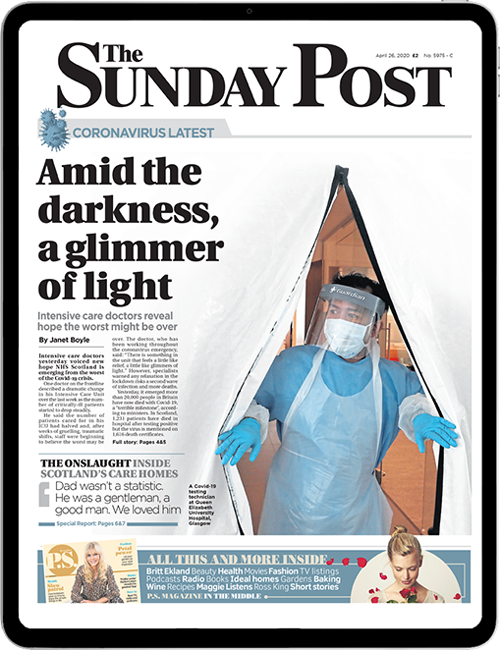 Enjoy the convenience of having The Sunday Post delivered as a digital ePaper straight to your smartphone, tablet or computer.
Subscribe for only £5.49 a month and enjoy all the benefits of the printed paper as a digital replica.
Subscribe