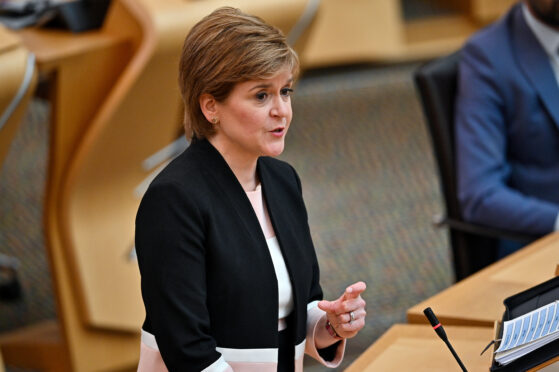 Scotland will move beyond Level 0 of Covid restrictions as planned from Monday, Nicola Sturgeon has confirmed.
In a virtual address to parliament, the first minister said that most legal restrictions would be removed from August 9, but a number of mitigations would remain in place.
Here's all you need to know from the latest update.
What's changing
From August 9:
Legally imposed restrictions on physical distancing will be lifted
There will no longer be limits on gatherings indoors and outdoors
No venues will be legally required to close
What's staying
It will continue to be the law that face coverings must be worn, unless exempt, in the same indoor settings as it is currently
Test and Protect will continue to contact-trace positive Covid cases
Indoor hospitality venues and similar venues will continue to be required to collect details of customers
Local incident management teams will work with the government to control any outbreaks and, if necessary, use localised restrictions
Home working where possible remains the government advice
For a limited period, event organisers will still require permission to hold events for over 2,000 people indoors and 5,000 outdoors.
Pandemic 'not over' despite changes
Despite Scotland moving beyond Level 0 on August 9, the pandemic is not over, Sturgeon stressed.
She told MSPs: "This change is significant and hard-earned. The sacrifices everyone has made over the past year-and-a-half can never be overstated.
"However, while this move will restore a substantial degree of normality, it is important to be clear that it does not signal the end of the pandemic or a return to life exactly as we knew it before Covid struck.
"Declaring freedom from, or victory over, this virus is premature.
"The harm the virus can do, including through the impact of long Covid, should not be underestimated. And its ability to mutate may yet pose us real challenges.
"So even as we make this move today, care and caution will still be required, and that is why I want to focus now on the protections and guidance that will remain in place after August 9."
Baseline mitigations include:

😷 Continued requirement to wear face coverings in same indoor settings as now
▪️If you test positive must still self-isolate. However, if you're close contact, asymptomatic, fully vaccinated you don't have to self-isolate on receipt of negative PCR

— Humza Yousaf (@HumzaYousaf) August 3, 2021
On face coverings, Sturgeon said: "We will keep this under review, but my expectation is that face coverings are likely to be mandated in law for some time to come."
She also said Test and Protect will continue, while homeworking will also still be advised by the Scottish Government.
She said: "I know most businesses are not planning a wholesale return to the office, while recognising that a return for some staff will be beneficial to them and their employers. It is vital that this gradual approach continues.
"We will also encourage employers to consider for the longer term, as the Scottish Government is doing, a hybrid model of home and office working – which may, of course, have benefits beyond the need to control a virus."
Schools returning
Face masks will have to be worn during lessons by secondary pupils when schools return.
These steps, which also include the need for one-metre social distancing in schools, will be kept under review, Sturgeon said.
She told MSPs: "We have also decided, after careful consideration, to retain the current requirements for face coverings in schools for staff and for children aged 12 or over.
"That includes asking young people and staff in secondary schools to wear face coverings during lessons and while inside school buildings.
"I am acutely aware that many young people find this difficult – and it will be kept under review – but for now, we consider this an important protection for them, and for others in the school."
The Scottish Government will also require schools to have access to CO2 monitors to ensure appropriate ventilation, backed by £10 million of investment.
Secondary pupils and school staff in Scotland will be asked to take a lateral flow test before they return, followed by regular testing in future.
Under the guidance, secondary pupils and staff will be asked to take a lateral flow test one or two days before they return to classes, followed by testing twice a week thereafter.
Sturgeon told MSPs: "This continues to be an important additional way in which Covid can be identified, even in people who do not have symptoms."
Self-isolation changes
The requirement to self-isolate after close contact with a Covid-positive person will be dropped in Scotland if a negative test result is received.
Currently, those who are in contact with a positive case must self-isolate for 10 days.
But under changes announced on Tuesday, a double-vaccinated Scot who has at least two weeks since their last dose, will be able to take a PCR test that would allow them to abandon self-isolation if they test negative.
Young people under the age of 17 will also be able to end self-isolation if they test negative, while those under five years old will be "encouraged" but not required to take a test.
As a result of the changes, blanket self-isolations for whole school classes will no longer be required.
Vaccine passports
The Scottish Government is continuing to consider the use of vaccine passports for access to some events, Sturgeon said.
The first minister told MSPs that an app is under development to allow for such certification for those travelling abroad, but it will also allow for vaccine certification domestically.
She said: "I can assure Parliament that we do not underestimate the ethical, equity and human rights issues associated with Covid-status certification and will keep members updated and consulted on our thinking on this issue."
No guarantee that restrictions won't return
No one can guarantee that Covid-19 restrictions will not have to be re-imposed,  Sturgeon  said.
"We all hope – I know I certainly do – that the restrictions we lift next Monday will never again have to be re-imposed. But no-one can guarantee that.
"This virus remains a threat – and as we enter winter, it may well pose challenges for us again.
"So as we have done throughout, the Government will seek to take whatever action is necessary to keep the country safe.
"But as has also been the case throughout, we all have a part to play in keeping the virus under control."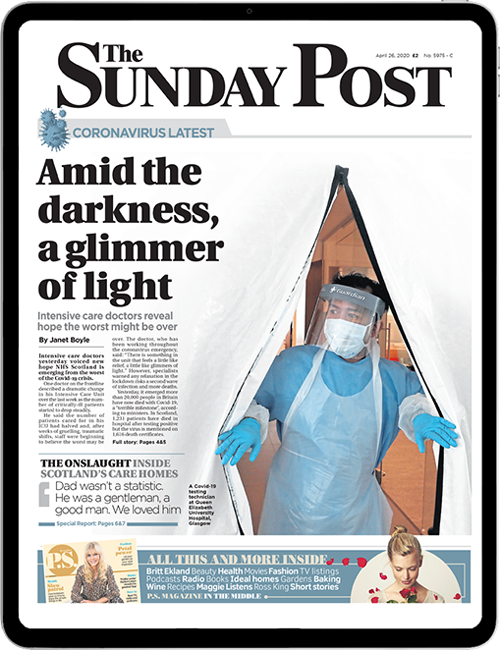 Enjoy the convenience of having The Sunday Post delivered as a digital ePaper straight to your smartphone, tablet or computer.
Subscribe for only £5.49 a month and enjoy all the benefits of the printed paper as a digital replica.
Subscribe