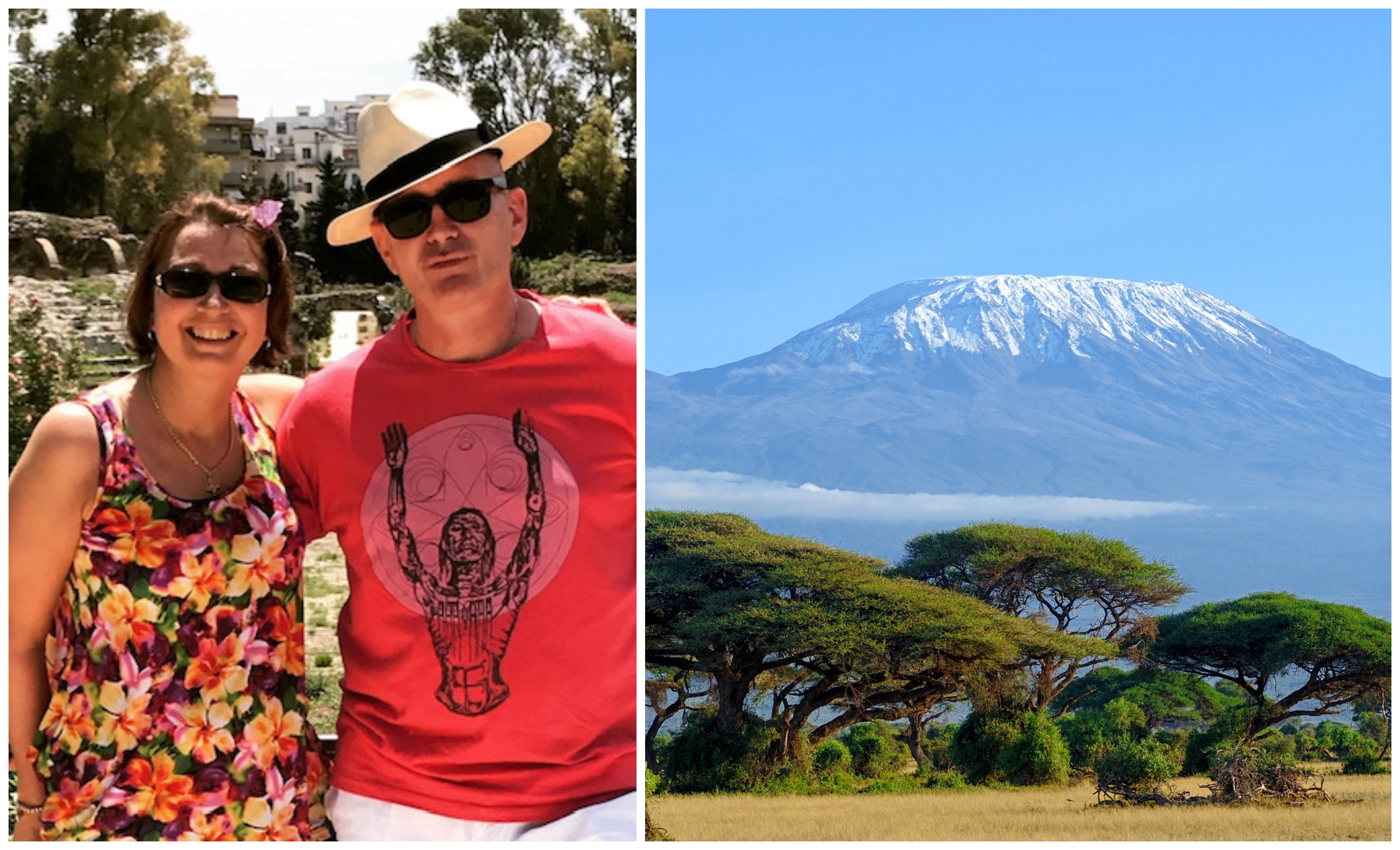 IT'S a disease that carries a deadly reputation, and that many think has been eradicated.
But tuberculosis (TB) is still a major killer around the world and a Stirling couple who have had first hand experience of the condition are hoping to raise awareness and funds for a charity helping to combat it.
Varry Lavin spent over a year in recovery from the disease having contracted it while on holiday in South Africa with husband Jonny.
Rife in Sub Saharan Africa, symptoms of the slow growing bacteria took around a year to become visible.
"I started to feel unwell and they pinpointed it to when we were on holiday as the dates fitted," Varry recalls. "I can't remember any instance in particular but it could have been someone sneezing or coughing close to me.
"When the doctors mentioned it could perhaps be TB I was dumbfounded and it took months to diagnose. My initial reaction was one of shock and disbelief – I thought 'why me?'
"I was also worried sick I wouldn't be cured as we've all heard stories of folks in past and not so distant past who never recovered. You're already aware of all the horror stories and that was what worried me the most."
Varry says she had visions of the treatment not working and dying from the disease, which affects over 10 million people each year, killing approximately 2 million.
"It sounds extreme but that's what goes through your mind and not having known anyone that's had TB before, you have no-one to talk to and reassure you," she adds.
"I felt a bit isolated and when you told folks you had TB, their reaction was the same and they kind of took a double take and were shocked – they thought they'd catch it too."
Varry, 47, went through a long and extensive recovery period following her diagnosis.
Under the care of a TB specialist, she was on four sets of antibiotics per day for 12 months, and phased her return to work having been absent for five months.
"I had a cough, bad night sweats, loss of appetite and weight loss but the worst thing for me was the extreme tiredness," she says. "I was shattered all the time even doing the smallest of things.  I'd have a shower then need to lie down again for a rest."
Hindering the recovery was the fact that she became allergic to two of the antibiotics – another worry as there's only a finite amount they have to pick from that treat TB.
Her appetite took a while to return and it was after 18 months and with the help of powdered food supplements that she began put on weight and get back to her usual self.
Due to TB's status as a notifiable disease, meaning that is has to be officially recorded, Varry's husband Jonny and her mum had to be tested for the condition.
After her experience, Varry insists that work has to be done on the education front to overcome the stigma of TB.
On that front, the Lavins have been working to raise money for the TB Alert charity, with Jonny planning to scale Mount Kilimanjaro in 2020, the year of his 50th birthday.
The charity is working within the UK and worldwide to eliminate the disease for good, and help sufferers who are disadvantaged and with no access to care or treatment.
TB Alert provides medication, education and support in a way that tangibly saves lives every day of every year.
"I often think about the many thousands of people around the globe who do not have access to the medical treatment I was afforded," Varry admits.
"TB is growing at an alarming rate around the world. TB and how to stop it should be at the forefront of our public health debates and not hidden from view.
"It hasn't ever gone away, it's very much still with us and if given the opportunity it will return with a vengeance. It has the capability and to take a grim toll on all of us if we don't take action now.
"I found TB Alert useful when I was in recovery and it's made me more aware of the need to raise money hence I've got Jonny doing the climb!"
Jonny, 48, is no stranger to charity challenges having taken part in several over the years.
But he admits Kilimanjaro is a whole new ball game.
"I've done parachute jumps before, various other things, abseiling, but never climbed anything of any note! I thought, if I'm going to do something, why not try something very different. And Kilimanjaro's very different!
"I'm not a hillwalker or a mountaineer or anything like that so it's all new to me but it's exciting."
Jonny is aiming to climb the African peak in 2020, the year of his 50th birthday with the trek serving as a symbolic reminder of the dangers of TB.
Even though it's a gentler trek than the harsh climbs of other mountains, traversing the 5,895 metres to the summit of Kilimanjaro comes with the threat of altitude sickness and breathing difficulties.
It's something Jonny believes will remind and inspire him with every step of how people suffering TB feel every day of their lives.
"It's a respiratory illness affecting the lungs, you effectively drown," Jonny explains.
"The breathing difficulties of Kilimanjaro is the greatest challenge, it's not a particularly challenging climb by mountaineering standards, it's all to do with the deprivation of oxygen.
"Every step becomes a bit of an effort and I think it's the closest a person can get to the sort of anguish and struggle that people with TB would suffer from everyday. I'm not suggesting it's anything like it but it's an insight.
"In the 7 days I will spend on Mount Kilimanjaro, 26,500 people will of die of TB.  This puts into context the scale of the issue TB Alert are trying to solve.
"It's a disease that has probably affected all of our families in some way perhaps presently, in the past or the distant past."
While Kilimanjaro may be a little hair-raising, there's another charity challenge that's quite the opposite for Jonny.
"I propose to get my head shaved," he laughs. "People seem to want to pay a lot of money for the pleasure of seeing that!
"We're doing quite well as it is. I tend to do it in £25 increments as that's how much it takes to save a life.
"It's a noble thing to do and a bit of fun on the way as well. As long as the awareness gets out.
"People normally close their minds off because they thought it was beaten. Like all these great scourges they're always lurking in the background."
Last year we revealed that deaths from TB In Scotland had reached the highest level in nearly two decades.
A report released in November 2018 said that while the overall number of tuberculosis cases is dropping in Scotland, the infection is becoming increasingly complex to treat, with more resistance to first-choice drugs increasing.
---
To find out more and to donate, visit https://www.justgiving.com/fundraising/jonnylavin