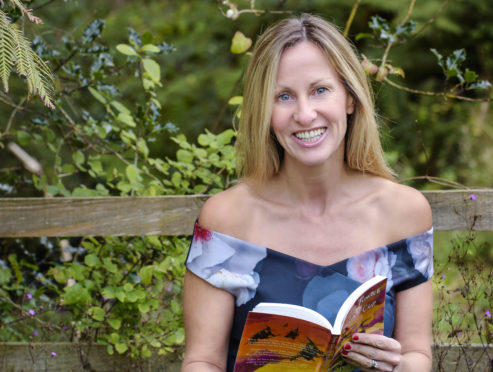 A leading children's author says libraries can play a much bigger role in protecting young readers online.
And she is encouraging parents to join their children in learning to keep the internet safe.
Angela Proctor, whose first Thumble Tumble book is a key reading text in schools across Scotland, has been working closely with protection experts to deliver initiatives to make the internet a safer place.
She said: "Like many parents, I've always been reluctant to allow my own two children access digital technology because, despite the internet being a brilliant educational resource, there are so many risks they can face online
"But after speaking with many experts in this field, I've learned this approach is actually putting children and young people at even greater risk instead of protecting them.
"We need to accept that our children are embracing the digital world, whether we like it or not.
"And because of adult concern, they don't feel that they can't talk to us about it.
"Those with no access to digital devices at home are at even greater risk because children feel those parents wouldn't even understand if they try to explain what they are doing online.
"That means many of those children may not even open up and tell a parent about any bullying or unacceptable stalking behaviour online."
Angela, whose children Skye, 10, and Kyle, 8, were the reason she began writing books three years ago, believes parents need to do a lot more to make themselves internet savvy .
And the author, whose fourth book in the series, Thumble Tumble and the Goblin Pirates is out later this month, says libraries are the ideal resource for both adults and children.
She said: "We all need to do more to embrace digital technology and increase our understanding of the digital world so that it's safer for our children and young people.
"Libraries are at the heart of our community and perfectly placed to play a vital role in helping us achieve this.
"An incredible amount of resources are available, free of charge, from libraries. And many of them run educational courses too.
"As a child growing up, the library was one of my favourite places to go and access books.
"But in this changing world, libraries today are often not used nearly as much as they could be. It's a wonderful resource that could be lost to future generations if it isn't used."
A recent survey found as many as 60 per cent of youngsters say parents and carers have tired to limit their time on the internet because of concerns.
Experts say because technology is advancing faster than our education system, teaching online safety is reactive rather than proactive.
Championing Scotland's Libraries Week for the second year, the author who pens the magical adventure series about a teenage witch on Arran under the name AH Proctor, will spearhead a free event exploring how libraries play an important role.
Learning and child protection experts hope the initiative will lead to innovative new initiatives and partnerships
Scotland's Children and Young People's Commissioner Bruce Adamson said: "All children have the right of access to information, particularly of material that is of benefit to their lives.
"We know that more often now, children and young people access that information digitally.
"Libraries play a significant part in supporting children's realisation of their human rights in the digital world, particularly for those children in Scotland who might be digitally excluded for many reasons, including poverty.
"Libraries can also be key in the provision of education around the risks and challenges of the digital environment.
"Cyberbullying is an issue that young people are particularly concerned about and they tell us that when they are bullied like this, often adults aren't able to help them as they would wish as they simply don't know enough about what to do."
The Children's Commissioner said: "Clear and accessible information should be a part of digital education for not only children and young people, but for families and professionals too and libraries can be a safe and inclusive space for this to happen."
Campaigns manager of child protection charity the NSPCC, Carla Malseed says libraries can provide a safe space to encourage digital participation and inclusion; and support health, wellbeing and education.
She said: "It is vital parents and schools talk to young people about the dangers online as soon as children have access to the relevant technology.
"Our Net Aware and Share Aware sites help inform and start these conversations and keep parents up to date on this ever-changing landscape."
Libraries Week 2019 runs from October 7 to 12 across the UK.
The event, Protecting Children and Young People in a Digital World is at the the Mitchell Library, Glasgow, on 9 October is free and will also be live-streamed. Tickets available here. 
---
Angela's fourth Thumble Tumble book, about the adventures of a teenage witch on Arran, Thumble Tumble and the Goblin Pirates, is out later this month.