He could be forgiven for never, ever going back.
But Nick Hancock, who once spent 45 days on Rockall, is ready to return to the storm-lashed, uninhabited lump of granite in the middle of the Atlantic.
The adventurer is leading a tourist trip to the island, which lies 230 miles west of Oban, with hardy visitors paying almost £1,600 for the expedition.
Nick, who lives in Edinburgh, said: "It is a once-in-a-lifetime trip and it is very unlikely you will meet someone else who has done it."
Nick, however, is going back after breaking the world record for clinging on to the rock in 2014.
The trip, organised by Lupine Travel and adventure sailing experts Kraken Travel, will give tourists the chance to be the first to set foot on the island, situated far from the Western Isles, since the last landing in 2016.
James Finnerty, of Lupine Travel, explained he had spent the best part of two years organising the trip.
HMS Wigan will leave Oban on the week-long trip complete with a skipper and crew of four to look after the 18 tourists paying for the experience.
James, 30, said: "People have gone to Rockall for many different reasons. For our customers, we specialise in hard-to-visit and remote places.
"So many things now that used to be hard to do are simple. Going to America or Australia is still expensive, but it is not as exotic as it once was. There are a lot of people who really like going somewhere kind of untouched, which harks back to the original expeditions.
"There is a lot of adventure in it, trying to land on Rockall.
"It is not quite on the scale of climbing Mount Everest but, then again, more people have climbed Mount Everest than have stood on top of Rockall."
He added: "It is quite exclusive and if you manage to land on the rock you become an honorary member of the Rockall Club."
In 2014, Nick, 44, successfully spent 45 days on the extinct, eroded volcano that is lashed by Atlantic waves and covered in bird droppings.
He said: "It is a pretty barren place and you can't really move around too much. The main ledge is about the size of a large single bed. There is another flat area on the summit which is about half that size.
"The main issue is not being able to walk around too much and, if there hasn't been a storm, there is usually a lot of bird guano, which makes it slippy and very smelly. Then with the sea and winds, it can be a pretty bleak and cold place."
Nick, who lived in a purpose-built pod for his record attempt, added: "The weather can be complete extremes. I went through a force 9 storm and the waves were topping over the rock.
"Similarly, I had days of calm conditions, blue skies and it was really too warm to be inside my shelter.
"The risk of getting there and landing is where the adventure is. If you can get on to the rock, then great."
It is believed the earliest landing was by a Royal Navy officer in 1811.
The UK claimed Rockall in 1955 and the Island of Rockall Act 1972 made it official, although the legislation is not recognised by Ireland.
The Rockall Club was founded seven years ago to mark the 40th anniversary of the island becoming part of Scotland.
The journey time to the rock is dependent on weather conditions but the tour company is planning a stop off at St Kilda on the way.
Lupine Travel also said it is planning another adventure in 2022 with places already being snapped up.
James said: "Landing on Rockall is a bit of a challenge and the people joining our trip are aware there is a high chance of not being able to land if the sea is bad. It is great to have Nick, he has got the skills and experience.
"He is probably the only person who could consider himself a guide."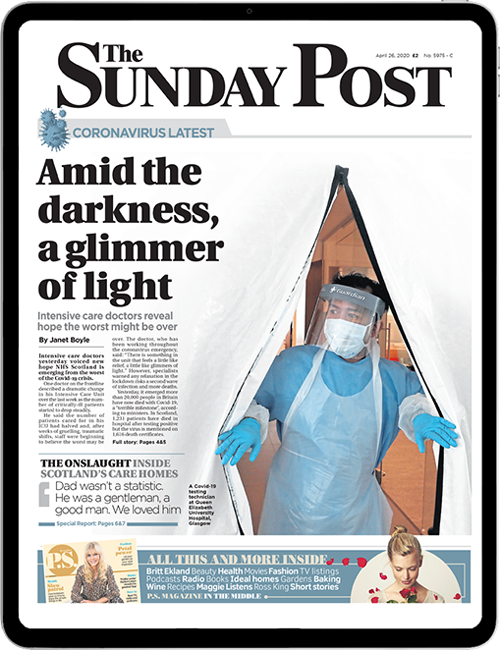 Enjoy the convenience of having The Sunday Post delivered as a digital ePaper straight to your smartphone, tablet or computer.
Subscribe for only £5.49 a month and enjoy all the benefits of the printed paper as a digital replica.
Subscribe