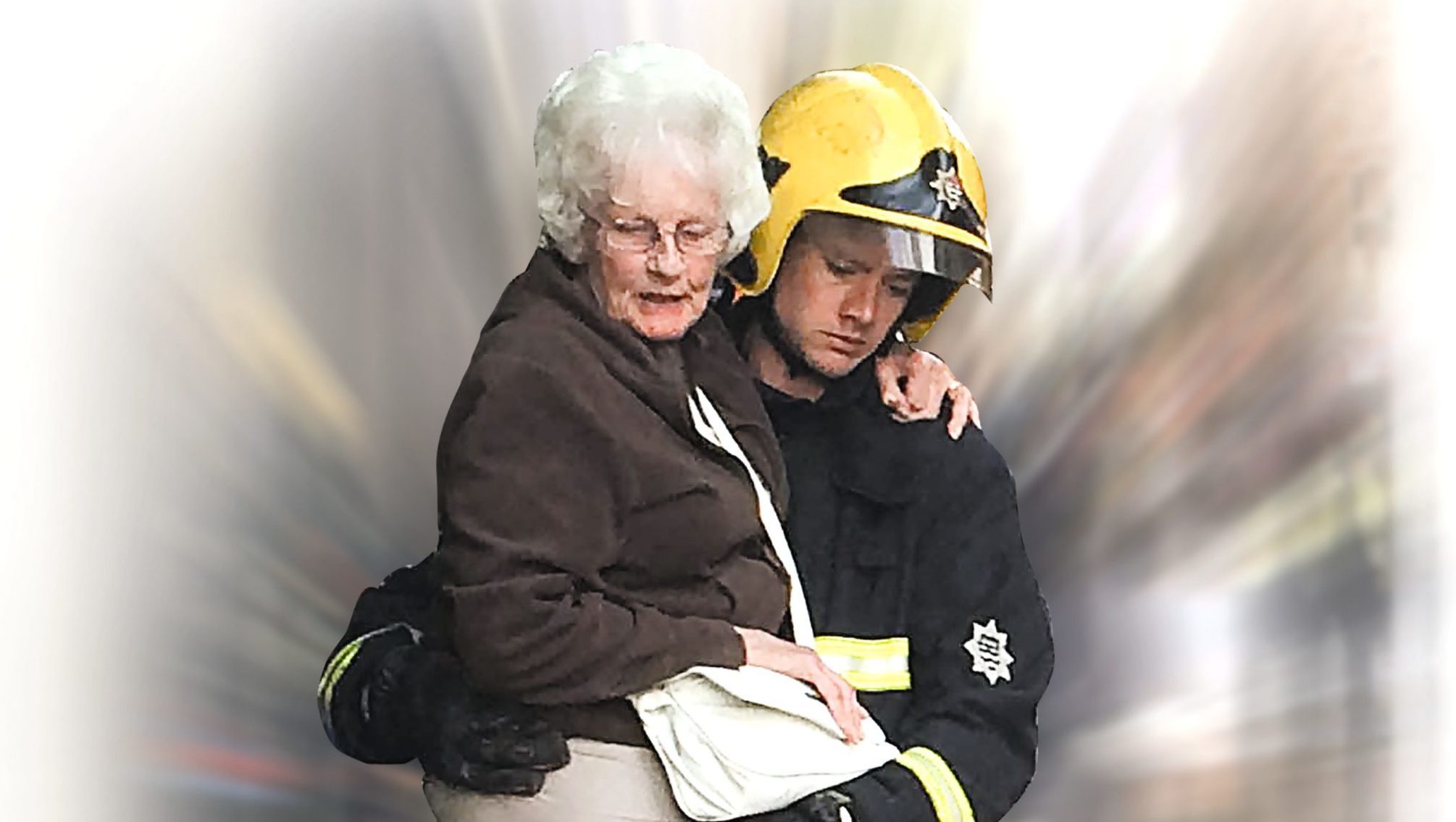 FIREFIGHTERS are preparing to take on a more caring role – to help meet the needs of Scotland's ageing population.
Chief Fire Officer Alasdair Hay has said the service is looking at major ways the service can adapt as more and more people survive into old age.
Firefighters will increasingly be trained in assisting people with conditions such as dementia and Alzheimer's.
As part of this, there will be a greater emphasis on enhanced home fire safety visits catered to their needs.
The service is also looking to roll out a pilot that has seen them called out to cardiac arrests.
And with colleagues in parts of England now responding to slips, trips and falls, senior fire sources have said Scottish firefighters could soon provide a similar service.
Support groups for the elderly have welcomed the move, given the trust that older people place in members of the emergency services, Although some have urged caution not to overload demands on the vital service.
Chief Fire Officer Hay said that, with a drop in the number of fires in people's homes, the service had found itself modernising to deal with other incidents such as flooding, even terror attacks, and the needs of the elderly.
He said: "We must adapt to meet this changing risk which also includes an ageing population that is increasingly calling on our skills and our support to stay safe.
"We can do more to help them to stay safe within their homes."
According to a highly placed fire source, in the future firemen could increasingly find themselves assisting with:
Slips, trips and falls in the home
Working in partnership with the ambulance service and carers to assist where an elderly person has suffered an incident
Helping provide emergency treatment for elderly people who have had a cardiac arrest
And entering homes to assist and keep elderly people safe.
The brigade insider told The Sunday Post there's a broad acceptance the organisation will quickly adapt to meet the needs of Scotland's ageing population.
The insider said: "We need to future-proof what we do to better protect the people we keep safe. We're open minded to the fact that will see our role adapt.
"We're a highly skilled workforce available 24/7 to assist communities. A role where we meet the needs of the elderly better makes perfect sense – be that helping them to hospital or entering a property to assist where there's been a fall."
Chief Fire Officer Hay gathered senior managers to a recent briefing held at the brigade's HQ where he set out his vision for the future.
One slide in his presentation, which generated a massive amount of interest, apparently showed an elderly person in distress.
It has since sparked a wider discussion as to how firefighters can meet the needs of a mature population.
"We're already working in partnership with Scottish Ambulance to help cardiac attack victims," the insider said. "It's a logical conclusion we'll take a more caring hands-on roll to better keep people safe in their homes.
"Working with carers and health professionals we could assist people who've had slips and trips. We've got the training and expertise.
"Widespread work is going on to make sure we can communicate safely and effectively with people with dementia.
"Where an elderly person has had an episode, if we're closest we should assist to get that person the help and care they need.
"Yes, as Grenfell proves, there will still be fires. But a vast amount of work has been carried out to negate fire risk.
"We need to be a caring, modern 999 service that's age proofed to keep senior citizens safe. Are we becoming carers? That's open interpretation. I'd say we're a caring workforce – and our broader remit in future will reflect that more fully."
Lord George Foulkes, chair of Age Scotland, welcomed the plans and said the organisation would be keen to work with the service to develop any initiatives.
He said: "Being safe in your own home is a vital part of enjoying later life.
"The fire and rescue service is well placed to provide support to older people, as a trusted service, not just in relation to fire prevention and safety but also in helping to keep vulnerable older people, such as those with dementia, safe in their own homes."
There are almost a million people aged 65 and over in Scotland while an estimated 90,000 people have dementia. And the number with the condition is expected to rise by around 75% in the next 24 years.
Professor June Andrews, advisor to The Dementia Services Development Trust charity, welcomed the fire service plans.
She said: "Firefighters are an instantly trusted profession and a lot of old people recognise and are glad to see them and feel safe with them.
"They know they will do their best for them.
"I know from experience they are incredibly patient, understanding and respectful.
"Dementia is a stressful condition and the more people get stressed the worse their symptoms are. Firefighters' whole job is about keeping people calm and safe in stressful situations. For someone with dementia that's essentially what's needed."
Sheena Glass, chief executive of Glasgow's Old People's Welfare Association, also said she would welcome any moves that would keep older people safe in their own homes.
She said: "We would be willing to help the fire service with any expertise."
Scottish Fire and Rescue Service has been running trials providing a service in response to out-of-hospital cardiac arrests.
At present there are 16 trials taking place in different locations around the country.
The service is now working with the Scottish Ambulance Service, the NHS, the Scottish Government and the Fire Brigades Union to look at the potential of further expanding the trials across Scotland.
Mr Hay added: "Our crews have already been responding to victims of an out-of-hospital cardiac arrest where they are nearer to the patient, reducing response times.
"They work quickly and effectively as a team, performing CPR or using defibrillators to stabilise the patient, keeping them alive until the arrival of our skilled ambulance service partners.
"There are people alive today and enjoying precious time with their families because we identified yet another opportunity to assist – and we acted.
"This dynamic partnership between the SFRS and the Scottish Ambulance Service is truly unique because it finally breaks down the barriers of emergency response which is critical to the chain of survival.
"Firefighters are proud of the vital role they perform.
"We therefore need to discuss and consider all options of how our amazing public service adapts and responds to the changing needs of our communities.
"I very much look forward to engaging in further dialogue with senior managers and our firefighters to make this vision a reality."
One fireman however sparked a note of caution.
"Attending 'slips, trips and falls' isn't our remit," the manager said. "I know it's not on the cards in Scotland at the moment but we know it's something they're introducing elsewhere in the UK.
"We don't button up the back. We can anticipate a time in the future when this is a full-time role for us. "Indeed, it's already happening. Crews are already attending incidents where people require assistance getting up, or have fallen, or are physically unable to do something.
"Care staff aren't always available; paramedics are stretched; the police do fulfil a social role, but it's not their responsibility.
"Yes, this is our future. But I fully expect firefighters across the board will expect to be fully compensated to meet the demands of a changing role."
Scottish Conservative community safety spokesman Maurice Corry also urged a note of caution. She said: "It's right to consider ways the fire service can assist with Scotland's ageing population.
"They are skilled and determined workers who already make a tremendous contribution.
"But any extension to their responsibilities has to be matched by resources.
"We cannot jeopardise public safety in the process, or place extra pressure on workers already pushed to the limits."
In My View: By Rose Jackson, chair, Scottish Pensioners' Forum
I WOULD welcome anything that helps older people safely stay in their own homes for longer.
Obviously, firefighters are trusted members of society.
Older people and those with dementia would feel comfortable with them.
However, in order for this to work, firefighters will have to be trained and will also need to be paid for what they are doing.
I would also hope that it would not just lead to cuts in other areas such as paramedics.
I don't know how it would work in action.
What would happen if firefighters were dealing with an elderly person and a call came in for an emergency?
I imagine there will have to be a lot of negotiations with the Fire Brigades Union and other agencies about this. It really needs to be thought out.
It sounds like a good idea in theory.
However, whether or not it works in practice remains to be seen.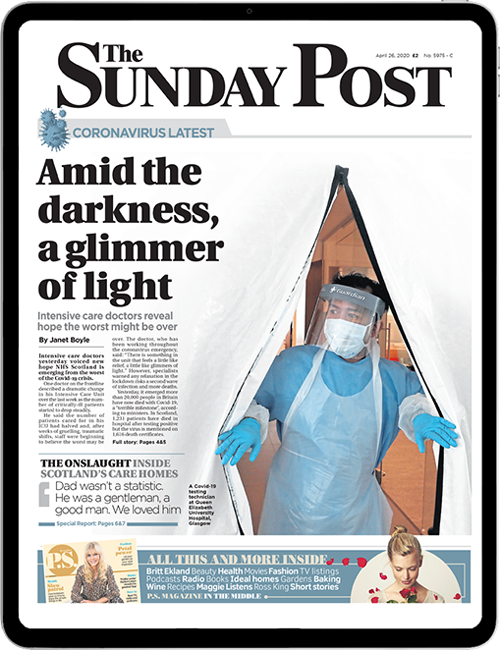 Enjoy the convenience of having The Sunday Post delivered as a digital ePaper straight to your smartphone, tablet or computer.
Subscribe for only £5.49 a month and enjoy all the benefits of the printed paper as a digital replica.
Subscribe