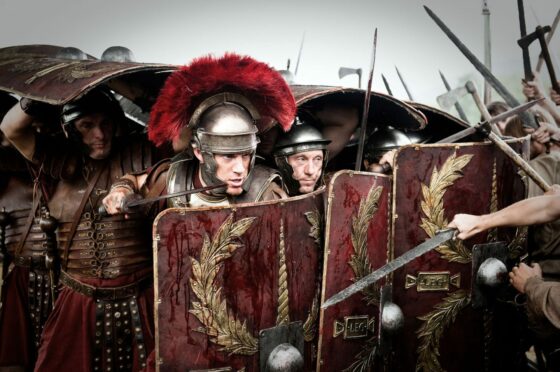 In the year 80 AD, Titus, son of the Emperor Vespasian, opened the Colosseum in Rome. The amphitheatre was launched with 100 days of "games" – a mixture of gladiatorial combat and fights involving wild animals.
Amongst those beasts, according to the poet Martial, was a Caledonian bear, transported from the northernmost edge of the empire to Rome and urged to kill a prisoner bound to a stake.
Only a year earlier, the first recorded Roman invasion of Scotland was carried out by Agricola. In short, author John H Reid says, the Romans were exploiting Scotland's resources from the get-go, whether it was people or bears sent to the Colosseum to kill and probably die for the entertainment of Rome's citizens.
Reid has written a new history of Roman Scotland, The Eagle And The Bear – and sifts through the evidence for the impact of the Romans on the country that would become Scotland. It takes in some 300 years of history, battles and brochs, Hadrian's Wall and the Antonine Wall, archaeological findings and written records. All to ask a simple question, one first suggested to Reid by the historian Alistair Moffat: not what did the Romans do for us, but what did they do to us?
Today – a Friday afternoon in early spring – Reid is standing in a field above Melrose. Beneath him the River Tweed loops through the landscape and, on the horizon, three Eildon Hills loom high in the distance. It is a view the ancient Romans would have known. A few miles from here they built a fort, Trimontium (the place of the three hills), where the village of Newstead is now.
Up on the northernmost hill there are ditches that date back to 800 BC, ditches constantly refurbished for more than 1,000 years by the Selgovae, the people who gave Selkirk its name. Archaeologists have found some 500 roundhouses, possibly two storeys high, on the hill.
"So that's a town up there," Reid points out. "That's why the Romans planked a fort on the left-hand side."
Not that there is much left to see of it. It was burned to the ground twice, around 120 AD and then 184 AD. There's still a hollow in the earth nearby where an amphitheatre, the most northerly in the Roman Empire that we know of, once stood.
Reid has been fascinated by the Romans since he was a boy in Lanarkshire. His father brought him to Trimontium when he was 12. As a 14-year-old he would get the bus from Airdrie to Rough Castle Fort in Bonnybridge where he helped clear spoil heaps.
And, though he never became an archaeologist himself – he spent his professional life as a cardiac radiologist, first at the Royal Infirmary in Edinburgh then at Borders General Hospital, until he retired eight years ago – his obsession with the Romans has never waned. If anything, at 67, it might be greater than ever.
Reid has been the chair of the Trimontium Trust in Melrose for 26 years and led their research projects, most notably at Burnswark Hill, near Lockerbie. He has also taken part in countless digs over the years.
In some ways The Eagle And The Bear is the culmination of his obsession, but one that offers a challenge to recent thinking about the Romans in Britain. To Reid, the Roman presence in Scotland was more about violence than civilisation. For some 300 years, Scotland, he believes, was a battlefield.
"Roman Scotland is a huge conflict zone," he tells me over tea and scones in a Melrose cafe. "Scotland is the ancient equivalent of the Maginot Line. It's the ancient equivalent of the Normandy beaches. It's the ancient equivalent of the Battle of Waterloo.
"Scotland was at war for 300 years. Some of the biggest land armies that Britain has ever seen in any era took place in the Roman period. The emperor Septimius Severus came in 209 AD with 40,000 men, the Praetorian Guard, jugglers, medics, soothsayers, the works."
Why? Because Scotland was a troublesome region, Reid says. It resisted Rome continuously for centuries.
In that time Rome scored major victories, most notably at Mons Graupius in Aberdeenshire around 83 AD, but there were constant uprisings and skirmishes. Scotland, he argues, was Rome's Afghanistan.
This will be a contentious view for some Roman scholars. Ancient history is inevitably perceived through a gauzy haze of ancient texts and archaeological findings but, in recent decades Roman history in Britain has often been "Romanocentric" in outlook, Reid argues. Our ancient history has been viewed from a pro-Roman point of view. The past has been viewed through Roman eyes, if you like.
Reid admits there was a time when the same could be said of him. He said: "As a child I saw everything through this Romanocentric prism."
But that changed in recent years, especially after his wife took a sabbatical at Harvard in Boston. Living in America made him rethink Scotland's relationship with Rome. He said: "No Romans in America, obviously, but there is a big story of the relationship between invading peoples and indigenous peoples. I immersed myself in that for a year and learned as much as I could about the other side of the coin of imperialism.
"And it became obvious to me that there were parallels with what must have happened here, parallels that had been almost suppressed by the Romanocentric nature of the story of Roman Scotland.
"I thought 'I need to step back from this and look at the evidence and look at it as if it was a clinical problem'."
---
The Romans in Scotland
55 BC: Julius Caesar leads the first Roman military expedition to Britain
43 AD: Emperor Claudius sends four legions to conquer Britain
61 AD: Boudica leads a rebellion of the Iceni against the Romans
79 AD: The Romans move into what is now Scotland
83 AD: Romans defeat the Caledonians at Mons Graupius, in Aberdeenshire.
120 AD: Emperor Hadrian orders the construction of a wall
142 AD: Antonine Wall is completed
163 AD: Roman troops abandon the Antonine Wall
209 AD: Emperor Septimius Severus leads invasion force into Caledonia, the last major invasion of Scotland
250 AD: Roman Britain is under threat from the Angles and Saxons from Germany and the Picts.
410 AD: Emperor Honorius refuses to help as Saxons, Scots, Picts and Angles make incursions. This is the end of Roman Britain.
---
It's not that Reid believes the Romans were unable to overcome the tribes of Scotland. Indeed, some – the Votadini in East Lothian – effectively became a client kingdom for the Romans. But, it's clear, he argues, that the Roman grip over Scotland was constantly being tested.
That ultimately led to the building of the two Roman walls across the north of Britain.
"Around 120 AD Hadrian's Wall was built in response to a very big bad thing," Reid suggests. "Now, archaeologists are pretty sure a very big bad thing happened in the late 110s or 120s. The Ninth Legion disappears, goes off the books. And it's not just the Ninth Legion. A number of auxiliary regiments disappear as well.
"The pro-Roman archaeologists have been falling over themselves to have the Ninth Legion moved out. Why would they choose to see this being the case when all the evidence – such as it is – points to them clearly being wiped out somewhere in north Britain?"
For Reid, Hadrian's Wall, which stretches across the top of England from Wallsend on the Tyne to Bowness-in-Solway, and the Antonine Wall, built of earth and timber, 20 years later between the Forth and the Clyde, speak to the ongoing problems the Romans faced in Scotland.
"There is extreme engineering in both these walls," he says. "And the question you immediately ask is, 'Why? What is there beyond the wall that necessitates extreme engineering like this?'
"The Antonine Wall is only 37 miles long," he adds, "but it has two legions' worth of men on it. There's 7,000-8,000 men based along the wall. There's a fort every two miles. It's the most densely policed part of the whole empire. One in eight Roman soldiers was serving in north Britain. What's going on?
"Well, you get walls where imperial powers lose control. They have to build a frontier. Frontiers are all about trying to get back control of the land within the frontier.
"Why Hadrian's Wall is so big, I think, is because it was a response to this really big bad thing that happens, which is a major rebellion, and the Roman authors themselves record that rebellion. They tell us that as many Roman soldiers died in that war as died in the Second Jewish War.
"Hadrian settles the province down, builds the wall and that's it, Britain is cut in two. Hadrian creates Scotland. We think Scotland starts with the wars of independence with Bruce and Wallace. It doesn't. It starts with Hadrian saying, 'Everything beyond here is not us'."
What was so different about Scotland, though? Why should it resist more than the rest of Britain? Well, Reid points out, the rest of Britain did resist. Boudica nearly defeated the Romans, after all.
But Scotland was different, both culturally and geographically.
Reid adds: "Partly to succeed you need compliance. The people need to buy into the ideology of the invading power. If they don't buy in it's almost impossible to crush them without genocide.
"But you've also got the landscape and you've also got this huge long supply chain that's easy to attack.
"The Berlin Wall was only up for 28 years. Hadrian's Wall was up for 285 years. That, to me, is not an imperial vanity project. That's because there is a storm going on north of the wall."
His book is not the final word, he knows. There is much more to be discovered. Reid would like to see a fort on the Antonine Wall properly excavated. Maybe soon, he hopes, we'll learn where the Ninth Legion was wiped out. But he hopes his book prompts a reconsideration of Scotland's ancient history.
He said: "I'd like people to realise how fundamental this time period is to our history. I'd like people to come away with a slightly more critical and grown-up view of what Rome was doing because I think the view we have of the Romans is pretty fluffy and cosy. They're here as cuddly soldiers to teach us how to have a bath, how to count, how to use an abacus, how to build a road. That is absolutely not why the Romans were here. They may have been a by-product, but it's certainly not the reason they were here."
---
The Eagle And The Bear by John H Reid is published by Birlinn on Thursday, priced £17.99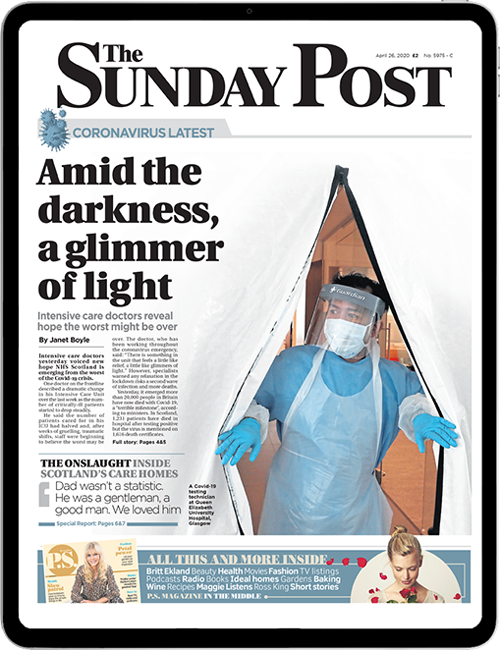 Enjoy the convenience of having The Sunday Post delivered as a digital ePaper straight to your smartphone, tablet or computer.
Subscribe for only £5.49 a month and enjoy all the benefits of the printed paper as a digital replica.
Subscribe