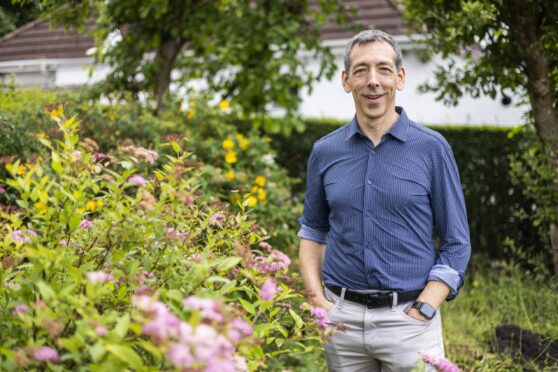 Most of us look at our parents with more than a passing thought on whether their illnesses may also affect us one day.
But when world-leading Scots professor Euan Ashley began carrying out research into the human genome, the last thing he expected was to discover he carries a 15-times higher-than-average risk of developing Alzheimer's.
The disease is in the news after Fiona Phillips, 62, best known for presenting ITV breakfast programme GMTV Today, said this week that she had Alzheimer's, which her parents and grandparents also developed.
And now, pioneering academic Ashley, 51, from Stanford University, USA, has revealed he, too, carries a risk of developing the disease… and is working to help prevent it.
It emerged while he carried out research into the human genome. The human genome allows doctors to analyse our DNA sequence and compare it to others to identify what you have inherited and how it may affect your health. It can allow them to study any genetic mutations you may have and diseases for which you may carry a higher risk.
Ashley, a cardiologist and associate dean at Stanford School of Medicine, and professor of genomics and precision health, discovered his risk by sequencing his own genome and finding he had a gene variant for Alzheimer's.
He grew up in Bearsden, East Dunbartonshire, where his dad, Angus, was a GP and his late mum, Desnée, a midwife, worked with the pioneering Scots obstetrician Professor Ian Donald – the inventor of ultrasound scanning. The obstetric diagnostic tool has saved countless unborn babies.
On discovering his Alzheimer's risk, he said: "I had been aware of a family history but did not know how much that affected me until I sequenced my genome.
"My response has been to do everything I can to avoid it, including keeping my weight down, running every morning and getting seven to eight hours' sleep every night. I understand that trying to lead a healthier life will not definitely prevent Alzheimer's disease, but it will go a long way to helping avoid it."
He prescribes 30 minutes of brisk walking daily and adds that each minute's tough exercise could extend your life by up to seven minutes.
So far, the plan seems to be working for him as, at over 6ft tall, he is lean and quite obviously fit. "I sleep much better now I exercise early every morning," he said.
Alzheimer Scotland charity suggests there are about 90,000 people with dementia in Scotland, half of them having Alzheimer's. Around 3,000 are under 65 years.
"It is embedded in my genome, and I need to work on this," he said. "It is not inevitable, but an increased probability."
Fiona Phillips is taking part in clinical trials at University College Hospital in London, which aim to revolutionise future treatment.
The TV celebrity and mum of two said she had been carrying the secret of her illness for 18 months until sharing her news early last week. She revealed that she was worried about people judging or putting labels on her.
Early signs included crippling anxiety and brain fog, which she assumed was the menopause.
Miridesap, the drug she is trialling at University College London, is being looked at as a possible way of slowing the progression of Alzheimer's. The hope is that it may halt its progression or even reverse the illness.
Alzheimer's is by far the most common of the diseases that cause dementia.
Ashley's early interest in research began as a medical student at Glasgow University and in the city's hospitals. It led to a post as a cardiologist in America.
At Harvard, Ashley has helped others identify genes that predispose patients to illness, including serious heart failure.
He said: "I noticed a pattern for high cholesterol and a major inherited heart defect called hypertrophic cardiomyopathy in a fellow scientist who was one of the first to sequence his genome and suggested he get preventive treatment quickly," he added.
"On another occasion, the father of two boys with rare genetic conditions then approached us for a diagnosis after several medical examinations drew a blank.
"We identified the cause and even a treatment that stopped the brothers deteriorating."
His task of preventing serious illness is the current mantra for the survival of the NHS. Doctors and nurses stress that preventing illness lessens the burden on beds, clinics, staff and cost.
Average Scottish healthy life-expectancy is 61 for women and 60 for men. That falls to 52 for women in North Ayrshire and 54 for men in North Lanarkshire.
An ageing population has led to a huge rise in conditions from cancer to dementia. Heading some of these off at the pass will not only give us longer lives, but more healthy years, Ashley says.
Knowing your risk of chronic and serious illnesses would go a considerable way to lessening the burden on health services globally and take the pressure off the shortage of health workers.
Today, Ashley is working with a colleague who discovered a resilience gene for Alzheimer's that protects those who carry it.
"Sequencing our genome will help us come up with tools, including drugs, to help lessen the effects of the genetic component and at least stave it off for some years. That is true of heart disease, too," said Ashley. "The risk is 50% inherited so lifestyle can make a big impact, but not all.
"Eventually, our GPs may be able to look at our genome and decide which drugs are likely to help us individually. Huge inroads are being made in precision medication and treatment."
"Broad-spectrum antibiotics could be changed to precision ones and avoid the scatter-gun approach to infections.
"This could help to rein in antibiotic resistance with precise antibiotics at the right time."
Ashley and his research team gained a Guinness World Record last year for sequencing a full human genome in just over five hours.
He was also recognised by Obama's White House for his contributions to Personalised Medicine and, in 2018, he was awarded the American Heart Association Medal of Honor.
His book, The Genome Odyssey, tells patients' stories and gives an insight into the process of diagnosing and understanding genetic conditions.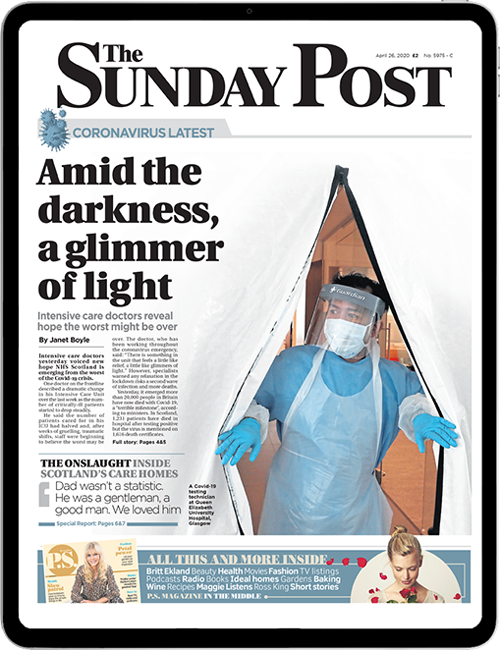 Enjoy the convenience of having The Sunday Post delivered as a digital ePaper straight to your smartphone, tablet or computer.
Subscribe for only £5.49 a month and enjoy all the benefits of the printed paper as a digital replica.
Subscribe