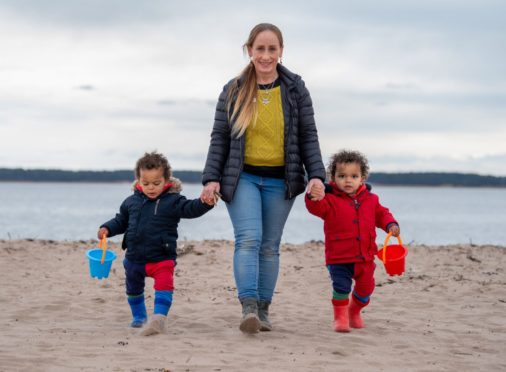 Families on low incomes ­struggling to survive before lockdown have been tipped into crisis by the pandemic, according to landmark research by a leading charity.
Save The Children warns young people living in poverty must be a priority for the Scottish Government's post-Covid recovery plans after detailing how parents have been forced to go without food and plunge deep into debt during lockdown.
After publication of a report, called Dropped Into A Cave and charting the difficulties endured by low-income families, Claire Telfer, the charity's head of Scotland, said: "It's been said that during the pandemic we've all lived through the 'same storm but in different boats'. The families we supported had many holes in their boats.
"The combination of not ­ having enough money to provide for basic needs, the loss of social networks; nursery, school and other service closures; not knowing where to get help; and worrying about their children and family has had a profound and lasting impact on families. It has been especially challenging for new mums who had babies during the pandemic.
However, the charity, which said the sudden loss of face-to-face support left parents feeling isolated, insists ministers have a "golden opportunity" to rethink how families are supported as the country edges out of lockdown.
Save The Children called for the Scottish Government to prioritise children growing up in poverty in its post-Covid recovery plans and to provide a reliable and decent income to enable families with children to live a dignified life.
It said that before the pandemic, one in four children – and one in three aged one or under – was growing up in poverty and warned the pandemic has been a tipping point for many families, with those just about managing before Covid falling into difficult financial circumstances and those in precarious circumstances pushed into crisis.
Telfer said: "We have a golden opportunity to think differently about how we provide nurturing and compassionate support to all families. We would like to see family incomes protected to weather the current storm with immediate steps from the UK and Scottish Governments to help families meet essential costs, address delays in getting financial support to families and explore how to support families with debt. In the medium term, we welcome the Scottish Government's commitment to work towards a minimum income guarantee that enables families with children to achieve a reliable and decent income to live a dignified life.
"Parents we work with make a compelling argument that, beyond financial support and having an adequate income, practical and emotional support is much needed and was not always available during the pandemic.
"We must challenge ourselves to ensure parents and children are part of the conversation about how we recover from the pandemic, by bringing them into decision-making in communities and at national level."
During the pandemic, Save The Children has supported more than 1,500 Scottish families by providing emergency early-years grants.
The charity interviewed 18 ­families about the impact of the pandemic, with the findings published in the report. Dr Stefanie Keir, policy adviser and author of the report, said: "Families with the youngest children are among those who have suffered the most and we know they are the most vulnerable to the impact of poverty. Families told us how the pandemic caused or increased financial difficulties.
"Those already in insecure employment situations now had to care of their children at home, which put their jobs at risk. Where a crisis situation occurred, there were waiting times, glitches in benefit payments and some fell through the gaps of eligibility.
"At the same time, essential living costs increased. Food, gas and electricity costs went up to provide for children now at home. Data and devices had to be paid for to keep children learning."
Dr Keir said the loss of face-to-face support and social networks was significant: "Vital lifelines became patchy or were lost entirely, which affected coping abilities that would normally have been available. However, parents also showed remarkable resilience."
The Scottish Government said: "We are fully committed to providing help and support to tackle child poverty. We invest about £2 billion each year in support for people on low incomes, including over £672 million targeted at children. Our response to the pandemic, backed by over £1bn of additional funding, shows we can make change happen at the pace and scale required.
"Our Scottish Child Payment ­provides £40 every four weeks to low-income families with children under six and we are committed to doubling it to £80. Along with our Best Start Grant and Best Start Foods, it provides over £5,000 per child across the early years.
"We will deliver bridging ­payments worth £520 each year for those in receipt of free school meals. For all households in receipt of council tax reduction, we will provide a pandemic payment of £130.
"We have also announced a £20m summer programme, offering opportunities for children to socialise and play. We will continue the delivery of free school meals throughout the year.
"We also make wide-ranging investment in many support services, including the Parental Employability Support Fund and the Money Talk Team service."
---
I was taken off furlough early and had to take unpaid leave

– Seona Galbally, Dundee
I was on maternity leave when the pandemic hit. When I was due to return to work from maternity leave, there was no childcare available for my twins Ziggy and Zen.
Even though I was left without access to childcare as a result of the pandemic, and a single parent, my employer initially argued that I could not access the furlough scheme. Instead, I had to take annual leave followed by unpaid leave. This left me in a difficult financial situation.
It was only thanks to support from my MP that I eventually managed to access the furlough scheme after a significant delay.
However, I was taken off furlough early and had to take unpaid parental leave instead because my paid annual leave was used up. When this was exhausted, I was given the option of an unpaid career break. I now work two days a week, a significant drop in working hours that does not allow me to make ends meet.
Adapting to a reduced budget is particularly challenging due to the toll that caring for two toddlers on my own takes. I haven't had time to look into my detailed finances. I just work day by day. I've not had time to sit down and work it out.
---
You pay £2 and get two bags of shopping. That is kind of my budget

– Alice Stuart, Dundee
When I was made redundant in early 2020, I didn't realise I was five months pregnant with my son Jack. Then came Covid-19 and lockdown.
In the space of a few short weeks, I went from being a full-time working mum to being at home 24/7 with two young children.
My financial situation changed drastically and it felt a really weird situation to be in. Before, I was never rich, but I could save up and have a holiday once a year.
Now I was on Universal Credit and struggling to make ends meet. I joined Facebook groups such as "Feed your Family for £1 a Day" and accessed the community fridges locally. You pay £2 and you get two bags of shopping. That's kind of my food budget.
With the cold winter, and living in a single-glazed flat, it was a struggle to both feed the children and keep the house warm. I was burning through the gas so badly I was at the point of "get another jumper, get a hot water bottle, get a blanket" because I couldn't afford to keep having the heating on. Sometimes I felt really bad, especially when I had my son Jack in little dressing gowns to ensure he was warm enough.
Home learning was difficult for my daughter Lilly too, because the only device she had available was her small, broken, cracked iPhone. Thankfully school was able to loan her a laptop.
I mostly feel sorry for the kids. My daughter was at nursery when lockdown started, so missed the end of nursery, which I feel bad about because she still talks about friends from nursery.
I don't drink or anything, I'm like an old lady at heart, I like to sit at home and sew. I'm hoping to study at college to get a qualification to teach sewing.
---
Being home 24/7, every child became hungrier

– Stephanie Renwick, Glasgow
My five-year-old son Caleb started school in August and got used to a new routine, a school environment and meeting new friends. Then, schools closed again.
It was difficult for him to do his school work at home as he was used to playing and doing his own thing when he was at home. But I managed to create a routine for him and make sure he had lots of breaks so he was still learning.
Initially Caleb did his school work from my phone but once he was able to use his own tablet he became more motivated and independent. With Caleb at home, it was costing more in food. When your child is at school, they're getting their lunch, so you don't need to buy as much. Being home 24/7, every child just became so much hungrier.
---
OPINION: Children's health must be national priority and has to be at the heart of recovery plans
By Dr Mairi Stark, Royal College of Paediatrics
Back in March 2020, just days before the first lockdown, the college published State Of Child Health, the largest compilation of data on the health of babies, children and young people across the UK.
The report flagged how, on almost every measure, children living in deprived areas were doing less well than their peers. Worryingly, the gap between the health of children from wealthy or deprived backgrounds was widening.
Even before Covid, nearly a quarter of children in Scotland were living in poverty. But increased levels of unemployment and job insecurity have meant that families that were "getting by" before the pandemic hit are now slipping into poverty.
So what has been the effect on child health? Unfortunately, we just don't know. Much of the information routinely collected has been affected by school closures, cancelled services and missed appointment with GPs or health visitors.
But children's doctors like myself are already seeing the effects of increased levels of deprivation in our clinics. For example, we're seeing rising numbers of children with severe constipation thanks to poor diet, lack of exercise and obesity – all of which are worse in deprived populations. This causes significant illness and days off school. If we are to start to reverse the trend of increased inequality, we need to act now.
Child health and wellbeing must be made a national priority and long-term plans and policies for post-pandemic recovery must have children at the heart. The measures contained in the Child Poverty (Scotland) Act must be put into action and appropriately funded and the promised Children And Young People's Health And Wellbeing Outcomes Framework must be published without delay.
Reducing child poverty makes sound economic sense as well as being the right thing to do for children's health and happiness. A healthy start in life reduces disease not only in childhood but into adulthood, too. It means less pressure on child and adult services and better educational outcomes and life chances. It's an investment which pays dividends.
Today's children will very quickly become tomorrow's parents, patients, leaders and workers who drive the Scottish economy. Creating the best environment for all children will produce a population of physically healthy and mentally resilient young people who in turn become healthy, happy and productive adults.
Dr Mairi Stark is Royal College of Paediatrics and Child Health Officer for Scotland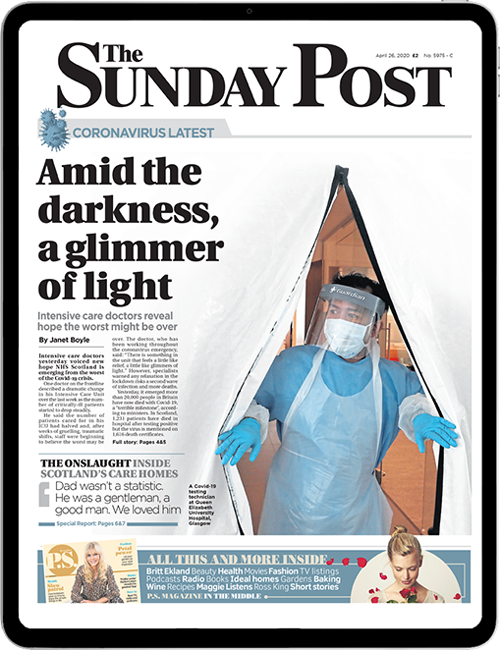 Enjoy the convenience of having The Sunday Post delivered as a digital ePaper straight to your smartphone, tablet or computer.
Subscribe for only £5.49 a month and enjoy all the benefits of the printed paper as a digital replica.
Subscribe